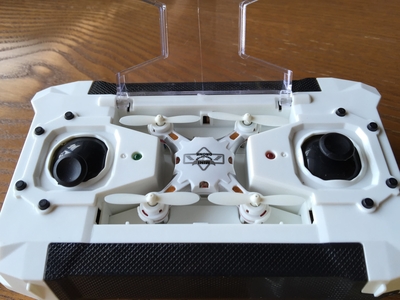 The FQ777-124 Pocket Drone by FUQI is by far one of the more unique mini drone models on the market today. Traditionally, RC drones are charged by hooking them up to an external power source (car/wall chargers, USB chargers for laptops, etc.). The FQ777, however, absorbs power from a specialized storage box that also doubles as a controller. Yes, you read that correctly: the transmitter is not only used to fly the drone, but it's also where you put the drone away to charge. For this reason, the FQ777 can be flown anywhere and anytime.
FQ777-124 Pocket Drone Overview
If you're looking for a fun, inexpensive, and unique drone that's perfect for all experience levels, then look no further than the FQ777-124 Pocket Drone. What's awesome about this drone is that it's controller (transmitter) serves as both a charging station and storage container. This is something that you definitely don't see a lot of in the drone market. To top things off, it only costs about $22, so you're not risking much if you end up crashing it.
The FQ777-124 Pocket Drone is, in my opinion, one of the more underrated RC drones on the market. It's not a super high-quality RC quadcopter by any means, but it still offers a ton of benefits that are hard to find for such a low price. Some of its primary benefits include:
Fast Recharging Time: With an average charging time of 20 minutes, this pocket drone recharges faster than other RC drones of similar weight, size, and battery type. I'm not sure why this is considering that it's drawing power from batteries rather than an outlet.
Great Range: This drone's max range is about 50 meters. Generally, most $22 drones aren't capable of such a far remote distance. For example, the Holy Stone M61X, which is priced at $35, has a max range of about 30 meters.
Portability: With the drone's portable charging station, you can charge your drone at parks, at the beach, or anywhere else where there isn't access to an outlet.
Let's continue this review by showing you a more in-depth look at how the drone flies.
SAVE HUGE BY PURCHASING THE POCKET DRONE ON AMAZON!
Pros
: The ability to charge your drone
without
an external power source is by far one of the coolest benefits to this drone. Plus, it only sells for about $22.99 on Amazon. The drone handles well, and is suitable for all ages and experience levels. Just don't expect to get away with flying it in the wind. Due to the FQ777-124 Pocket Drone's relatively small size, it's a much better indoor flyer
Cons
: The concept is great, but the quality of the storage container feels a little "cheap". Also, the transmitter might feel awkward to flyers who are used to more traditional controllers. Similarly priced drones, like the
Cheerson CX-10
or
Syma X12
, fly better overall, and offer more precise controls. Due to the drone's small size, it will be difficult to control even in light breezes.
Flight and Performance
The FQ777-124 Pocket Drone is extremely light (about 13 grams), so when it's in the air, you'll be able to maneuver it with ease. Unfortunately, due to its small size, don't expect to get much performance out of it when flying in moderate to heavy winds. Indoors, the drone handles like a champ, offering a smooth, agile, and quick flights. Check it out in action:
Thanks to the drone's prop guards, which are removable, you'll be less likely to lose or break propellers when you crash. For beginners, this is a huge benefit, because you'll definitely be doing your fair share of crashing!
SAVE HUGE BY PURCHASING THE POCKET DRONE ON AMAZON!
"Yaw Rate" refers to how quickly a drone is able to spin right or left on a horizontal axis. Based on how my drone performed, the FQ777's yaw rate was much quicker than the Cheerson CX-10s', but not quite as fast as the Eachine H8s'. Overall, this quadcopter has the potential to fly fast and aggressively, but can also be flown conservatively to save battery.
Transmitter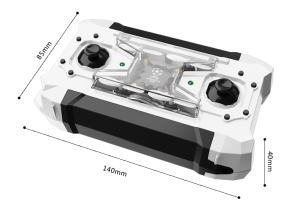 As mentioned earlier in the review, the drone's storage/charging case also serves as the transmitter. Fortunately, the controller isn't setup any differently than what you would find in other controllers: the left analog stick controls ascents/descents and yaw rate, while the right analog stick controls your ability to move side-to-side and back-to-front. The transmitter can also be programmed to operate on one of two flight modes: conservative or aggressive.
Conclusion
Simply for the fact that this drone's storage case serves as its transmitter and charging station is enough to justify the $22 price tag. It might not have the best flight time out there, but it does offer descent range and precise handling. Beginners and advanced flyers can definitely have a lot of fun with the FQ777-124 Pocket Drone.
Specifications
Weight: 11.5 Grams
Remote Distance: N/A
Charging Time: 30-40 Minutes
Flight Time: 6-8 Minutes
Battery: 3.7V 100mAh
Price: About $35
Camera: No
FPV: No
Experience Level: Beginner