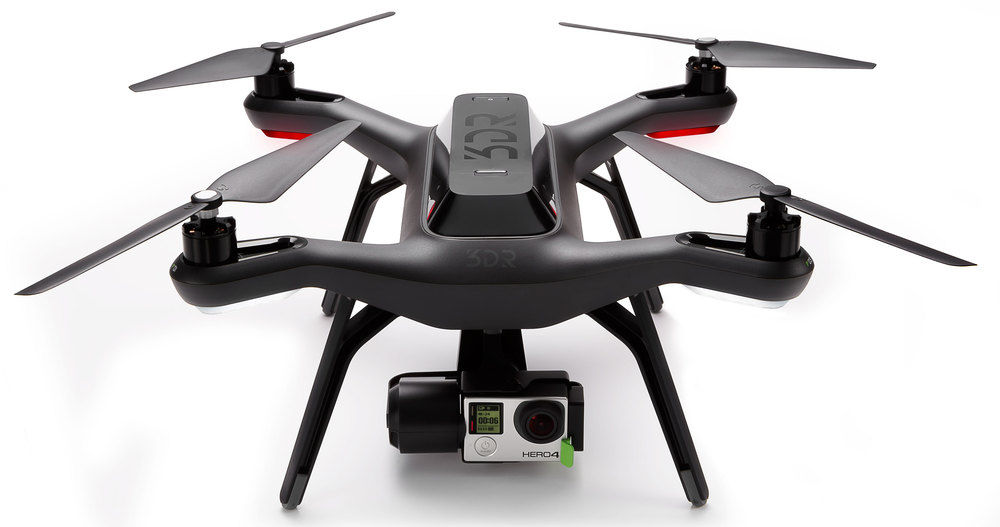 Some people are familiar with the 3DR Iris+ (if you're not, that's okay). For those who are familiar, you probably know about the drone's useful GPS-based features. And just when you thought it couldn't get any better, the 3DR Solo Drone gets introduced to the market. If I had to describe this quadcopter in one word, it would simply be, "Awesome". From its sleek design, to its simplistic flight controls, the 3DR Solo could easily be considered one of the best drones of 2015. In this 3DR Solo Drone review, we're going to show you all of the benefits and features behind this model. Let's get started!
3DR Solo Drone Overview
The 3DR Solo Drone is one of the best quadcopters of 2015, and will quite possibly remain in the top 10 list for years to come. Not only does it offer an aesthetic design with uniquely-located LED lights, but the drone comes with GPS-based features that can't be matched by many other models on the market. For example, you can program the drone to automatically follow and record you, or you can take over the controls and manually capture beautiful aerial footage- whatever you want!
Check Lowest Prices & Availability For The 3DR Solo Drone
3DR Solo Drone Review – Box & Packaging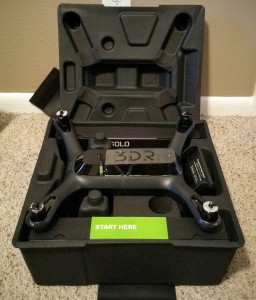 The first thing you'll notice about the 3DR Solo Drone is that unboxing the drone will be a pleasant experience. All of the drone's components are neatly and professionally packaged inside, showing that 3DR really went above and beyond to deliver the best product possible.
Another thing I like about the drone's box is that it can double as a carrying case if needed. Believe it or not, it's the small things like this that help the 3DR Solo Drone separate itself from the crowd. If you recall from an earlier review, the Dromida Ominus offers equally beautiful packaging and presentation, and it too is an amazing quadcopter. With that said, let's move on in this 3DR Solo Drone review to show you everything else it has to offer.
Features & Benefits
Also known as the Solo "Smart" Drone, this quadcopter offers tons of unique benefits and features that qualifies it as one of the best quadcopters in the world. While these features may already exist in other quadcopters, they've never been integrated into a single model. Let's spend this part of the 3DR Solo Drone review talking about what these key features and benefits are:
Beautiful LED Lighting System: One feature that really stands out about the quadcopter are its LED lights. With one located on each wing, you'll be able to fly at night with ease. Most quadcopters, like the Syma X5C, have their LED lights located in the middle of the frame's arms. The Solo Drone, however, has them located at the ends (one on each corner), so it ends up brining a lot of aesthetic appeal to the quadcopter.
Dual 1 GHz Linux Computers: As far as the "brains" of the quadcopter are concerned, this particular model comes with dual Linux computers. For anyone who isn't familiar with computer specs, basically, this just means that the drone can process commands faster than normal (e.g. no "lag").
880 KV Motors: No 3DR Solo Drone review would be complete without talking about the quadcopter's motors. This model comes with 880 KV motors, which seems to offer the perfect combination of torque and speed (check out my article on how to build drone for more information on what "KV" means).
14.8 V Li-P0 5,200mAh Battery: The drones' 5,200mAh battery allows it to achieve a respectable flight time of about 25 minutes (without the camera). Note that this is the quadcopter's "max" flight time. In reality, the drone's flight time might be a little less. It all depends on how aggressively you're flying the quadcopter, whether or not there's wind present, and finally, whether or not you're recording.
I also want to mention in this 3DR Solo Drone review that this model comes with self-tightening glass fortified nylon props. Most drones come with traditional plastic propellers, but these tend to break pretty easily. The glass fortified nylon props dramatically decrease the chances of breaking a prop. With all these amazing features, it's easy to see what the Solo Drone is one of the best quadcopters in the world.
---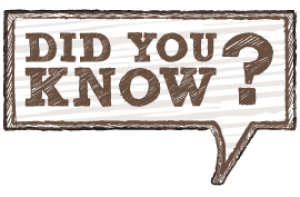 As their names imply, self-tightening propellers will automatically tighten themselves when you power the drone on. As a beginner, this can be really useful because you won't need to worry about manually tightening them. Generally, self-tightening propellers are only found in more expensive models (like the DJI Phantom 3 for example).
---
Gimbal & Shooting Modes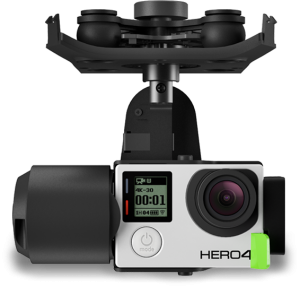 In this part of the 3DR Solo Drone review, we're going to talk about the quadcopter's gimbal. If you recall from the article, 7 Aerial Photography Tips for Beginners, having a solid gimbal can allow you to capture better aerial footage than if you didn't have a gimbal at all. The Solo Drone's 3-axis gimbal, which comes included, will increase your aerial coverage and allow you to capture footage that you never would have been able to capture with cheaper models. Also, make sure to take advantage of the drone's "Smart Shots" features. These include:
"Orbit" Mode: In this mode, the quadcopter will perform a "wrap-around" shot all by itself.
"Selfie" Mode: As you can probably guess, the drone will place YOU in the center of a scenic shot when in this mode.
"Follow" Mode: As with the 3DR Iris+, the Solo Drone has the ability to follow and recording you. The best part? It's completely hands-free.
If you're a beginner with limited aerial photography experience, these features will make you feel like a pro in no time. Let's move on in this 3DR Solo Drone review to talk about the drone's transmitter and remote distance.
Transmitter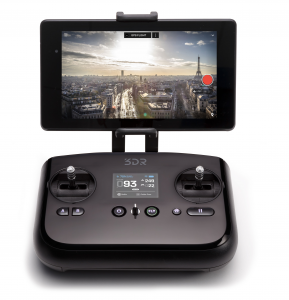 Similar to the DJI Phantom 2 Vision+, the Solo Drone's transmitter comes with a casing for a tablet or smartphone. This is how you'll fly in FPV (First Person Viewing) mode. As you can see from the picture (right), the transmitter is simplistic, clean, and very professional-looking. It comes with two joysticks, an LCD display, power/trim buttons, and finally, a return-to-home button.
What I like most about the transmitter is the small LCD display below the mobile device casing provides you with important diagnostics about your flight (battery life, height, etc.). When flown in an open area, the transmitter offers a control distance of about 800 meters, which is excellent. Let's end this 3DR Solo Drone review by showing you the drone's price and wrapping things up.
Review Wrap-Up – What's The Price Tag?
Throughout this 3DR Solo Drone review, you've probably been thinking, "Okay, I get it- the drone is awesome. But how much is it going to cost me?" Depending on where you buy it, you'll probably spend anywhere between $1,000 and $1,200. Is it expensive? Yes. But is it worth it? Absolutely! You'll receive a lot of value for your dollar when you buy the 3DR Solo Drone. Plus, due to its durable build and easily replaceable parts, there's no reason why it can't last you for years to come if you take care of it. We hope that this 3DR Solo Drone review has helped answer any questions that you may have had about the quadcopter.
Check Lowest Prices & Availability For The 3DR Solo Drone!
Resources
http://www.theverge.com/2015/4/13/8394359/3d-robotics-solo-drone-quadcopter-gopro
http://www.engadget.com/2015/04/13/3d-robotics-solo-smart-drone/