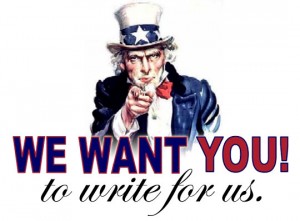 Got something cool or interesting to say about drones? Then let your message be heard! You'll receive instant exposure to the Beginner Flyer audience, ultimately bringing traffic back to YOUR website. Still interested? Then scroll down to learn about our article guidelines (we take these very seriously).
Article Guidelines
Currently, we post drone reviews, news, how-to articles, and just about everything else quadcopter-related. To maintain the quality of this website, here guidelines that you must follow upon submitting your guest post:
Originality: The article must be 100% original (

never published anywhere else

). We run all guest post submissions through Copyscape Premium to check for originality.
Accompanying Image: Make sure to include a relevant image along with your post. Try to keep the image (or video) as closely related to the topic as possible.
No Military Drone Content: We only cover topics regarding consumer drones (not military drones). Articles discussing military applications will respectfully be ignored.
Bio Link: Make sure to include a link back to your own website or social media profile at the bottom of the article. We only link back to high-quality websites or profiles such as our own, so no SPAM please!
Length: Unless it's a news article, please keep reviews and informational (how-to) articles

at least 700 words long

. Post length will vary for news articles.
To help maintain the integrity and quality of this blog, please follow the above guidelines as closely as possible. Once you've written the guest post, feel free to send it over to Damien@BeginnerFlyer.com. We'll confirm that we've received the article, at which point we'll A) Publish it, or B) Send it back for revisions. Once you've edited the article to completion, we'll review once more prior to posting.
If you have any questions, feel free to contact us. Thanks!