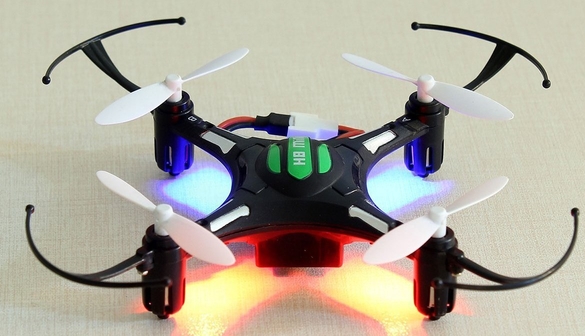 The Eachine H8 Mini Quadcopter is a fun, cool-looking mini drone that can fit into anyone's budget. It sells for less than $50, and comes with a useful "Return-to-Home" function (usually only found in more expensive models). With this feature, the drone will automatically return to its original starting location at the push of a button. This function can be buggy at times, but for $22, it's a drawback that can be overlooked.
Eachine H8 Mini Overview
Automatic Return-to-Home!
Perhaps the biggest benefit to the Eachine H8 Mini is the fact that it costs less than $25. For this amount of money, you can have fun with your drone without worrying about losing out on a huge investment. With that said, the H8 Mini is highly maneuverable, especially indoors. It may not be able to stand up against heavier breezes, but it makes up for it by offering neat features like headless mode (which makes it easier for you to orientate yourself to the drone during flight), and return-to-home (which automatically flies the drone back to its original starting location at the push of a button). For that alone, it's well worth the $22 investment.
Here are a few important features to take note of:
Lightweight & Durable Frame: Don't let its small size fool you – the H8 Mini is pretty tough. For the most part, you can fly the drone to its limits without worrying about breaking it. This is an exceptionally useful feature for beginners, who oftentimes feel skittish about flying for the first time.
Four LED Lights: The four LED lights (two red and two green) located underneath each wing will help orientate you to your drone's location when flying at night.
Return-to-Home Function: If you lose track of your drone mid-flight, don't panic – just press the "Return-to-Home" button on the transmitter, and the drone will automatically return to where it took off from.
Flexible Maneuvering: Because of its light weight (the H8 Mini weighs about 20 grams), you'll be able to rip through the air with ease. As you can imagine, it's better suited for indoor use since it doesn't handle wind that well.
Let's start our review by talking about what comes in the box.
What Comes in the Box?
All H8 Mini quadcopters come with the following: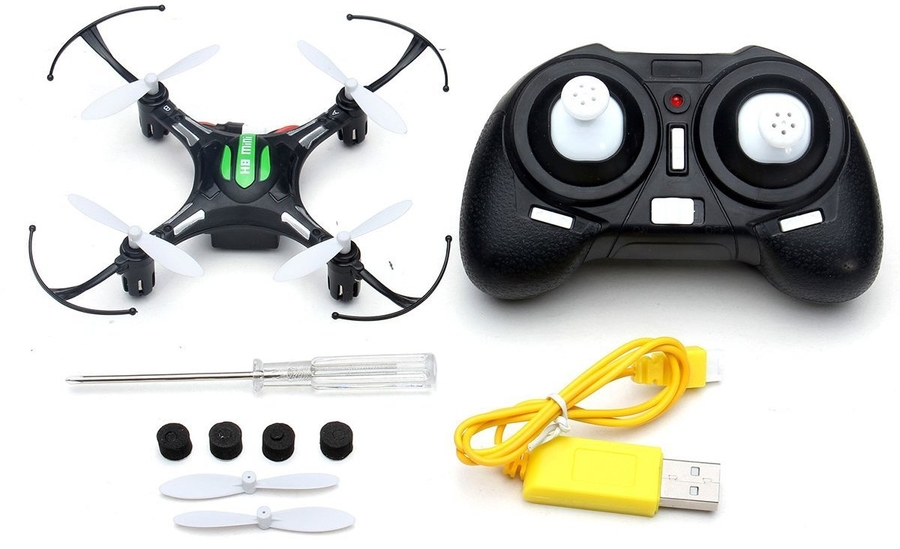 A Transmitter
Instruction Manual
2-Piece Spare Propeller Set (A & B)
A USB Battery Charger
Screwdriver
Beginners are going to appreciate the fact that all the propellers are marked with the letter "A" or the letter "B". This allows for quick and easy replacement of any broken props.
The Eachine H8 Mini Quadcopter comes ready to fly straight out the box, and offers a flight time of 5-7 minutes per charge (charging takes about 45 minutes).
The Prop Guard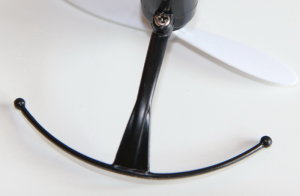 "Prop Guards" are small, semi-circular frames that help protect your drone's propellers. Remember that prop guards are a double-edged sword: while they do help protect your drone's propellers, they also add extra weight to your drone, which decreases flight time slightly. This is why experienced flyers generally don't use them.
However, if you're a beginner, I highly recommend you keep them on until you become better at flying. In my opinion, the prop guards on the Eachine H8 Mini are a little flimsy compared to most quadcopters. Because of this, you may yourself having to un-bend them numerous times during a single flying session.
If you don't un-bend a skewed prop guard, then the blades are going to brush against the guards, which will cause problems for your H8 Mini. While it may sound like a hassle, continually un-bending a skewed prop guard is something that needs to be done to prevent premature wearing down of your props.
The good news is that spare propellers do come in the box, so if you do end up breaking/losing your props, you can quickly and easily replace them. And when you finally become proficient at flying the H8 Mini, you can simply remove them for increased flight time and maneuverability.
Is it Difficult to Fly?
It's not so much "difficult" as it is "awkward". If you're a beginner, I would recommend taking it slow. Practice controlling the drone only a few feet off the ground. Once your skill increases, you can practice more complex maneuvers. Also, remember that the Eachine H8 Mini only weighs about 20 grams. Due to its relatively small size, only practice in lighter breezes, or better yet, indoors.
Check out a flight test of the H8 Mini below:
SAVE HUGE BY PURCHASING THE H8 MINI ON AMAZON!
If you ever feel that you're losing control of your H8 Mini, simply press the left analog stick. This activates the "Return-to-Home" function, and returns the drone back to its original starting location. There have been complaints about this feature being "buggy" (not returning home, slight delay in response, etc.). However, there isn't a huge investment at stake, and there's no guarantee that this will happen to you, so I think it's still a great investment.
Bottom Line
The Eachine H8 Mini Quadcopter costs about $22 on Amazon. For that reason, I highly recommend it for all age groups and experience levels. It won't break the bank, and will allow you to hone your skills until you're ready to move up to a more expensive model.
Specifications
Weight: 20 Grams
Remote Distance: 30 Meters
Charging Time: 45 Minutes
Flight Time: 5-7 Minutes
Battery: 3.7V 150mAh
Price: About $22
Camera: No
FPV: No
Experience Level: Beginner