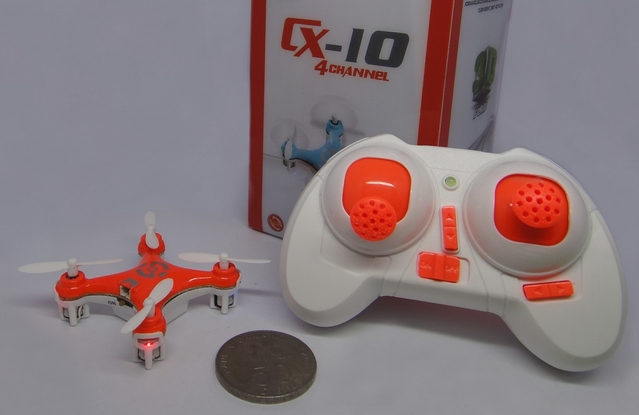 Recreational quadcopter popularity is spinning out of control (no pun intended), and one drone that's helped kick start the movement is the Cheerson CX-10 Nano Drone. It's small enough to fit in the palm of your hand, yet, agile enough to effortlessly zip through the air. In this Cheerson CX-10 review, we'll show you everything it has to offer.
Cheerson CX-10 Overview
The Cheerson CX-10 is a perfect beginner RC drone. It's relatively small (only weighs about 12 grams), so it's better suited for indoor use. With that said, this drone is quite fast! Its tiny engines produce a considerable amount of thrust, allowing the drone to rip through the air with ease. If you're just starting out with drones, and you don't want to spend a lot of money while learning the basics, then the Cheerson CX-10 is highly recommended. Beginners should invest in prop guards for the CX-10 (about $2 on Amazon), since they'll help protect your drone and allow it to last longer.
Cheerson is one of the better-known Chinese manufacturers in the hobby drone industry today, and the CX-10 is definitely one of the more popular models in their lineup. It's an excellent starter drone, particularly because it's so cheap (it costs about $18 on Amazon). Because it's so inexpensive, you can fly it without constantly feeling worried about crashing. Check out a flight test of the CX-10 below:
Cheerson CX-10 Unboxing + Flight Test
Visit Amazon.com For Huge Savings on the Cheerson CX-10
The Controller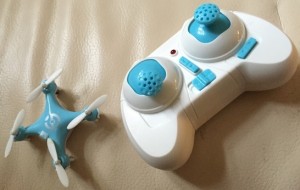 The first thing we're going to talk about in this Cheerson CX-10 review is the transmitter. You'll immediately notice about the drone's transmitter is that it's actually bigger than the drone itself! This should give you some perspective as to just how small the drone actually is. The transmitter is rather straightforward in design, and comes with:
Two Analog Sticks
Sensitivity Adjustors
Power Button
To "activate" the CX-10, you must perform the following sequence with the left analog stick: Down, Up, Down. This has to be done each time you power the drone on. The transmitter offers a sleek, ergonomic shape that fits nicely in your hands. It's powered by two 1.5V AAA batteries, and is relatively fragile, so don't drop it!
The CX-10's transmitter is powered by AAA batteries that
don't come included in the box
. Make sure that you purchase these beforehand!
Three Flight Modes
A neat feature about the Cheerson CX-10 is that it comes with three different "Flight Modes" (which can be adjusted based on how experienced you are). The flight modes are as followed: you have beginner mode, intermediate mode, and advanced mode.
Flying on advanced mode allows you to move quickly, but it can be quite sensitive, so only switch to this mode if you know what you're doing. Beginner mode offers lower sensitivity, and thus lower maneuverability, so it's great for flyers who are just starting out.
Flight and Charge Time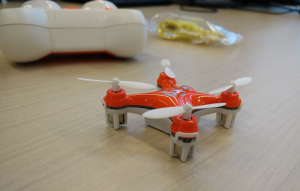 In this section of the Cheerson CX-10 review, we're going to talk about flight & charge times. The nano RC quadcopter is recharged with a USB cable that lights up to show that the battery is charging. Once the battery is fully charged, which takes about 30 minutes, the CX-10 will be capable of flying for 4-8 minutes.
This, unfortunately, is a potential downside, because the last thing you'll want once you've purchased your drone is spend all your time charging it! The only solution to this problem would be to purchase an extra CX-10. That way, while one is charging, you can be outside flying the other (and vice versa).
Prop Guards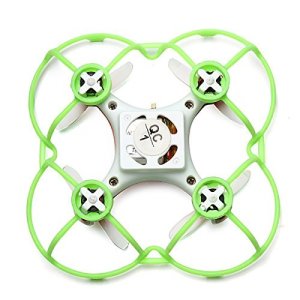 The Cheerson CX-10 does NOT come with prop guards (they are sold separately). Although they do decrease flight time slightly, they are highly recommended for beginners.
As an inexperienced flyer, you're going to crash quite a bit when you first start out. To help protect your investment, and allow your CX-10 to last longer, consider purchasing prop guards and extra propellers for your drone.
Final Verdict
In summary of this Cheerson CX-10 review, you can't beat the $18 price tag for this RC quadcopter. It's a fun, fast, and durable drone that's perfect for all age groups. Perhaps its only potential downside is that it only offers 4-8 minutes of flight time. But that can easily be overlooked by the drone's aesthetic design, multiple flight modes, and newbie-friendly controls.
Specifications
Weight: 12 Grams
Remote Distance: 40 Meters
Charging Time: 30 Minutes
Flight Time: 4-8 Minutes
Battery: 3.7V 100mAh
Price: About $18
Camera: No
FPV: No
Experience Level: Beginner