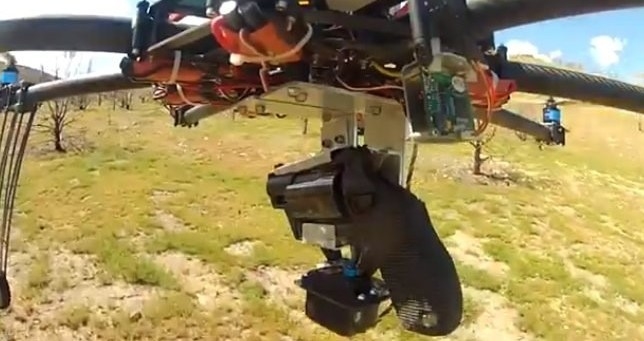 On July 10th, 2015, a YouTube video surfaced showing handgun mounted on a quadcopter. But it didn't stop there. Throughout the 15-second video, the RC drone fired four shots without breaking posture or stability. Could this be the beginning of the rise of the machines? Not likely. However, it does raise a very important question: did the owner of the drone, 18-year-old Austin Haughwougt, break any laws?
Check out the video below:
Well, this is exactly what the Federal Aviation Administration (FAA) has been trying to figure out. The FAA didn't comment on whether or not gun-toting drones were against the law, but many can agree that it's a potentially scary thought. While Austin (the engineer of the drone) didn't want to comment on the issue, the father did have something to say, "It's pretty simple. You've got a mechanical engineering student that builds different things, and this is just the last thing that he built. That's all there is to it".
The father went on to say that his son has shown a lot of interest in machines. At the age of 10, Austin received his boating license, and at the age of 12, went on to acquire his snowmobile license. At 13 he became a certified scuba diver, and at 17 he got his motorcycle's license. In fact, he's even on course to acquire his pilot's license.
At the end of the day, Austin just seems like a regular person who's interested in building stuff, and just because it scares people, doesn't necessarily means that he's wrong, or more importantly, that it's against the law. With all that said, the video does raise a lot of questions about how RC drones should be regulated moving forward. After all, if the technology gets into the hands of the wrong people, it could become a huge safety issue.
Sources
http://www.cnn.com/2015/07/21/us/gun-drone-connecticut/
http://wreg.com/2015/07/22/teen-builds-drone-that-fires-handgun/