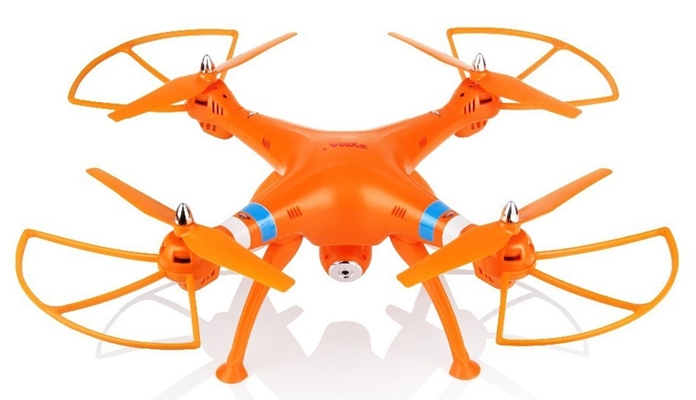 The Syma X8C Venture Quadcopter sells for just under $100, and is a great intermediate drone that comes with a detachable camera, a "flip mode", and two rate modes – beginner and advanced. It comes with a 2000mAh battery, and is relatively stable once in the air due to its large size (it measures 20 inches x 20 inches x 6.5 inches). Finally, the bottom mounted LED lights make it easy to fly and track your drone at night. Let's start this Syma X8C review by looking at the drone's pros, cons, and specifications.
Syma X8C Overview
The Syma X8C quadcopter is a large, stable RC drone that's capable of high-flying aerial shots. One of the drone's biggest advantages is its 100-meter range. With that kind of remote distance, you'll be able to capture some amazing aerial footage. Also, due to the drone's large size (it sort of resembles the DJI Phantom), it can hold its own when being flown in the wind. The X8C isn't the most acrobatic RC drone on the market, but we're betting that it's still going to provide you with endless hours of fun!
Visit Amazon.com For Huge Savings on the Syma X8C
Pros: It offers tons of power, amazing stabilization, and descent flight time. Transmitter range is also way above average for a drone priced under $100. I've flown my X8C so far up in the sky that it looked like a tiny little dot. Just remember to not let this drone out of your sight since it doesn't come with FPV (First Person Viewing) capabilities
Cons
: Camera quality is about average. The X8C can be a little tricky to maneuver if you're a beginner. However, this isn't something that a little low-level practice can't fix. Due to its bulky nature, this drone isn't very forgiving during crashes. Finally, it takes quite a white to charge the X8C's battery (about 180 minutes).
Flight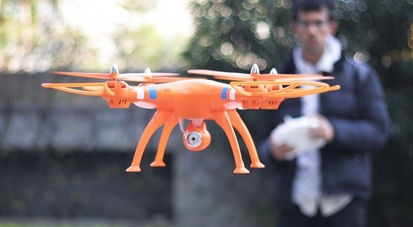 In this part of the Syma X8C review, we're going to talk about flight and performance. The Syma X8C is extremely fun to fly. It's not the most acrobatic or stunt-worthy drone on the market, but that's not really what it was designed for.
It flies at moderate speeds (not too fast, and not too slow), and is more known for its stability and ability to fight the wind. Flyers shouldn't have any difficulty flying it in 10 MPH winds.
Headless Mode
The quadcopter offers something called "Headless Mode", which is basically a feature that allows you to stop worrying about the orientation of your drone (which makes controlling the drone easier). It's actually pretty straightforward: before takeoff, configure the drone so that its front is also your front. Now, no matter what direction the drone is facing, pressing "right" on the analog stick will always make the drone go "right". Likewise, pressing "left" on the analog stick will always make it go "left".
Why is headless mode useful? Well, when you're flying at night, it's not needed as much since you can easily track the X8C's LED lights. But when you're flying during the day, or when you've lost track of your LED lights, headless mode allows you to fly without having to worry about your drone's orientation. I would recommend honing your skills without headless mode first, since some drone models that you'll fly won't offer this feature.
Charging & Flight Time
Although "official" flight time for this drone is about 8 minutes, I can usually squeeze about 10 or 12 minutes out of my X8C without the camera. For a drone that costs less than $100, this is actually quite a bit of battery power. One downside to keep in mind is that it can take up to 180 minutes to fully charge the X8C's battery.
Design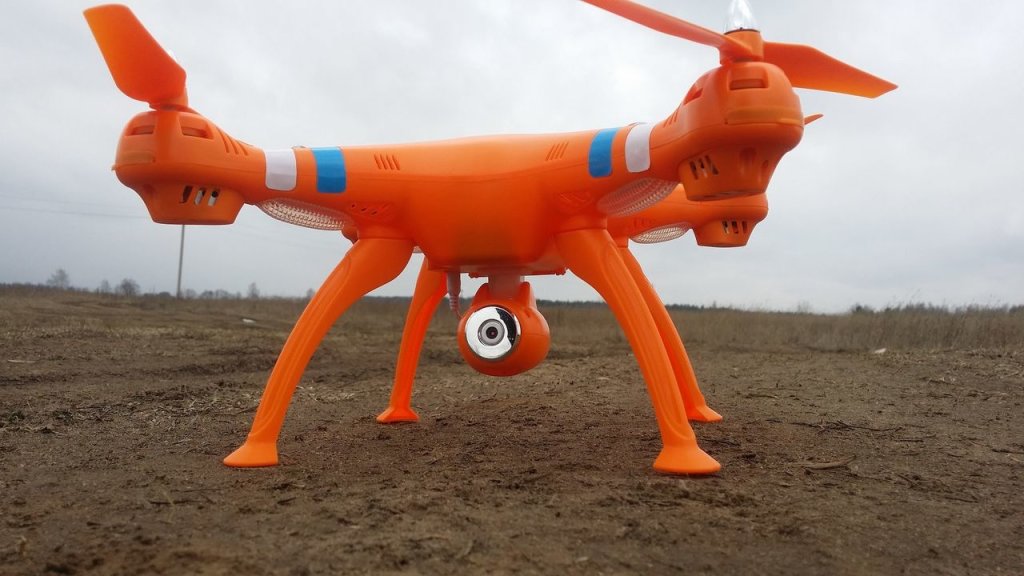 From a visual standpoint, the Syma X8C resembles the DJI Phantom, which a few slight differences of course. The drone measures 20 x 20 x 6.5, and weighs about 450 grams, so it's definitely not a small drone. With the camera and prop guards, the weight increases to about 600 grams. Due to its weight, the Syma X8C is able to handle itself in the wind quite well.
Personally, I don't find the prop guards very useful on the X8C. They only stick out about an inch from the propellers, so it doesn't take much for the props to rub against the prop guards. I would recommend flying this drone without prop guards as it decreases weight, and thus, increases overall flight time.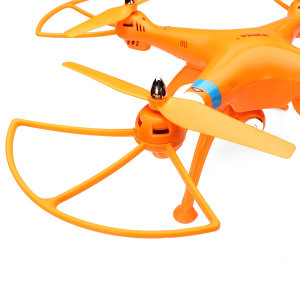 The propellers themselves are about 9 inches each in length, and are made of high-quality material. The battery compartment for the Syma X8C is very clean, and the 2,000mAh battery will fit in there perfectly, without jostling around mid-flight. Finally, as with many quadcopters, the X8C comes with red/green LED lights that allow you to track your drone while flying at night.
Camera
No Syma X8C review would be complete without talking about the camera. The camera isn't HD quality by any means, and is detachable. It's also adjustable, so you can experiment with different camera angles until you find the one you like the best.
The 4GB microSD card that comes with the quadcopter allows you to record all of your flying sessions with ease. Attaching the camera is straightforward since it just clips on to the bottom of the quadcopter. The camera weighs about 27 grams, which is actually quite light for a camera. Check out some aerial footage caught by the X8C below:
Transmitter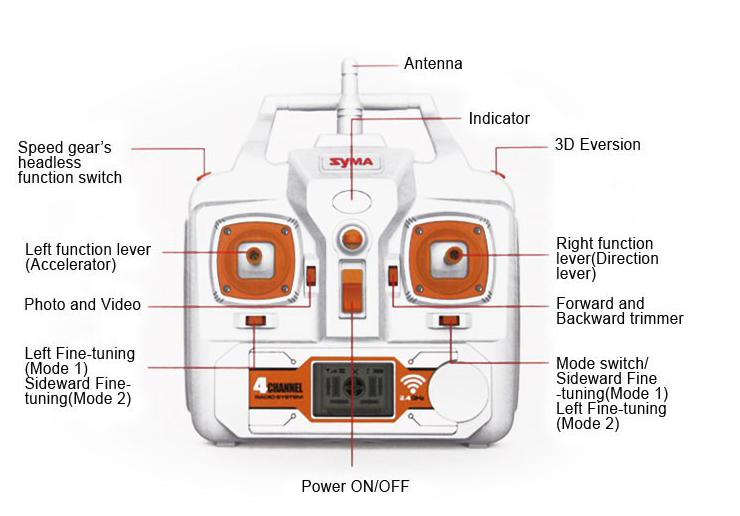 As with most Syma transmitters, the controller for the X8C will fit comfortably in your hands. It's made from lightweight ABS plastic, and operates on a 2.4GHz band. What you'll find most impressive about the transmitter is its range: 100+ meters is no joke! The information-rich LCD screen on the transmitter will provide you with important diagnostics about your flight, including battery life, direction, and more.
Key Takeaways
Due to its relatively large size, the Syma X8C handles itself very well in the wind. It might not be the most acrobatic drone out there, but it's definitely one of the most stable for under $100. It does record via a detachable camera, but the recordings won't be of high-quality.
Visit Amazon.com For Huge Savings on the Syma X8C
Flight time is about 8 minutes with the camera, and can extend up to 12 minutes without the camera, while charging time is about 180 minutes. We hope that this Syma X8C review has helped you make the right choice when shopping for a drone.
Specifications
Weight: 450 Grams
Remote Distance: 100 Meters
Charging Time: 180 Minutes
Flight Time: 8-12 Minutes
Battery: 7.4V 2,000mAh
Price: About $95
Camera: Yes
FPV: No
Experience Level: Intermediate