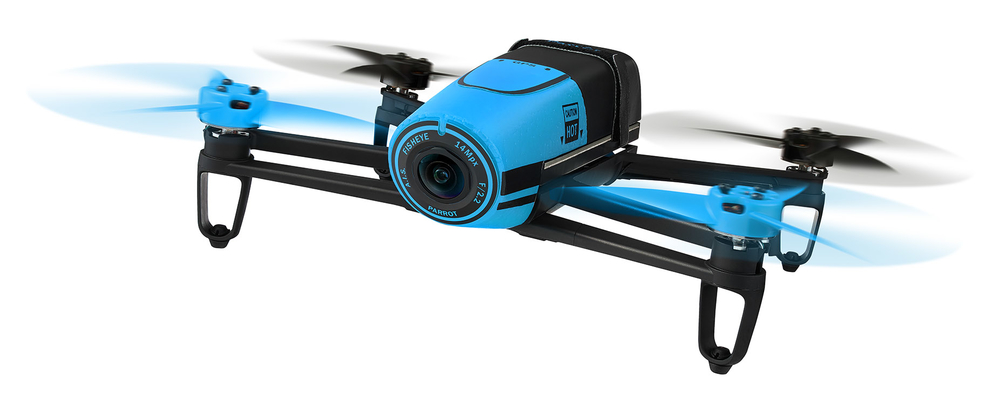 Back in 2010, Parrot became of the first companies to make their mark in the quadcopter industry with the AR. 2.0 Drone. But more recently, they launched the Parrot Bebop Quadcopter, which is a smarter, smaller, and more camera-focused version of the previous model. Priced at about $475, this drone delivers streaming video, integrated GPS technology, and is relatively easy to fly. Even if you're a beginner with minimal flying experience, this drone shouldn't pose too much of a problem. In this Parrot Bebop review, we'll talk more about what it has to offer.
Parrot Bebop Overview
The Parrot Bebop Quadcopter is a very intelligent RC drone that contains a variety of sensors that help stabilize it in the air. Because of this, it's pretty good for newbies for who are trying to shoot FPV while staying within a reasonable budget. The Parrot Bebop offers an impressive range of about 250 meters, and has a flight time of about 10 minutes. Combined, this will provide you with one phenomenal aerial photography session. Overall, it's a solid RC drone that will stand the test of time if you take care of it!
Visit Amazon.com For Huge Discounts on the Parrot Bebop
Pros: An affordable quadcopter that's easy to fly. Its simple design makes it relatively easy (and cheap) to repair, while the abundance of sensors in the drone provide it with optimal hovering capabilities. Overall, it's a very good buy.
Cons
: Controlling the drone via a smartphone or tablet isn't 100% precise. Battery life could be better for a $500 drone. Limited range of motion on camera (a problem that's being worked on by Parrot as you read this).
Features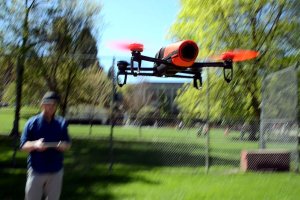 Although it doesn't look like much from the outside, the Bebop is actually packed with quite a bit of features. Underneath the hood, you're going to find four brushless outrunner motors, 3-axis gimbal stabilization, GNSS location tracking, an HD camera, and a powerful 1,200mAh lithium-polymer battery.
All in all, the drone offers about 11 minutes of flight time, which can be slightly more or slightly less depending on many factors (how you fly, whether or not you're recording, etc.). Since the drone comes with two batteries in the box, that's about 22 minutes of flying time that you'll have total.
Advanced CPU and Processing Capabilities
The "brains" of the drone are fairly advanced, and are comprised of the following:
P7 Dual-Core CPU
Quad Core GPU
8GB of Internal Flash memory
The best part is that all of this weighs less than 400 grams. Perhaps it's true that big things do come in small packages. The drone comes RTF (Ready-to-Fly) right out the box, and can be piloted from a smartphone or tablet using Parrot's Free Flight 3 app (available for Windows, iOS, and Android). Read the rest of this Parrot Bebop review to see how all of this ties together to create one amazing drone.
Durability and Quality of Build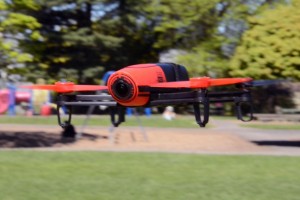 No Parrot Bebop review would be complete without talking about its frame and build. At first glance, you'll notice that the drone doesn't feel sturdy. After all, the body is made from cheap ABS plastic, while the camera housing is comprised of Styrofoam. Nonetheless, this drone can sure take a beating!
You can crash the drone into pavement, trees, and other objects without having to worry about it falling apart. At most, you may need to replace a propeller or two (or none if you're using the prop guard). The quadcopter's battery pack is strapped on via a Velcro strap, ensuring that it stays in place throughout the course of the flight.
Flight Time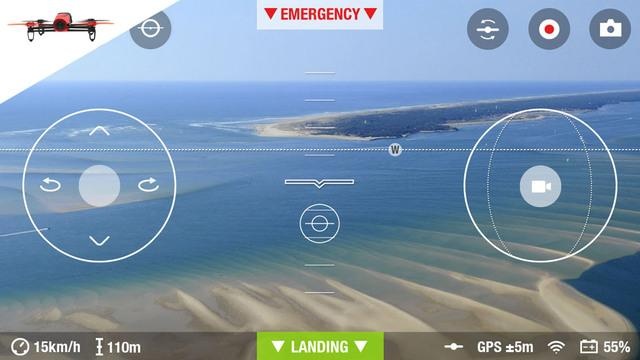 This part of the Parrot Bebop review will be focused on flight time. Two 1200mAh batteries come with the drone, and each are capable of about 11 minutes of flight time.
When flying at higher speeds, this number could dip to about 8-9 minutes. One great thing about this quadopter is that the Free Flight 3 app that you use to fly the drone will show you the Bebop's battery life in real-time.
This is an extremely useful feature as it gives you an indication as to when you should start bringing you drone back to "home base". When the battery becomes too low, the drone will automatically start to lower in altitude by itself, until it finally lands. These flight times aren't on par with the DJI Phantom 2, which is about 20 minutes, but they're still pretty good nonetheless.
Performance and Flight Control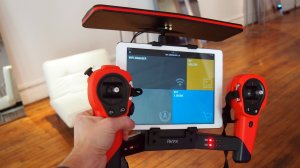 In this section of the Parrot Bebop review, we're going to talk about performance. If there's one thing to know about this drone, it's this: these thing is super-stable. Its ability to hover in place is very impressive, and is something that makes it great for beginner flyers. Taking off and landing can be done at the single push of a button, while moving backwards, forwards, and side-to-side is very intuitive.
For a potential downside, the acceleration (propeller speed) isn't quite as easy to control. Since you use a virtual joystick on a touchscreen to accelerate, it can feel a bit imprecise while in the air. It's certainly doable, but is something that you'll need to get used to. Fortunately, the app allows you to tweak sensitivity settings for the drone. If you find it too "touchy" for your experience level, simply set it to a rate that you're more comfortable with.
Top speed for this drone is about 13 meters per second, while its maximum ascent speed is about 6 meters per second. On a more practical note, the Parrot Bebop comes with a variety of sensors that help it maintain its stability in the air. These include:
GNSS System
Pressure Sensor
Ultrasound Sensor
Magnetometer
Gyroscope
3-Axis Accelerometer
The information gathered from these sensors allow the Bebop to maintain its current hovering position without fluctuating more than a few inches (obviously if there's a lot of wind present, the hovering capabilities will be slightly decreased). Finally, the quadcopter can perform acrobatic tricks. Simply tap the screen twice, and it will perform a flip in the direction of your choosing. It's that simple!
Camera
On an upside, the camera is well-protected from hard landings. This can provide you with a lot of peace of mind when flying. However, on a downside, the camera's range of motion is rather limited. Basically, it only looks where the drone looks. This isn't a huge drawback by any means, but is still something that you should consider when shopping around.
Take a look at aerial footage caught by the drone below:
Parrot Bebop Aerial Footage
Conclusion
To get the most "bang for your buck", consider purchasing the following extras for your drone:
Mastering the controls doesn't take very long at all, and for $500, it's definitely worth a try. While it may lack the range that the more expensive models on the market offer, like the DJI Phantom 3 for example, it makes up for it by offering durability, simplicity, and above all, a really fun flying experience. We hope that this Parrot Bebop review helped you learn everything you wanted to learn about the drone.
Specifications
Weight: 400 Grams
Remote Distance: 250 Meters
Charging Time: N/A
Flight Time: 10-11 Minutes
Battery: Lithium Polymer 1200 mAh
Price: About $466
Camera: Yes
FPV: Yes
Experience Level: Any