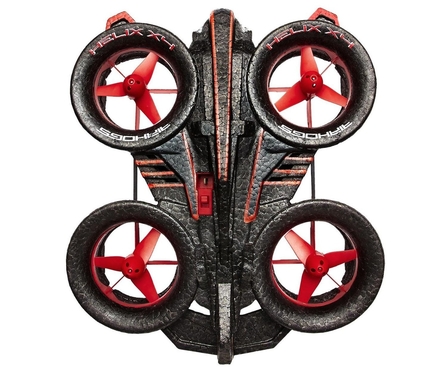 The Air Hogs Helix X4 is fairly unique from other beginner quadcopters on the market. The first thing that probably stands out to you is its design. The quadcopter has a durable foam body that not only protects its internal hardware, but also the propellers. This gives flyers the freedom to experiment with different tricks and stunts without worrying about permanently damaging their drone. As you'll come to see in this Air Hogs Helix X4 review, it's an excellent model for performing flips, barrel rolls, and more. Although it doesn't come with a camera, it's still a great beginner quadcopter for under $100. Let's take a look at what it has to offer.
Air Hogs Helix X4 Overview
The Air Hogs Helix X4 is a great beginner drone that stands out from other models on the market. For one, it has three-blade propellers rather than two-blade propellers like most consumer drones have. Secondly, it's encased with a super-durable foam cover that will render even the hardest crashes completely harmless.
Check Lowest Prices & Availability For The Helix X4
Construction & Build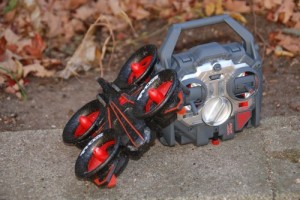 Not only is the drone relatively lightweight (making it suitable for indoor flight), but it's also quite durable. For the most part, you can crash it as much as you want without worrying about causing any serious damage. Another thing to keep in mind is that this drone is small.
In the pictures it might look big, but in reality, it's not much larger than the drone's transmitter. In fact, the drone's official dimensions are just 8 x 8 x 2. It's because of its relatively small size that the Air Hogs Helix X4 is able to effortlessly perform flips and barrel rolls.
But being lightweight can also have its drawbacks. For example, you might find it difficult to stabilize and fly the drone in strong wind. Also, the drone's durable foam frame can act like the "sail" getting caught in the wind, ultimately leading to a loss of control (similar to the UDI U818A). Despite these drawbacks, I would still recommend this quadcopter to beginners who are just getting started. In fact, it's one of the few models that I would recommend for kids. Now that you've gotten an idea about how this drone is constructed, let's move on to talk about its transmitter.
Transmitter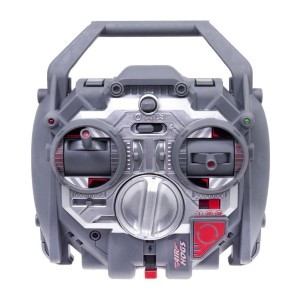 The transmitter for the Air Hogs Helix X4 operates on a standard 2.4 GHz frequency. This helps increase signal strength as well as allow you to fly with friends who happen to own the same model. On the bottom-right-hand side of the transmitter you'll notice large red button- that's the "Stunt" button. When pressed, the quadcopter will automatically perform a flip or barrel (the trick it performs depends on what stunt mode you've set it to). As far as ergonomics are concerned, the transmitter is perfectly-sized, and will fit comfortably in your hands.
There are two flight modes for the Air Hogs Helix X4: beginner and advanced. On advanced mode, the quadcopter will fly more responsively. If you're an experienced flyer, you can fly on advanced mode without a problem. However, if you've never flown a quadcopter before, I'd recommend starting out on beginner mode. The flight modes can quickly & easily be switched back and forth, allowing you to better customize your flight experience. Overall, the drone's transmitter looks very cool and aesthetically appealing (the Yi Zhan X4 also has a stylish controller).
Charging & Flight Time
Charging the quadcopter back to its maximum capacity takes 30-60 minutes depending on how much you've drained the battery. Once fully charged, expect a flight time of about six minutes. This is about average for a drone of its caliber and price range. To squeeze as much flight time as you can out of your drone, fly it indoors (or outdoors when wind conditions are minimal). Additionally, if you fly the Air Hogs Helix X4 on "advanced" mode, then this will drain the battery more quickly. Check out my article, 10 Ways to Extend Drone Battery Life, for more information on how to increase overall flight time with your quadcopter.
Bottom Line
The Air Hogs Helix X4 could definitely be considered one of the best quadcopters for beginners. The reason why is because of its impressive durability. Since the drone's propellers and internal hardware are well-protected, there's no reason why it shouldn't last you for a long time to come. Finally, it sells for less than $100, so you'll be getting an amazing bargain. There are few beginner drones priced this low that offer the protection and user-friendly acrobatic controls that the Helix X4 has to offer.
Check Lowest Prices & Availability For The Helix X4
Resources
http://www.rcgroups.com/forums/showthread.php?t=1961006