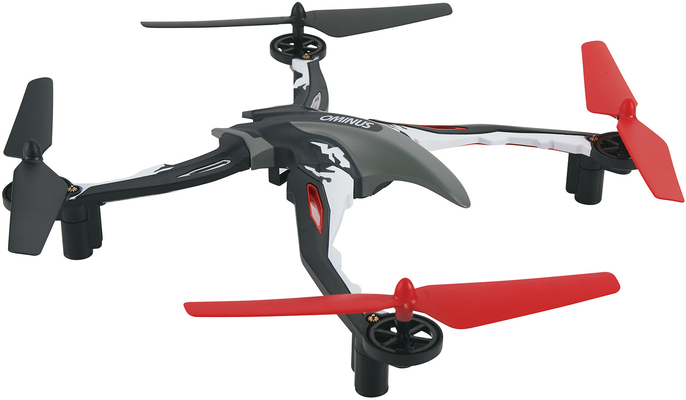 For a long time, RC flying was a hobby exclusive to "professionals" or the "highly experienced". But thanks to advances in modern technology, RC drones are as beginner-friendly as they've ever been. Introducing the Dromida Ominus, a quadcopter so versatile and aesthetically appealing that you'd be crazy not to try it. It comes with several different flight modes (ranging from beginner to advanced), relatively good flight time, and an aesthetic body that looks, well…cool! In this Dromida Ominus review, we're going to go in-depth and show you everything that it has to offer.
Dromida Ominus Overview
If you're looking for an RC quadcopter with generous flight time, an aesthetic design, and a relatively durable build, then look no further than the Dromida Ominus. This beginner-friendly RC drone offers a staggering 12 minutes of flight time, which is excellent by almost any standard. The drone's predator-like body looks really cool and sleek, while its four different flight modes ensures that you can fly on a sensitivity level that best suits your skill and experience.
Unboxing the Dromida Ominus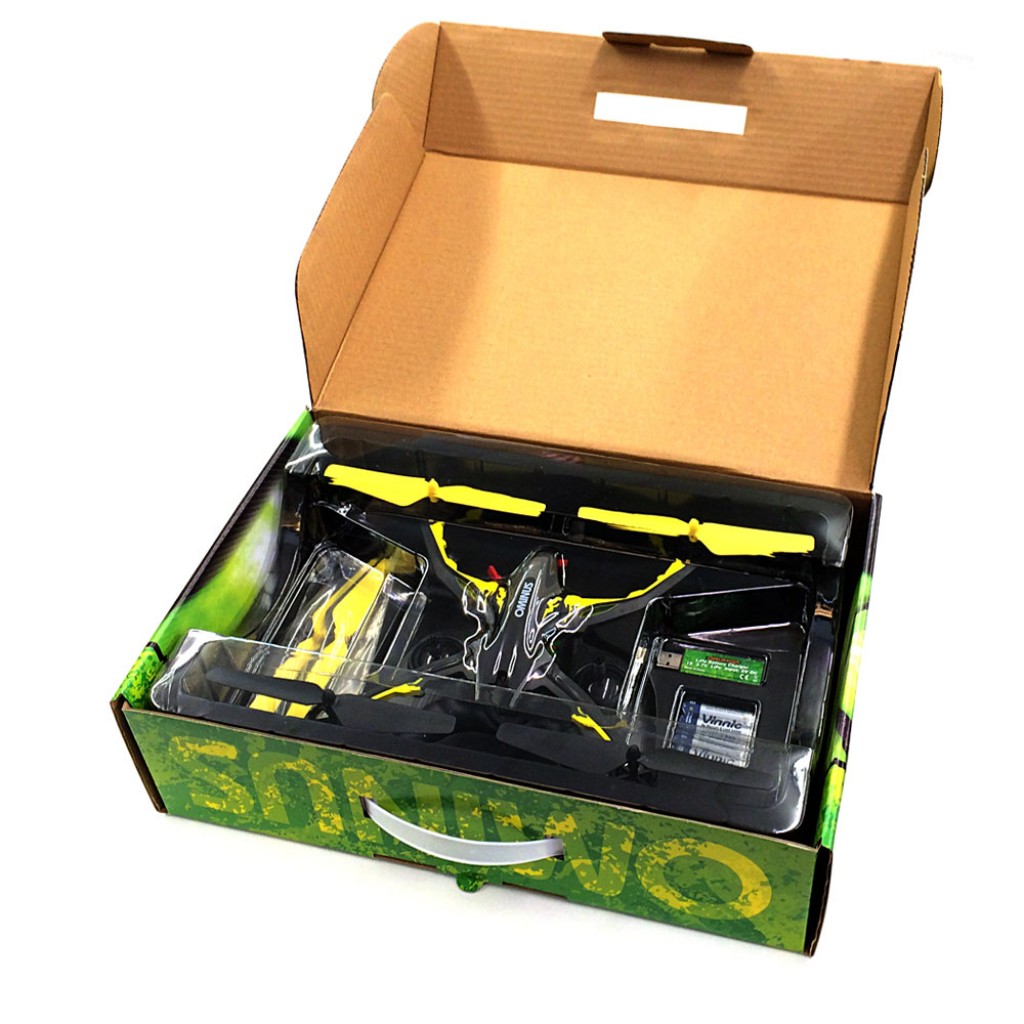 Let's start this Dromida Ominus review from the very beginning: opening the box for the first time. Personally, I think that the presentation of the product looks very nice.
The drone, as well as all its associated parts, fit neatly inside the box within their own distinct compartments. Holding it all together is a clear plastic lid. Right away, this gives you the feeling that you've spent your money well.
Companies like Apple do the same thing: they package their products in a neat, professional manner, often adding little "goodies" that make you think, "Wow, I'm really glad I ordered this". Well, this is exactly what's going on with the Dromida Ominus.
The RC quadcopter is available in four colors (yellow, green, blue, and red). In the box, you'll receive spare propellers, a transmitter, a small Phillips screwdriver, a manual, and even the four AAA batteries that you'll need for the transmitter (this is really nice considering that most of the time, batteries don't come included for transmitters). Let's move on in this Dromida Ominus review to quickly talk about the drone's battery and charger.
Battery & Charger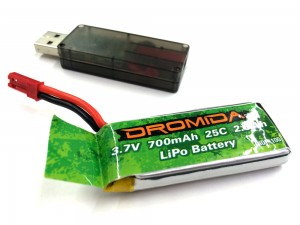 In this section of the Dromida Ominus review we're going to talk about the drone's battery and charger. First and foremost, the quadcopter comes with a relatively large 700mAh battery. The single-cell Li-Po battery is what gives the drone its ability to fly up to 12 minutes on a single charge. Remember that this is considered the "max" flight time for the Dromida Ominus. In reality, this number may be smaller depending on how aggressively you're flying and whether or not there's wind present.
I'd say that 8-10 minutes is a more accurate long-term average to rely on. Either way, for a drone that costs less than $100, the flight time is pretty good. For example, the NightHawk DM007 quadcopter, which costs a good chunk of change more, has a flight time of only about 5 minutes. The battery can be charged via the USB cable that comes included in the box. Next in this Dromida Ominus review we're going to talk about the drone's style and appearance.
Style & Appearance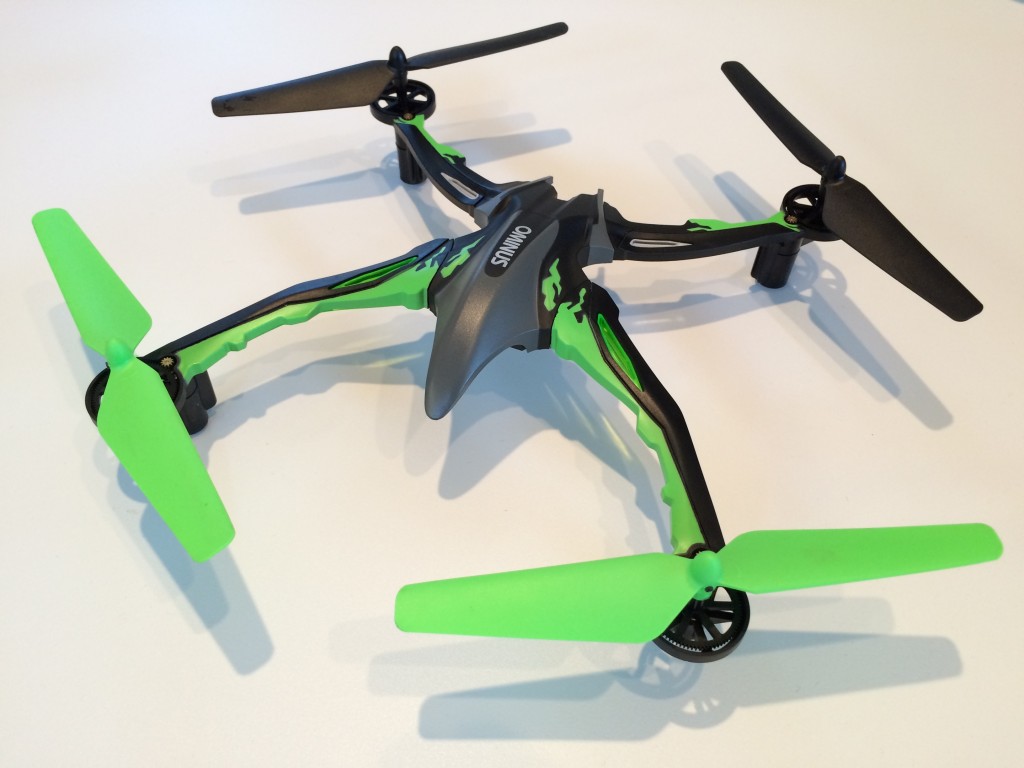 In this part of the Dromida Ominus review, we're going to talk about the quadcopter's design and appearance. The Ominus looks super-cool, and features a predator-like appearance that really helps separate it from similarly priced drones on the market.
As you can see from the picture, it looks solidly built. Dromida claims that their drone is "nearly impossible to break", which I think carries a certain degree of accuracy to it. This isn't to say that the quadcopter is invincible, but it's certainly above average in the durability department.
Everything on this drone looks like it can take a beating. The motor mounts are also the quadcopter's landing gear, and come with soft rubber feet to help absorb rough landings. The drone's arms are a bit "beefy", while the battery is well-protected within the drone's body.
Let's take a moment in this Dromida Ominus review to talk about the drone's LED lights. The lights are one of the only things I have a problem with. More specifically, they're fairly dim (with the exception of the bright red LED light on the back of the quad), but noticeable nonetheless. Just know that if you're outside on a sunny day, or in a well-lit room, you may have difficulty seeing them.
Flight
Just because an RC drone looks nice, doesn't mean that it flies well (I've owned numerous "flashy" drones that stop working after the first day). In this Dromida Ominus review, however, I want to say that this RC quadcopter isn't one of them. In short, it flies like a champ! After pushing the charged battery into the holder, and turning on the transmitter, you'll experience a relatively smooth and stable flight with plenty of potential speed and agility. Check out a flight test of the Dromida Ominus below:
Dromida Ominus Flight Test
Like many RC drones, the Ominus is capable of one-button flips. Simply press the "Flip" button on the transmitter, plus the right analog stick in the direction you want to go, and watch it go. Being able to perform acrobatic stunts like this will certainly make you look like a much more experienced flyer than you really are (and it's a big confidence booster too). Just take note that the flip feature can be a little unstable in heavier wind conditions, so try to only perform it indoors or when outdoor breezes aren't present.
Four Flight Modes
No Dromida Ominus review would be complete without talking about the drone's flight modes. This one comes with four distinct flight modes that can be adjusted to suit your experience level. Personally, I find it difficult to determine what flight mode I'm in without glancing down on the transmitter (which can be dangerous because you're taking your eyes off the aircraft). For this reason, it's recommended that you avoid changing flight modes mid-air and instead change them while you're still on the ground. Let's move on in this Dromida Ominus review to talk about the drone's flight time (you'll like this part).
Generous Flight Time
Arguably one of the biggest benefits to flying the Dromida Ominus is that you'll be provided with plenty of flight time. Strictly for this Dromida Ominus review, I decided to perform an experiment where I would test the drone's battery power under different conditions. The following is the data I acquired:
| | | |
| --- | --- | --- |
| Flight # | Flight Style | Time |
| Flight #1 | Slow Flight (No Flips) | 12:38 |
| Flight #2 | Fast Flight (No Flips) | 10:47 |
| Flight #3 | All Flips | 10:22 |
| Flight #4 | Normal Flight w/ Heavy Wind | 9:47 |
Average Flight Time = 11 Minutes!
These are quit easily some of the most generous flight times that I've experienced with any beginner quadcopter under $100 (almost better than the X5C and U818A combined). This is all possible thanks to the relatively large 700mAh battery used to power the Ominus. Over the course of these four flights, I was able to achieve an average flight of about 11 minutes, which is excellent.
Key Takeaways
Overall, I think that any beginner flyer who wants to hone their skills will be more than happy to do it with the Dromida Ominus. The only downside I can think of is that the drone doesn't come with a camera. If you're truly interested in being able to fly with a camera attached to your Dromida Ominus, then check out this video tutorial on YouTube. It will be able to walk you through all the steps for making it happen. Hopefully this Dromida Ominus review has helped you with any unanswered questions that you may have had about the quadcopter.