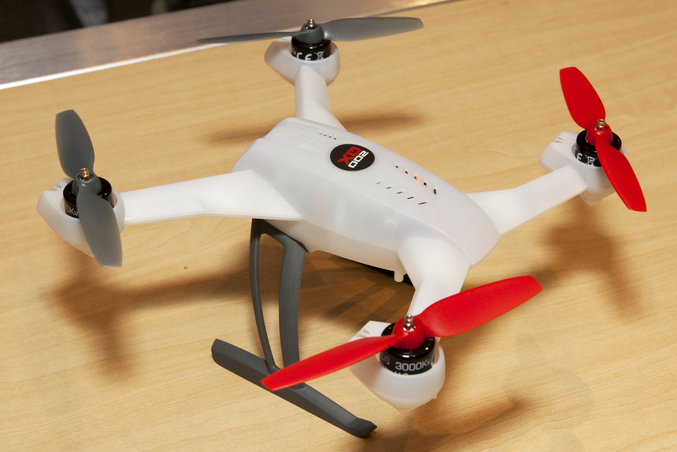 The Blade 200 QX is a beginner's dream. It's well-rounded, and best of all, inexpensive. Many newbies purchase this RC quadcopter with the intention of honing their skills at an affordable price. Then, once they're ready, they move on to a more expensive model. This BNF (Bind-And-Fly) drone is fast, agile, and will certainly provide you with endless hours of fun. In this Blade 200 QX review, we're going to show you everything that this awesome RC quadcopter has to offer.
Blade 200 QX Overview
One of the biggest things that the Blade 200 QX is known for is its ability to perform inverted flights. While it will take a little practice to master, flying upside down is definitely a great way to show off your piloting skills! The Blade 200 QX offers a relatively stable flight, as well as an ample amount of agility and quickness. Due to its multitude of flight modes, the drone is well suited for beginner and advanced flyers alike.
Getting the Blade 200 QX Ready to Fly
Since the 200 QX is a BNF (Bind-And-Fly) quadcopter, you'll need to supply your own transmitter before you can fly it. Personally, I recommend the Spektrum DX6i. This 6-channel transmitter is a bit pricey, but it's well worth every penny. Now that we've got that out of the way, let's move on to the next section of our Blade 200 QX review – flight and performance!
---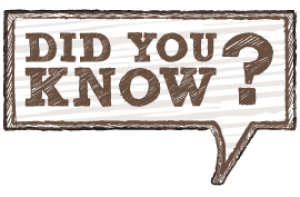 If you're new to the RC drone industry, chances are that you've heard terms like "BNF" or "RTF" being thrown around quite a bit. So, what do they mean? BNF stands for "Bind-And-Fly". A BNF model quadcopter will always require that you have your own transmitter. On the flipside, an RTF, or "Ready-to-Fly" model
does
come with its own transmitter. This is some important lingo to keep in mind when you're shopping for drones.
---
Flight and Performance
No Blade 200 QX review would be complete without talking about flight and performance. First and foremost, this quadcopter doesn't come with a GPS system, so it won't be able to stabilize itself in the wind. It also doesn't come with any "Return-to-Home" functions that you see in quadcopters like the DJI Phantom 3 or the Eachine H8 Mini. With that being said, the Blade 200 QX is a very easy-to-fly, smooth, and stable flyer.
It flies perfectly indoors, and also outdoors (without wind). Overall, it takes a minimal amount of effort to learn how to fly this RC quadcopter. As far as size is concerned, the Blade 200 QX is heavier and bigger than the Hubsan X4. Because of this, it's better designed for areas that offer a little more flying room (it doesn't perform well in tight spaces). Scroll down to see the drone in action!
Built With Signature "SAFE" Technology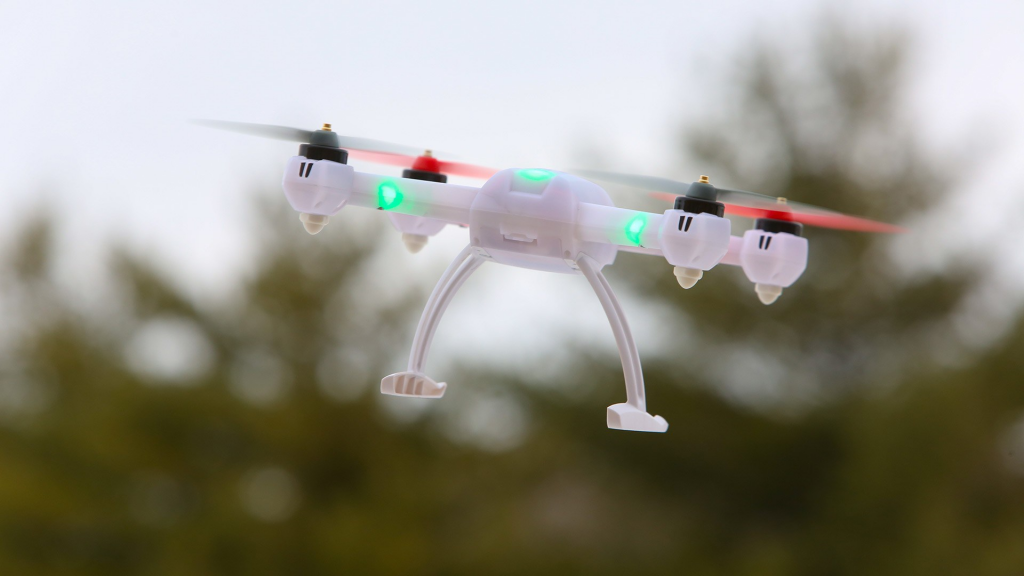 Let's use this part of the Blade 200 QX review to talk about Blades' SAFE technology. As with the Blade Nano QX, the 200 QX comes with integrated SAFE (Sensor Assisted Flight Envelope) technology that helps stabilize the drone while in the air.
This revolutionary technology is an electronic flight envelope protection system. What does this mean? Basically, it will provide the Blade 200 QX with smoother flight capabilities when flying outdoors so that you can be protected during each second of your flight.
Upgrades
In this section of the Blade 200 QX review, we want to take a brief moment to talk about upgrades (don't worry, it's nothing technical). Basically, you can purchase a set of Sport Propellers (click here to get them for $15 on Amazon) that will allow you to perform inverted flights! With this simple little upgrade, you'll be able to perform rolls, flips, and upside down flights with ease – even if you're a beginner.
Blade 200 QX Sport Propellers
While these propellers aren't necessary for flying the Blade 200 QX normally, they will be required if you're planning on doing inverted flying. Click the link to the right to get the best possible price on these sport propellers.
Additional Features and Benefits
Let's move on in this Blade 200 QX review to talk about other amazing features and benefits to this RC drone:
Speedy 3000Kv Brushless Motors: The motors on the 200 QX were designed for speed and quickness. They'll allow you to effortlessly zip through the air with minimal punch on the throttle.
3 Different Flight Modes: The "Stability" flight mode is designed for beginner pilots who are trying to learn the ropes. The "3D Stagility" flight mode is designed for intermediate pilots (and also helps with self-leveling during inverted flights). Finally, the "3D Agility" flight mode is designed for experience pilots who want to push their Blade 200 QX quadcopter to the max.
Affordable Price: Currently, this quadcopter sells for about $200 which, considering all the amazing benefits you'll receive, is definitely worth the price. You can't find too many similarly priced RC drones that are capable of dives, loops, flips, and inverted flights the way that the 200 QX offers.
7-Minute Flight Time: Seven minutes isn't that long, but it's still pretty good. Make sure to purchase extra batteries so that the fun never has to stop. Remember that this flight time can be higher or lower depending on how aggressively you're flying the drone (performing flips, dives, etc.).
Internal LED Lights for Nighttime Flying: Nighttime flying is a blast, and there's no better drone to do it with than the Blade 200 QX. The drone's built-in LED lights make night flying effortless, and they also add to the aesthetic appeal of the device.
It's clear that this drone has a lot to offer. With descent flight time, the ability to perform tricks, and durable brushless motors, there's every reason to at least give it a try.
Bottom Line
We'll end this Blade 200 QX review by saying this: at lot has been packed into this medium-sized quadcopter. It offers the perfect balance of speed and control, and thanks to its multiple flight modes, flyers of all experience levels will be able to enjoy it. We hope that this Blade 200 QX review will help you make a better choice when shopping for an RC drone.
Visit Amazon.com For Huge Savings on the Blade 200 QX
Pros: Perhaps the greatest benefit to the 200 QX is that it can perform inverted flights with a simple propeller upgrade. It's also capable of flips, rolls, and much more. There are three flight modes, each of which are designed for specific skill levels (beginner, intermediate, and advanced). Finally, the brushless motors are quite durable the super-bright LED lights make it fun and easy to fly at night.
Cons: The drone's frame isn't the strongest out there. If you crash it too hard, or too often, then it will likely break. Also, the drone doesn't come with a transmitter, so you'll need to purchase one separately in order to fly it. Since there is no GPS or return-to-home function available, the drone isn't very good at stabilizing in the wind (which can be a problem for beginners).