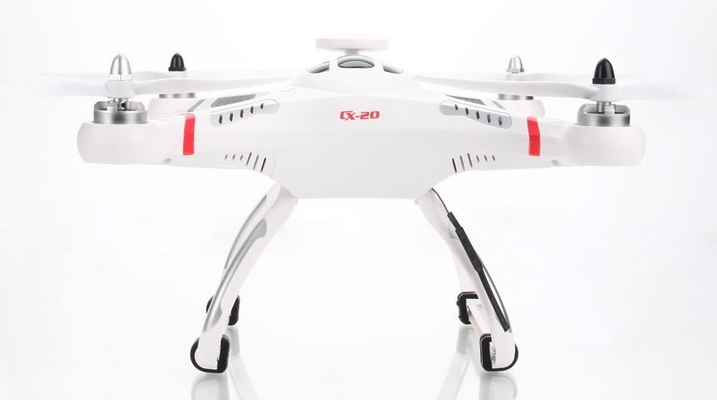 From the same company that brought you the CX-10, now comes the beautiful, sleek, and versatile Cheerson CX-20. Priced at about $270, this full-sized quadcopter offers, I think, extremely good value for your dollar. As you'll come to see in this Cheerson CX-20 review, this quadcopter offers great range, respectable flight time, and above all, simple controls that newbies can quickly master. Let's take a look at what else it has to offer.
Cheerson CX-20 Review
As far as value for your dollar is concerned, you can't get much better than the Cheerson CX-20. One of the first things you'll come to appreciate about it is flight time. With an average flight time of 15 minutes, you can enjoy long flight sessions without worry. The drone's 300-meter range provides you with plenty of flexibility as far as distance is concerned, while the variety of sensors installed in the drone ensure that it remains stable while in the air.
General Features & Benefits
Let's start this Cheerson CX-20 review by talking about the drone's general features and benefits:
Great Range: With a max range of about 300-meters, you'll be able to fly your RC drone nice and far without worrying about it losing connection with the transmitter. It's rare to find this type of range in RC quadcopters priced less than $500.
15-Minute Flight Time: Another excellent benefit that you'll come to love about the Cheerson CX-20 is that it offers generous 15-minute flights. Note that this is maximum flight time, so it can be slightly less if you're flying your drone aggressively, if there's wind present, etc. On a potential downside, the battery takes about two hours to charge. Purchasing extra batteries should help solve this problem though.
Fast Acceleration: No Cheerson CX-20 review would be complete without talking about the drone's speed. In short, this thing is fast. It can fly at a maximum speed of 22 MPH, which is pretty good for a drone of its price and caliber. To put things into perspective, the Parrot Bebop, which costs about $200 more, goes about 31 MPH.
"Return-to-Home" Feature: The return-to-home function on the Cheerson CX-20 is really useful for when you've lost sight of your drone. Basically, at the push of a button, this feature will allow the drone to return to its original takeoff location. For newbies, this is an invaluable advantage to have.
Automatic Landings on Low Battery: When the quadcopter senses that its battery is becoming too low, it will automatically begin to descend to avoid a crash. The last thing you want is to run out of battery 100 feet in the air!
Additionally, the Cheerson CX-20 is GoPro compatible, meaning, you can attach the GoPro camera to the bottom of the drone and record all of your flying sessions. In the next part of this Cheerson CX-20 review, we're going to briefly talk about the drone's battery.
Battery  
Powering the CX-20 is an 11.V 2,500mAg Li-Po battery – that's fairly large! Due to its large size, the battery takes about two hours to charge. Once charged to the max, the drone is capable of about 15 minutes of flight time. But as you know, this can fluctuate based on a variety of factors (how you're flying, what the weather is like, etc.). A potential downside to purchasing extra batteries is that each one costs about $30, so you'll need to make this a consideration when shopping for your drone. Let's move on in this Cheerson CX-20 review to talk about the drone's transmitter.
Cheerson CX-20 11.1V 2,800mAh Battery
Charging these batteries takes about two hours. In order to make your flight sessions last longer with your Cheerson CX-20, it's highly recommend that you purchase extra batteries.
Transmitter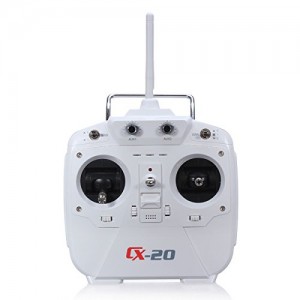 What I like about the Cheerson CX-20's transmitter is that it's built relatively tough. Many smaller drones, like the Syma X5C or X8C, come with transmitters that feel a little "cheap". With the CX-20, this is not the case.
Not only will the transmitter fit nicely in your hands, but it will also feel durable and tough. I mean, considering that it costs about $70 on Amazon, I would expect it to be on par with some of the better transmitters on the market. Overall, everything else is pretty standard – it comes with two joysticks, trim controls, a power switch, and buttons for activating the camera.
The only thing I don't like about this transmitter is that it doesn't come with batteries. This isn't too big a deal, but is still something I would have enjoyed seeing nonetheless. Let's move on in this Cheerson CX-20 to talk about what the drone has to offer as far as looks and design are concerned.
Build & Design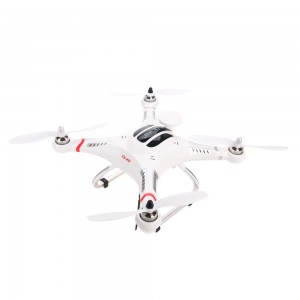 Qualities like flight time, range, and acceleration are very important, and should always be kept in mind when shopping for a drone. Likewise, characteristics like aesthetic appeal and design should also be kept in mind.
As a result, we're going to dedicate this part of the Cheerson CX-20 review to talking about the drone's design and build. Based on reviews from Amazon, the CX-20's design is impressive. The drone is compact, lightweight, and easily-portable, and in a way, resembles the DJI Phantom. If you're looking to stand out from the crowd, then this is definitely one way to do it.
The landing gear on the Cheerson CX-20 is relatively large, offering ample protection during landings. The outside of the drone is composed of ABS plastic, which, while isn't indestructible, should offer a nice degree of durability. While I hate to admit in this Cheerson CX-20 review that the drone doesn't come with a camera, it does come with a light removable mount that's compatible with the GoPro.
Flight
This Cheerson CX-20 review can't end without talking about the super-useful Intelligent Orientation Control (IOC) function. What exactly does it do? Basically, if your drone ever goes into a spin, you'll still be able to steer it in the direction of your choosing. This same functionality is something that you find a lot in drones produced by DJI. As far as general flight is concerned, you'll find that the CX-20 is simple to control and responsive – two qualities that will suit the average newbie quite well. Take a look at a flight test of the drone below:
Cheerson CX-20 Flight Test
The Verdict
Overall, the Cheerson CX-20 is an excellent buy. As far as value for your dollar is concerned, you really can't get much better than this. The drone's range and flight time alone make it well worth the price tag. While it doesn't come with a camera, it can easily support one, so you shouldn't dwell on that potential drawback for too long. We hope that this Cheerson CX-20 review has helped you make a more informed decision when shopping for a quadcopter.
Check For Lowest Prices & Availability
Resources
http://www.rcgroups.com/forums/showthread.php?t=2103102
http://diydrones.com/profiles/blogs/successful-test-of-the-cheerson-cx-20-apm-arducoper-firmware
http://aerialstocks.com/cheerson-cx-20-auto-pathfinder-operating-instructions-features/