The Holy Stone M61X is a cool-looking model that's actually quite stable for a drone of its size and caliber. Due to the fact that it's so stable, I highly recommend this for any beginner who's trying to get their feet wet. It comes with prop guards, a 6-axis gyroscope, and is even capable of 360-degree flips. Although charge time is below average for a drone of its size (about 100 minutes), you'll love the fact that it offers about 8 minutes of flight time, which is actually pretty good considering that drones priced 3x as high have half the flight time. And best of all? It comes with a camera!
M61X Overview
The M61X is pretty unique from other RC drones in the sense that it has three-blade propellers rather than two-blade propellers. This helps add stability to the drone, which is something that newbie flyers are really going to appreciate. Another great thing about the M61X is that it comes with recording capabilities. While they're not HD, they are still pretty good for the price tag. Overall, it's a great drone for beginner and advanced flyers alike.
Visit Amazon.com For Huge Discounts on the M61X
Pros: With 8 minutes of uninterrupted flight time, and a camera, you'll definitely receive quality value for your dollar. The drone is also very stable and offers plenty of power.
Cons
: Camera quality is poor. Weak wiring and exposed gears make this drone relatively susceptible to damage. Charging time is 100 minutes, which is above average for a drone of its size.
Design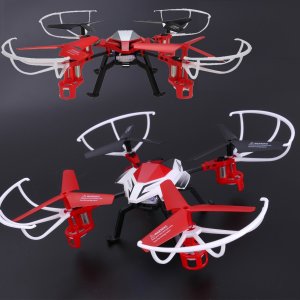 The size of the drone sits somewhere between small and medium. The design itself is relatively unique, featuring vivid colors and sharp angles.
It comes with two sets of landing gear, and prop guards for ensuring added propeller protection. Just keep in mind that the exposed gears and weak wiring to make this drone a hazard for breaking.
Once unique thing that you'll notice about this drone is that it uses 3-blade props rather than 2-blade ones. It's not very unique in the drone industry, but it does added to the stability of this quadcopter. Finally, the Holy Stone M61X comes with two super-bright LED lights that can orient you to your drone while flying in darker conditions.
Flight
First and foremost, know that this drone offers a lot of power for a quadcopter of its size. Although you can certainly fly it indoors, it's probably better-suited for outdoor use. Another thing to know is that the 3-blade propellers make the Holy Stone M61X much quieter compared to quadcopters with similar specs.
Even if you're not very experienced, you'll still be able to do flips with this quadcopter at the push of a button – it's that easy. The various rate modes on the drone allow you to switch to different sensitivity levels based on how experienced you are.
Transmitter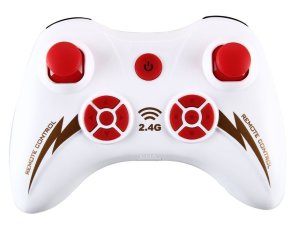 The transmitter for the drone fits nicely in your hands, offers responsive controls, and actually looks pretty cool! As far as controlling your quadcopter is concerned, you'll be able to do all the normal things like move left, right, up, down, and side-to-side.
The top left trigger is designed to let your drone flip, while the top right trigger allows you to switch between different rate modes. Above this, there's not much else to be said since its pretty basic.
Camera
The camera on this drone isn't anything special, but for just $35, you can't really have too high of expectations. Video resolution is 640 x 480, and to record a video, you simply press down on the left directional pad. Check out aerial footage caught by the M61X below:
Also, taking pictures is as easy as pressing up on the left directional bad. The camera has a slot for a microSD card which you can easily pop out and place into your computer to extract your files. On an upside, the camera angle for the M61X is above average.
Key Takeaways
The Holy Stone M61X is a powerful drone that offers great stability, has the ability to perform 360-degree flips, and best of all, offers about 8 minutes of flight time. Just don't expect too much from the quadcopter's camera, and be careful about crashing, because the exposed gears and weak wiring could permanently damage your drone. But for $35, it's still an amazing buy.
Specifications
Weight: N/A
Remote Distance: 30 Meters
Charging Time: 100 Minutes
Flight Time: 8 Minutes
Battery: 3.7V 350mAh
Price: About $35
Camera: Yes
FPV: No
Experience Level: Beginner