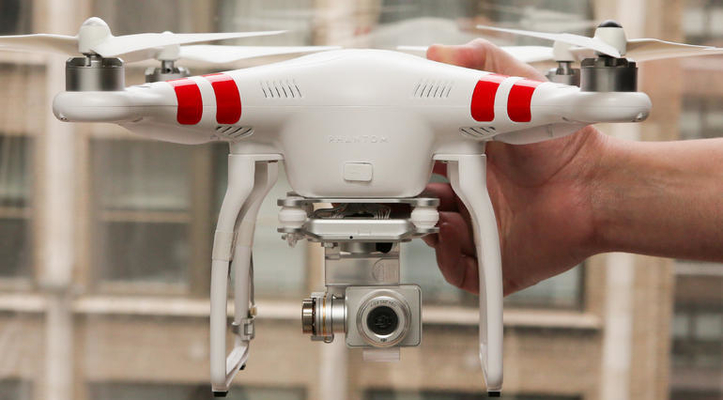 The DJI Phantom 2 Vision + is a quadcopter that can capture amazing aerial footage and photos. Despite its hefty price tag (the Vision+ sells for about $1,100 on Amazon), it remains an excellent drone for beginners. Due to its durable build and stable flight characteristics, beginners can effortlessly navigate through the air and record awesome HD footage. You can also program autonomous flights for your drone to follow, which also takes away from the worry of having to always keep your drone stable while in the air. This DJI Phantom 2 Vision+ review will be dedicated to showing you everything it has to offer.
DJI Phantom 2 Vision+ Overview
For capturing amazing aerial footage and photographs, the DJI Phantom 2 Vision+ is the way to go. It's super-easy to setup and fly, comes with amazing customer support, and best of all, records with an HD camera that can pick up the finer details of your flight. Don't be intimidated by this seemingly complex machine - the Vision+ is also great for beginners!
Visit Amazon.com For Huge Discounts on the Phantom 2 Vision+
Pros: It's simple to setup, comes with great flight time (about 20 minutes), and is relatively easy to fly. The drone's durable build should keep it safe during a crash. Overall, it will prove to be a very solid investment in the long run.
Cons
: While image quality is
good
, it's still not 
perfect
(which is what a lot of flyers were expecting for this price). Fortunately, DJI solved many of the camera quality issues when they launched the
DJI Phantom 3
.
As you'll see from this DJI Phantom 2 Vision+ review, the drone is more powerful than the average quadcopter, yet, it isn't as intimidating to fly (at least it shouldn't be). The controls are intuitive enough for beginners to master, while there are still plenty of advanced features that more experienced flyers can take advantage of. If you have $1,100 in disposable income, and want something that will truly last you a long time if you take care of it, the quadcopter is an excellent model to consider.
Overview of the DJI Phantom 2 Vision +
The drone comes ready-to-fly right out the box. The quadcopter's appearance hasn't changed much from its predecessor, the Phantom 2 Vision. Some of the major conveniences found in this drone include:
Self-Tightening Propellers
Color-Coded Propellers
Slot-Loading Battery Pack (no messy connectors to worry about)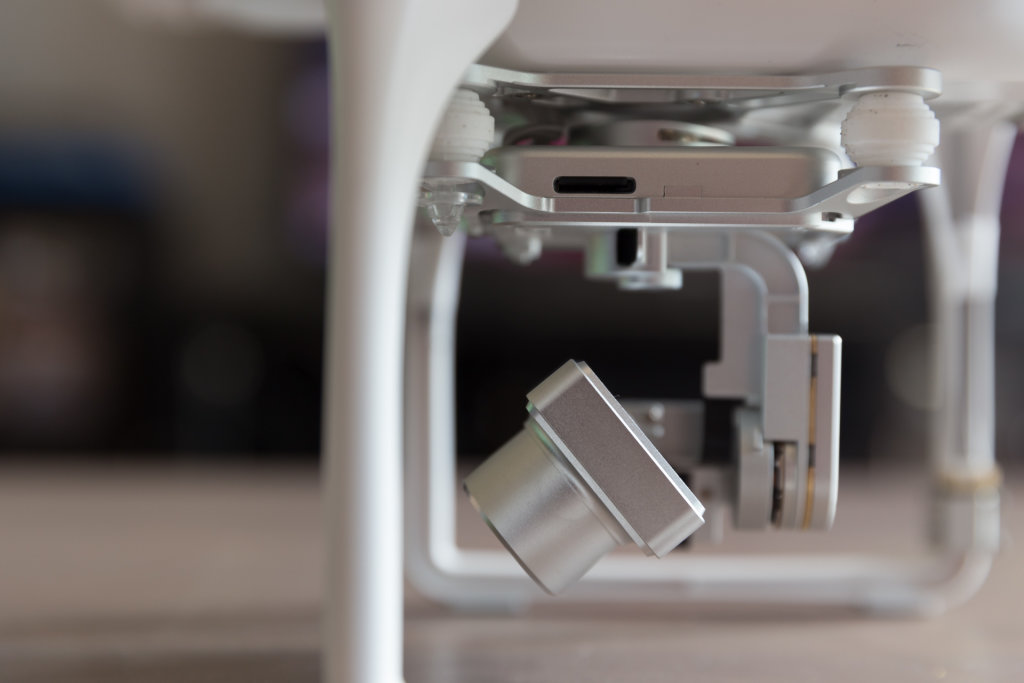 The camera on the drone has changed in design but not specs: it offers 14-megapixel recording at 1080p at 30 FPS or 720p at 60 FPS. You can also control camera characteristics like white balance, exposure compensation, and even choose between a 90-, 120-, or 140-degree field of view.
The biggest change that has been made from its predecessor, with respect to the camera, is the camera's support. In the original Vision, the camera was on an "Anti-Vibration" platform designed to stabilize the camera only on a tilt axis. With this model, the tilt range had a range of about 60 degrees.
However, with the Vision+, there's a three-axis gimbal that houses the camera, which ultimately stabilizes it to the highest degree. What does this all mean? Basically, with the Vision+, you're looking at a camera that's able to continue shooting high-quality and smooth footage, even during sudden movements. Not to mention, the camera comes with a 90-degree tilt that lets you shoot straight ahead, straight down, and anywhere in between.
Getting Started with the Vision+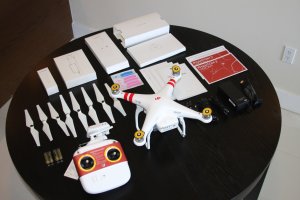 No DJI Phantom 2 Vision+ review would be complete without talking about what comes in the box, and how it all works together.  To begin, the drone doesn't require much setup when you take it out of the box for the first time.
Basically, all you need to do is spin on the propellers, which is super-easy since they're color coded and have self-tightening capabilities. Second, you'll need to charge up the drone's battery back, the wireless range extender, and finally, the mobile device you'll be using to fly your drone.
Note that the remote control requires four AA batteries that don't come included. You can charge the drone's battery with the wall charger that comes included, or with an optional car charger. The range extender can be charged with a wall adapter (which isn't included) or from a Mirco-USB port on a computer.
DJI Vision App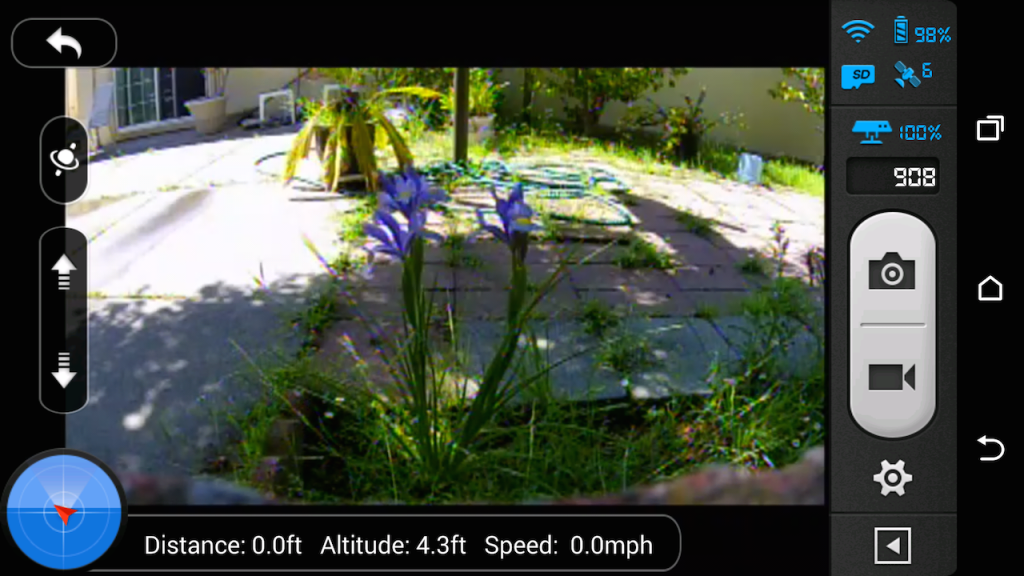 You'll need a smartphone to use the DJI Vision app. With this app, you'll be able to fly the drone in FPV (First Person View) mode. Essentially, you'll be able to see what the camera sees, and the app will also provide you with other crucial flight diagnostics (battery life, flight mode, etc.).
Also note that you can use the app to program up to 16 waypoints. A "Waypoint" is basically a set of coordinates that you can set for your drone to fly to autonomously (on autopilot). This is actually a really neat feature that makes it worth the $1,100 price tag.
Quick & Easy Setup
In this part of the DJI Phantom 2 Vision+ review, we'll talk about what it's like to setup and fly the drone. Setting up the drone for flight is easy and straightforward: power on the quadcopter, wireless range extender, and remote control.
When the extender initiates (which takes about 30 seconds), all you'll need to do is connect your phone's Wi-Fi to it. Then, open the DJI Vision app and get ready to fly! It sounds like a lot of steps, but in reality, it doesn't take very long at all. Check out this official video by DJI on getting the Vision+ "flying ready":
Official DJI Phantom 2 Vision+ Startup Guide
The drone is very easy to fly. In fact, it's so intuitive that beginners with no experience shouldn't have to big a learning curve to jump through. With the drone's GPS, barometric altimeter, inertial sensor, and compass, it will stay extremely stable in the air.
Conclusion
Note that this drone isn't as acrobatic as say, the U818A or Syma X5C. But this isn't what it was designed for either. It was created for capturing amazing aerial footage and photographs, and today, there's only one model that outranks it as far as camera quality is concerned: the Phantom 3. We hope that this DJI Phantom 2 Vision+ review helped answer any questions that you may have had about the drone.
Specifications
Weight: 1,160 Grams
Remote Distance: 800 Meters
Charging Time: N/A
Flight Time: 18-20 Minutes
Battery: 5200mAh LiPo
Price: About $1,100
Camera: Yes
FPV: Yes
Experience Level: Any