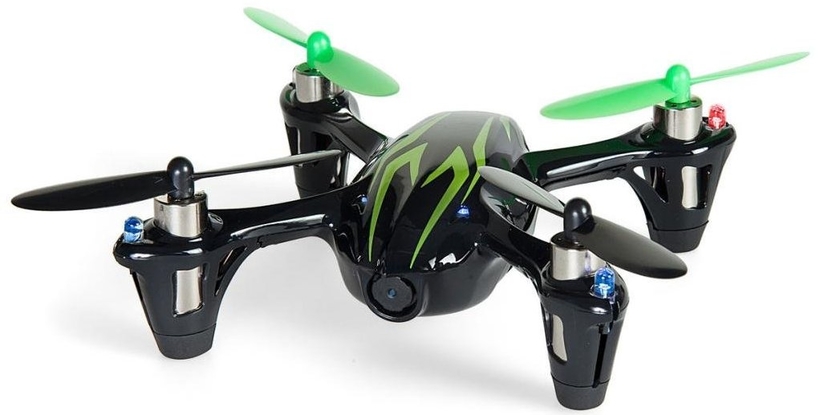 If you're someone who's never flown a quadcopter before, then it's important to choose a model that's stable, easy-to-fly, and that won't break the bank. Well, that's exactly what the Hubsan X4 H107C has to offer. The first thing you'll appreciate about this micro quadcopter is that it comes with a camera. It isn't clearest footage in the world, but for less than $50, it's still pretty descent. In this Hubsan X4 H107C review, we're going to cover this quadcopter from the inside out, and show you what it really has to offer (and possibly discuss a few of its drawbacks). With that said, let's get started!
Hubsan X4 H107C Overview
Affordable Aerial Footage!
The Hubsan X4 H107C is the perfect quadcopter model for A) Learning how to hone your flying skills, and B) Getting experienced with aerial recording/photography. This particular is relatively small, so it's better-suited for indoor flights or outdoor flights when a minimal amount of wind is present. Overall, the controls are responsive and precise, so even absolute beginners shouldn't have any problems getting used to them. Flight time for the quadcopter is about seven minutes, which is about average for a drone of its size, caliber, and price range.
Check Lowest Prices & Availability For The X4 H107C
Hubsan X4 H107C Review – What Comes in the Box?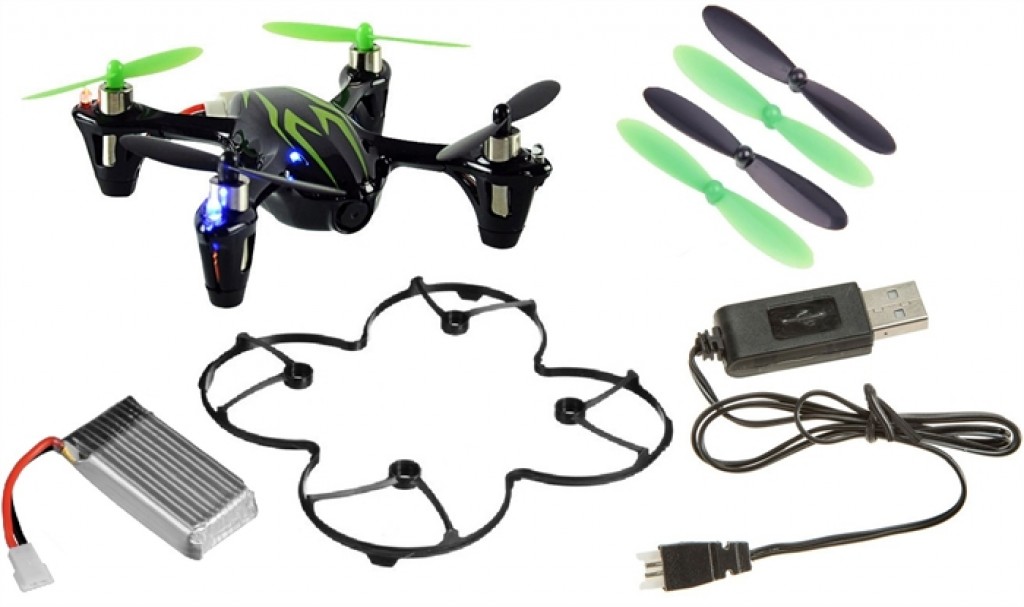 When buying a drone for the first time, knowing what comes in the box is just as important as understanding the drone's functions. Because of this, we're going to spend the next few minutes in this Hubsan X4 H107C review talking about what comes in the box. When purchasing the X4, you'll receive the following:
3.7V 380mAh Li-Po Battery: "Li-Po" stands for "Lithium Polymer", which is the universal battery type used to power RC quadcopters.
2.4 GHz 4-Channel Transmitter: Being a 4-channel transmitter, you'll be able to fly your quadcopter without worry of interference of anyone who may be flying a similar model nearby.
Spare Propellers: If you're a beginner, chances are that you're going to have your fair share of crashes. Having an extra set of propellers ensures that you can get back in the air quickly if the first ones break.
Prop Guard: While it does take away from flight time slightly, prop guards help increase the longevity of your propellers by protecting them from the external environment. Once you become more experienced, you can remove them.
USB Charging Cable: What I like about the H107C is that it comes with Over-Charging Protection (OCP). Basically, this ensures that you don't accidentally overcharge your quadcopter and damage the battery.
Finally, as with most RC quadcopters, the X4 comes with a manual that will help you activate, fly, and maintain your drone.
Design & Build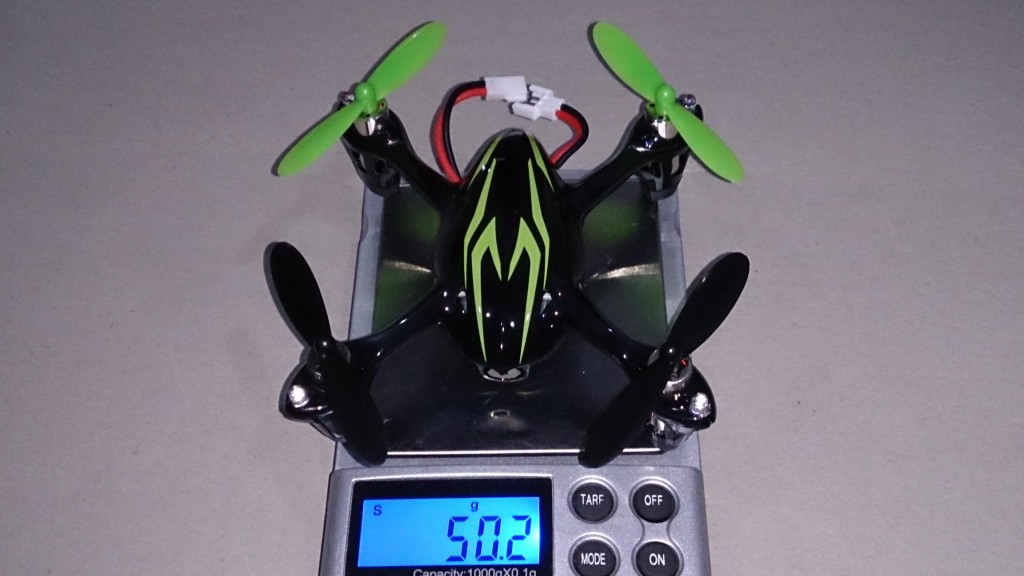 In this part of the Hubsan X4 H107C review, we're going to talk about the drone's design and build. First and foremost, the quadcopter is relatively small (dimensions are 3-inches wide by 1-inch tall).
Without the battery, the entire unit weighs about 40 grams. With the battery, you're looking at about 50 grams (see proof to the right). Due to its light weight, the H107C is better-suited for indoor flying. You can fly it outdoors, but make sure to do it when weather conditions are good. Otherwise, you'll find that even lighter breezes can make it hard to control.
The frame of this beginner drone is made of plastic, which is pretty standard in the RC drone industry. It's not the strongest material out there, so do your best not to crash it. The propellers are also made of plastic, and can quickly & easily be removed/replaced. There's a compartment in the rear of the X4 H107C where the battery lies. I've noticed that the battery has a tendency of sliding out of its compartment from time to time, but this may not be the case for everyone.
Read: Check Out The Top Five Accessories For The X4 H107C That You Should Own!
Finally, before leaving this part of the Hubsan X4 H107C review, I wanted briefly touch on the drone's landing gear. Many quadcopters, like the Syma X8C or DJI Phantom 3, have relatively long landing gear that stick out several inches from the drone's body. This gives the quadcopter plenty of leeway while landing, and ensures that the body doesn't come in contact with the ground. The H107C doesn't come with traditional landing gear. Instead, it has small rubber feet for absorbing landings. Overall, I'd give it a solid B+ in design! Let's move on in this Hubsan X4 H107C review to talk about the drone's performance.
Flight and Performance
Even if you're a complete newbie, you'll find that the H107C will be very easy to fly. The quadcopter comes ready to fly, so all you need to do is slide in the battery, power on the transmitter, and hit the air! The quadcopter offers quite a bit of thrust for a smaller quadcopter. The controls are also very responsive, allowing you to maneuver through the air with accuracy. I'd like to mention in this Hubsan X4 H107C review that if you've never flown a quadcopter before, make sure that you have the prop guards installed.
The drone is relatively stable for a smaller model, but not anything near the kind of stability you'd find in models like the Parrot Bebop or 3DR Iris+. With a little practice, you'll be able to hover your drone in place and record stable footage. If you're a first-time flyer, I'd recommend reading my article on how to fly a drone. Check out the video below to check out the H107C in-action:
Camera and Recording Quality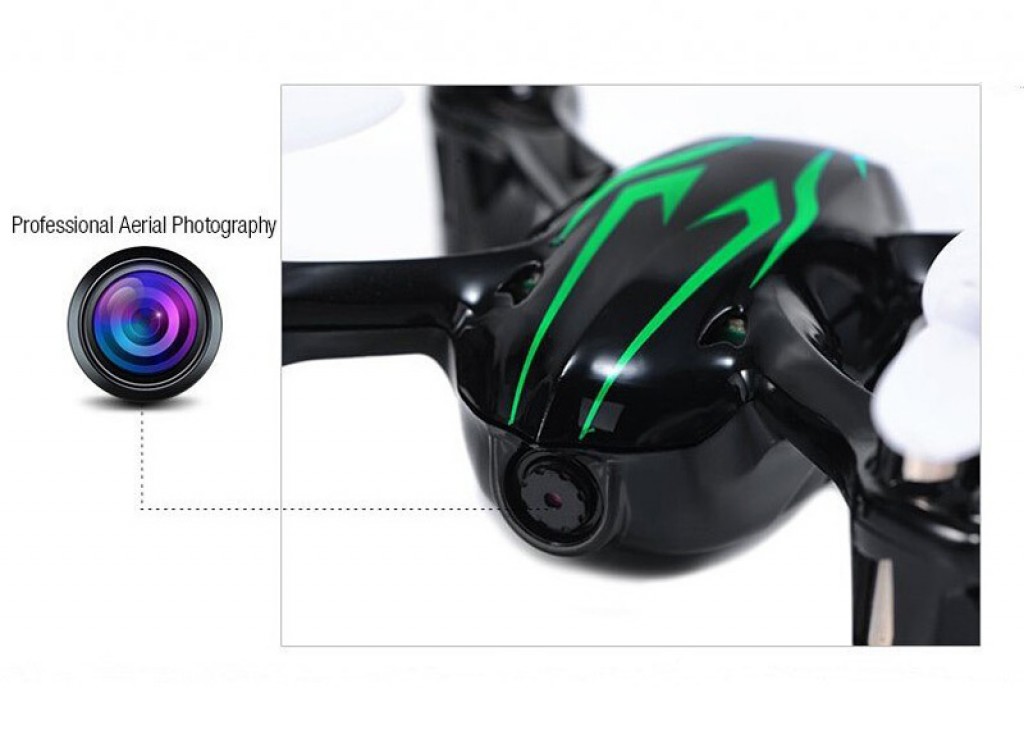 In this part of the Hubsan X4 H107C review, we're going to talk about the drone's camera. Video resolution is 720 x 480 at 25 frames per second. This combination results in video quality that's good, but not great.
But for less than $50, you can't complain. What I like about this micro quadcopter is that recording your flying sessions is straightforward and easy. Just insert a microSD card into the rear of the drone (near where the battery lies).
From here, just press the record button on the bottom-left-hand side of the drone's body.  You'll know that the drone is recording when you see the red LED light blinking rather than staying continually lit. When you're done flying, simply press the button again to stop recording. You can then upload your microSD card into a laptop to watch your recordings. Click here to watch aerial footage caught by the H107C.
Transmitter
No Hubsan X4 H107C review would be complete without talking about the drone's transmitter. In short, the controller is very cool-looking! It looks like a modified PS3 controller, and will fit nicely in your hands. There's a small LCD display on the front of the transmitter that will provide you with important diagnostics about your flight. One thing that the LCD display shows is throttle position. So, rather than guess at how much throttle you need to give to reach a certain height, you can simply refer to your LCD screen and know for sure (25%, 50%, etc.).
Key Takeaways
For a cheap beginner drone, you can't get much better than the H107C. Not only can you use it to hone your flying skills, but you'll also be able to gain some experience with aerial photography. While recording quality isn't the best out there, it's still pretty good for the relatively low price tag. Now that you've read through this Hubsan X4 H107C review, you'll be in a position to make a more informed decision when shopping for a beginner drone.
Check Low Prices and Availability For The X4 H107C!
Resources
http://www.tested.com/forums/general-discussion/461508-first-quadcopter-purchase-my-hubsan-x4-review/