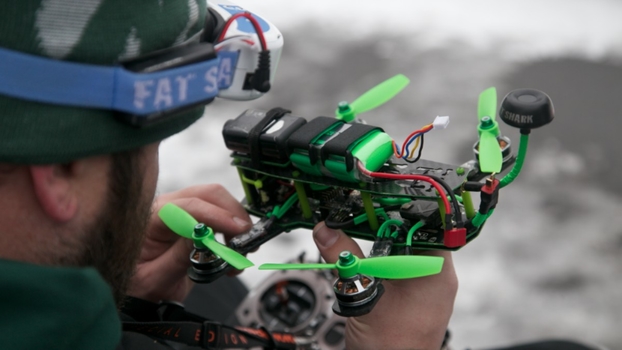 August 12th, 2015 – Stephen Ross, owner of the Miami Dolphins, took a chance with drone racing when he invested a whopping $1 million on the underground sport. Drone racing is exactly what it sounds like- racers wearing FPV (First Person Viewing) goggles race their quadcopters around tracks in speeds of excess of 70 MPH. The first person to cross the finish line is the winner. The FPV goggles allow the flyer to see what the drone's camera is seeing in real-time. While FPV technology isn't new, it's becoming more accessible to everyday hobbyists.
Ross invested the $1 million in the Drone Racing League (click the link to sign up for their newsletter). The league is already in hot pursuit of making the sport as popular as possible. They've put together a series of "trial races" consisting of six pilots to demonstrate the drone's potential. In the later part of 2015, they're expected to hold their first public event, which will include media deals, sponsorships, and ticket sales. Overall, it seems like the league is making tremendous progress towards making the sport mainstream, and there's no doubt that Ross's investment is going to help with that.
What Does Drone Racing League's CEO Have to Say?
The Drone Racing League's CEO, Nick Horbaczewski, mentioned in an interview that the sport will likely first appear on the television, followed by making its way into stadiums. He added that drone racing is going to take on the same type of competitiveness and format that you find in NASCAR races, "To start, we will have competitors using the same drones, but eventually we see teams building drones and having their own pit crews".
I don't know about you, but that sounds pretty cool! In July, the Drone Racing League held their first test run in Yonkers, New York. It took place in an abandoned building, and included six racers. Check out the video below to see it for yourself:
Horbaczewski says that since the industry is so new, and since drones have only been commercially available for about a year, the league is planning on actively recruiting the best pilots in the world. It's hard to predict exactly when or if the sport is going to become mainstream, but if I does, I'll definitely be buying tickets.
The Drone Racing League Isn't Alone
The Drone Racing League isn't the only organization in the world trying to make the sport go mainstream. In fact, earlier in 2015, a two-day event called the "U.S. National Drone Racing Championships" took place in California. It attracted about 120 skilled pilots and offered a whopping $25,000 for the grand prize. Similar (albeit smaller) events have also taken place in the UK, Australia, and even France.
Sources
http://www.theverge.com/2015/8/12/9136279/drone-racing-league-one-million-backing
http://espn.go.com/nfl/story/_/id/13421113/miami-dolphins-owner-stephen-ross-investing-1-million-drone-racing-league