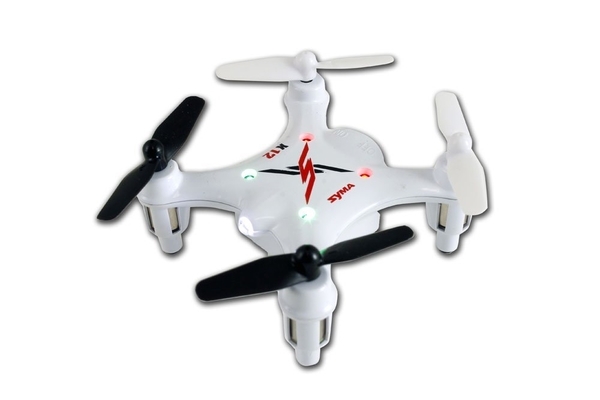 The Syma X12 Nano Quadcopter is an ultra-small drone that fits into the palm of your hands. Weighing only 13.3 grams, it's fast, responsive, and highly-maneuverable. Despite its small size, the drone has a relatively solid build. Rubber feet support the drone's plastic frame, while the red, green, and white LED lights are useful for flying at night. Similar to the Cheerson CX-10, it can be adjusted to different sensitivity levels based on how quickly you want to fly it. In this Syma X12 review, we'll talk more about what it has to offer.
Syma X12 Overview
Similar to most nano drones, the Syma X12 will provide you with a fun, fast, and agile flying session. The drone's controls are relatively straightforward, and even beginners will have little trouble getting used to them. The LED lights on the X12 allow you to fly it at night, while the 360-eversion feature allows you to perform flips at the push of a button!
Visit Amazon.com For Huge Savings on the Syma X12
Pros: The drone's biggest pro is the price (it sells for just $18 on Amazon). The X12 moves fast, and is capable of 360-degree eversions (flips). Excellent beginner drone that should last a while if you take care of it.
Cons
: Average flight time is only 4 minutes, which can be frustrating when you're eager to fly. Also, it's virtually impossible to "hover" in one spot with this nano quadcopter. Despite its flaws, the X12 is still a great buy!
This drone is the perfect model for beginners. It allows them to get comfortable with the basics of quadcopter flight until they're ready to move on to more expensive models. In the following section, we'll show you how the drone performs, as well as how it handles itself outside.
Flight Performance
No Syma X12 review would be complete without talking about flight performance. I would recommend flying this drone outside, especially if you're a first time flyer. Even on low sensitivity, the Syma X12's controls can be quite challenging to master, and you don't want to be bouncing it off things in your home while learning how to harness them. But once you get the hang of things, it will provide you with a fun, aggressive, and high-speed flying session that's well worth the $18 price tag. Check out the video below to see it in action:
Due to its low weight and size, the X12 doesn't handle itself well in wind. Even light breezes can cause the drone to drift uncontrollably. Once you become proficient at flying, take advantage of the Syma X12's ability to perform flips. This can be done by pushing & holding the black button on the transmitter's right side (while using the right stick to guide the direction of the flip). On a fresh battery, flips will be tight, but they'll degrade in quality as the battery runs low.
Transmitter and Flight Time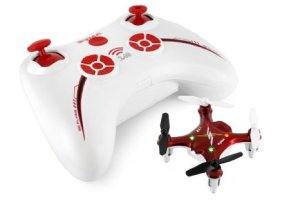 The drone is powered by a 100mAh LiPo battery, and is capable of 4-5 minutes of flight time. Charging the battery to maximum capacity takes about 40 minutes. Not only is the flight time relatively short, but there's no way to swap out the battery for spares (which can easily be done on models like the U818A or X5C). The transmitter (controller) is small, fits nicely in your hand, and is actually bigger than the drone itself! Note that it does require 4 AA batteries to power on.
Bottom Line – Fun Nano Quadcopter For Under $25
The Syma X12 Nano Quadcopter is an ultra-small nano drone that can provide you with endless hours of fun. It's perfect for children, teens, and adults. For under $25, it's one of the best beginner drones you can buy. We hope that this Syma X12 review helped you make the right choice.
Specifications
Weight: 13.3 Grams
Remote Distance: 20 Meters
Charging Time: 40 Minutes
Flight Time: 4 Minutes
Battery: 3.7V 100mAh LiPo
Price: About $18
Camera: No
FPV: No
Experience Level: Beginner