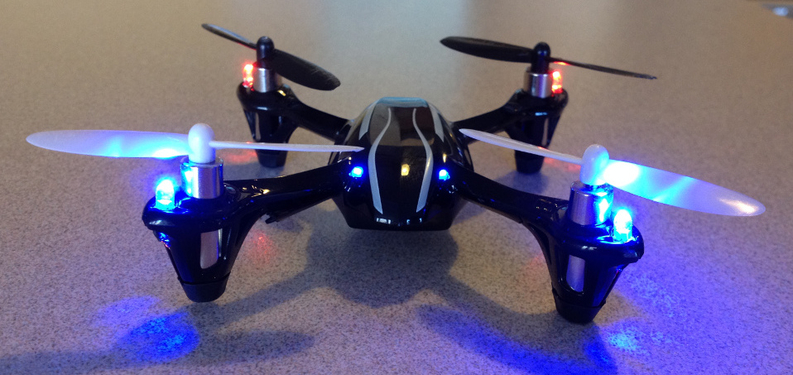 When shopping for a beginner quadcopter, you want to focus on a model that offers great stability, descent flight time, and preferably, an easy-to-use transmitter with different flight modes. Well, that's exactly what the Hubsan X4 H107L has to offer. Although it's relatively small (about 28 grams without the battery), it packs quite a punch. In fact, the X4 is hardly bigger than a smartphone, yet, it's able to provide flyers with endless hours of fun. In this Hubsan X4 H107L review, you're going to find out how. Let's get started!
Hubsan X4 H107L Overview
The Hubsan X4 H107L is micro quadcopter very suitable for all age groups and experience levels. It offers a maximum flight time of about 9 minutes, and a remote distance of about 30 meters. One reason why it's recommended for beginner flyers is because it's very stable in the air, especially indoors. The drone has the potential to fly fast & aggressively, but can also be flown conservatively if you choose. It's this kind of versatility that makes the Hubsan X4 H107L an excellent beginner quadcopter.
Check Lowest Prices & Availability For The X4 H107L
Hubsan X4 H107L Review – Size & Design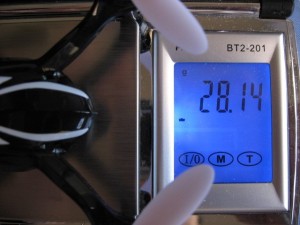 Let's start this Hubsan X4 H107L review talking about the drone's design and size. The first thing you'll realize about the H107L is its small size. The quadcopter isn't much larger than a smartphone, and weighs about 28 grams without the battery. Due to its lightweight, it has a tendency of getting tossed around by the wind, so try to fly it outdoors when weather conditions are optimal.
Indoors, the X4 flies very aggressively, and offers responsive, easy-to-use controls that even complete newbies can get used to pretty quickly. The quadcopter's sleek design is accompanied by an all-black coating with a pair of white streaks along both sides of the body. Similar to the H107C, the H107L comes with small rubber feet designed to absorb landings. Let's move on in this Hubsan X4 H107L review to talk about the drone's battery.
Battery & Charging Time 
The X4 is powered by a 3.7V 240mAh lithium polymer battery. When fully charged, expect a flight time of about 9 minutes. Remember that 9 minutes is only an average– your actual flight time depends on how aggressively you fly your quadcopter, as well as whether or not you're flying in the wind. Let's not forget to mention in this Hubsan X4 H107L review that charging the battery to its maximum capacity takes about 40 minutes. Considering that the flight time for the drone isn't that long, I would recommend purchasing extra batteries. They don't cost that much, and can extend your flight sessions three- or four-fold.
Read: Check Out The Top Five Accessories For The X4 H107L That You Should Own!
What Comes in the Box?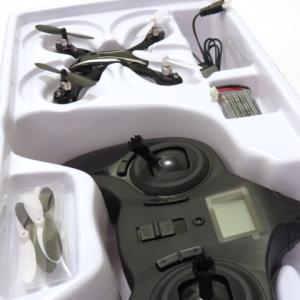 In this part of our Hubsan X4 H107L review, we're going to briefly talk about what comes in the box with the drone. With your purchase, you'll receive the following:
Transmitter: The drone's controller is fairly universal in the sense that it comes with

4-channels

and operates on a

2.4 GHz frequency

. We'll cover the transmitter a little more in-depth later on in this review.
Spare Propellers: Even the most experienced flyers lose or break propellers- you can't avoid it when flying drones. Fortunately, spare propellers come in the box, and can quickly & easily be installed in place of old ones. They're also color-coded, which makes the installation process less confusing.
USB Charging Cable: Connect the drone's rechargeable battery to a computer or laptop via the USB cable to charge it back up to maximum capacity. Charging takes approximately 40 minutes when the battery's completely dead.
Now that you know what comes in the box, let's move on in this Hubsan X4 H107L review to talk about the drone's transmitter.
Transmitter
The X4's transmitter looks like a modified PS3 controller with style! It comes with two joysticks (right & left), an LCD screen (provides important flight diagnostics), trim buttons (to counteract drifting), flight mode buttons (for increasing/decreasing transmitter sensitivity), and of course, a power button (for turning transmitter off/on). Let's not forget in this Hubsan X4 H107L review that the transmitter is very ergonomic, and will fit nicely in your hands. Some controllers can be awkwardly-shaped, resulting in sore hands/thumbs. However, this isn't the cause with the X4's transmitter. As far as transmitter signal distance is concerned, you'll be able to fly the X4 up to 30 meters away.
Anti-Flip Mode
No Hubsan X4 H107L review would be complete without covering the quadcopter's infamous Anti-Flip Mode. What's the purpose of this flight mode? As its name implies, it prevents you from performing single-button flips with your quadcopter. Remember that anti-flip mode can be activated ONLY when you're flying on "Expert Mode" (a specific flight mode that you can adjust on your transmitter). Otherwise, the feature does nothing. Click here to check out some footage of the X4 flying with anti-flip mode activated.
Flight & Performance
We're going to end our Hubsan X4 H107L review by talking about the drone's performance and flying capabilities. In short, this thing is fast. Not only is it fast, but it's also incredibly agile, responsive, and maneuverable. If you're looking for a quick, acrobatic quadcopter at an affordable price, then this is definitely a top candidate to consider. If I had to describe the drone's performance in one word, it would be "smooth". When press the right joystick in a specific direction, the drone will effortlessly fly there. For a more visual idea of what I'm talking about, check out a video review of the quadcopter below:
Hubsan X4 H107L Flight Test
Key Takeaways
If you're getting into drones for the first time, and want something that's reliable and that will last you a long time, the X4 H107L is a solid choice in my opinion. It offers a solid 9 minutes of flight time, has a remote distance of 30 meters, and offers several different flight modes that adhere to your specific experience level. If you have any questions about the quadcopter, make sure to ask them in the comment box below. We hope that this Hubsan X4 H107L review has helped you learn more about the wonderful qualities that the drone has to offer. Good luck shopping!
Check Lowest Prices & Availability For The X4 H107L!
Resources
http://www.rcgroups.com/forums/showthread.php?t=1960166
http://techspective.net/2015/02/24/review-hubsan-x4-h107l-quadcopter/