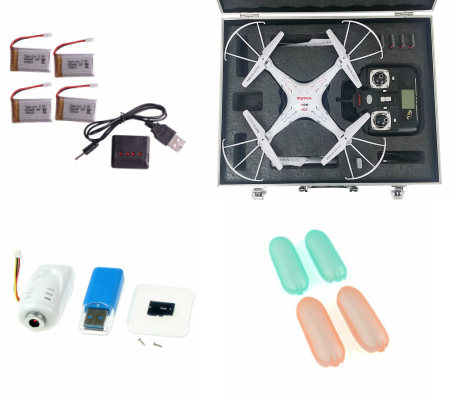 The Syma X5C Quadcopter is an excellent beginner quadcopter that can provide you with endless hours of fun while you hone your drone-flying skills. It offers a nice degree of stability, is fairly responsive, and has a 2-megapixel camera for capturing aerial footage. But as with any consumer drone, there are a few "extras" that can make your flights safer and more enjoyable. Below, we're going to show you five super-useful and inexpensive Syma X5C accessories that you should definitely consider investing in.
Syma X5C Accessories- #5: Spare Propellers
The X5C is, in my opinion, one of the best quadcopters for beginners. But it's definitely not invincible. When learning how to fly a drone, you're going to crash a lot. And you're going to lose or break propellers along the way. Because of this, it's a smart idea to invest in extra propellers. That way, you won't have to sit on the sidelines when your props break. This is one of those Syma X5C accessories that are cheap ($2-$3 on Amazon) and highly-recommended. The best part is that the spare propellers look and fit exactly like the originals.
#4: 600mAh Batteries w/ Charger (x4)
While the X5C is an excellent beginner drone for under $100, its flight time isn't that good. This particular model offers an average flight time of 5-8 minutes, which simply isn't enough. For this reason, you should definitely invest in Syma X5C accessories that allow you to stay in the air longer. The 600mAh Batteries w/ Charger will allow you to fly back-to-back sessions so that the fun never has to stop. The best part is that this is a 4-in-1 charger, meaning, you'll be able to charge all four batteries at the same time. This makes charging more efficient, allowing you to get back in the air quicker.
600mAh Spare Batteries w/ Charging Cable
#3: Spare 2-Megapixel Camera
The X5C's 2-megapixel camera is detachable, and allows for capturing images and videos while in the air. Unfortunately, the drone's camera is constructed from cheap plastic. And as you know, cheap plastic has a tendency to break! The good news is that there are Syma X5C accessories that solve this problem: one is the HD Camera Set from Coolplay. If for whatever reason your original camera breaks, you can quickly and easily replace it at an affordable price. Additionally, the camera set comes with a USB drive and 4GB SD card, and is fully compatible with the X5C model.
Spare X5C 2-Megapixel Camera
#2: Replacement Light Covers
The X5C comes with four LED lights: two green and two orange. While they're great for night flying, they are fairly delicate, and can easily break during a crash. To continue enjoying your drone's beautiful glow, consider buying Replacement Light Covers. These Syma X5C accessories are very cheap (less than $5 on Amazon), and will ensure that you have backups ready if your original ones break. This accessory will help preserve your X5C's style for a long time to come.
#1: Black Carrying Case
The Black Carrying Case for the X5C is by far one of my favorite Syma X5C accessories. Why? Because it's strong, inexpensive, and will allow you to safely transport your drone from location to another. The case comes with segmented slots for the drone, batteries, propellers, and any other accessories that you may have. If you plan on traveling with your X5C, then this is a must-have accessory. An additional benefit to this case is that it prevents you from losing parts.
Conclusion
These accessories are designed to help you fly longer, replace broken parts, and safely travel without losing anything. Remember: you don't want to sit on the sidelines after a propeller breaks or after your battery runs dry! The best part is that most of these accessories are priced under $20, so you're getting an amazing bargain. Click here to read a full review on the Syma X5C Quadcopter.
Resources
http://www.symatoystore.com/Syma-Spare-Parts/Syma-X5C-Spare-Parts