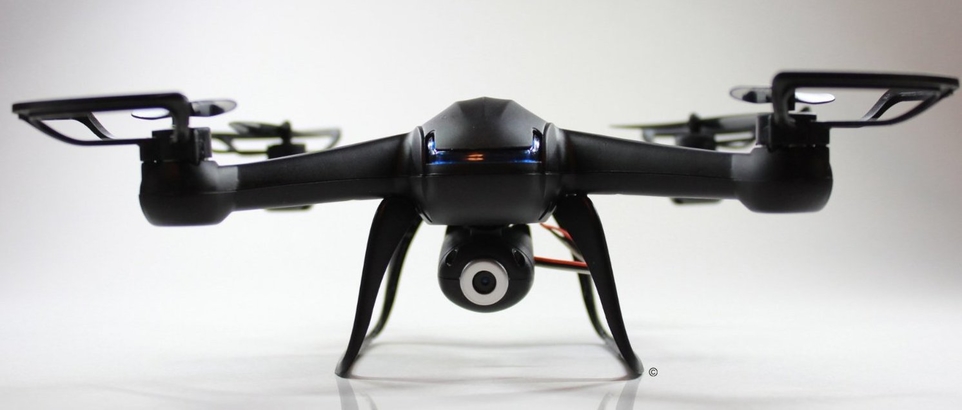 The NightHawk DM007 Quadcopter Spy Explorers Drone is earning its spot as one of the best RC drones of 2015. It's excellent for beginner and experienced pilots, and best of all, offers phone support for repairs. But you probably won't need to rely on them too much considering that the NightHawk is tough. I've crashed mine numerous times, and each time, all I've had to do was replace a few broken/missing propellers.
NightHawk DM007 Overview
The NightHawk DM007 is sleek, dynamic-looking drone that's capable of high-flying HD recording. The drone's 2-megapixel, 720p HD camera will allow you to capture amazing aerial footage at an affordable price. The placement of the LED lights on this quadcopter are incredibly unique, and also ensure that you can fly at night without losing track of your drone. Perhaps the best thing about the DM007 is that it comes with quality customer support designed to walk you through any installation or repair questions that you might have. Overall, a very good buy!
Visit Amazon.com For Huge Savings on the NightHawk DM007
Pros: You Go Products offers amazing customer support for the DM007. They'll be able to answer any questions that you have about your drone. Camera quality is also very good for the price. Durability and responsive handling also a huge plus.
The DM007 is one of the most stable RC drones under $200. The drone's hovering capabilities aren't on par with the DJI Phantom 3, but they're still descent. Also, the landing gear and prop guards make the drone appear much larger than it really is (quite the contrary the drone is actually pretty small).
Camera
One of the top features on this drone is the camera. The NightHawk DM007 Quadcopter comes with a removable 2-megapixel 720p HD camera. Check out some aerial footage caught by the DM007 below:
NightHawk DM007 Aerial Footage
It's hard to find camera quality that clear for only $105. The drone also comes with a 4GB MiniSD memory card for capturing and storing aerial footage and photographs. Even the Hubsan X4 107D, which costs $50 more, doesn't measure up to the camera quality of the NightHawk.
What Comes in the Box?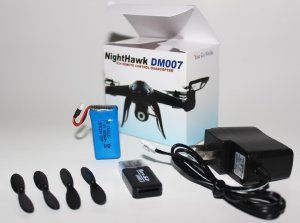 Included in the box are the following (not all of these are shown in the picture to the right):
Transmitter
7.4V 2S Battery
Wall Charger
Two Sets of Black Propellers
One Set of White Propellers
Propeller Guards
2MP HD Video Camera
Remember that the camera is detachable, so you're not obligated to fly with it. If you're not planning on doing any recording, then remember to keep it off to conserve your battery and increase flight time. Similarly, the prop guards aren't necessary for flight but are highly recommended for protecting the DM007's propellers.
Red/Blue LED Lighting For Night Flying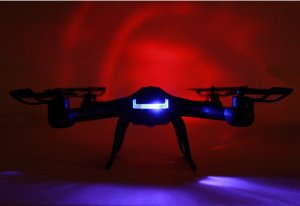 The red & blue LED lights installed on the NightHawk DM007 Quadcopter make it possible to track your drone while flying at night. Unlike most drones, which have their LED lights underneath the wings, this model has them installed on the front and back of the body
I don't think the location of the LED lights makes a big difference in being able to track your drone. Personally, I prefer having them underneath each wing. But if you're looking for a new and cool LED light setup that's unique to other drones on the market, the DM007 is the way to go.
Final Thoughts
For the camera quality alone, I would consider the NightHawk DM007 a good buy. With an average flight time of only 5 minutes (7 minutes is usually the max), I would recommend purchasing extra batteries for your drone. You'll also receive You Go Products customer support with your purchase, which can be useful for newbies who are confused about how to setup or repair their drone. Overall, it's a solid beginner drone for under $100.
Specifications
Weight: N/A
Remote Distance: 100 Meters
Charging Time: N/A
Flight Time: About 5 Minutes
Battery: 7.4v 2S LiPo
Price: About $105
Camera: Yes (2-Megapixel 720p HD)
FPV: No
Experience Level: Beginner