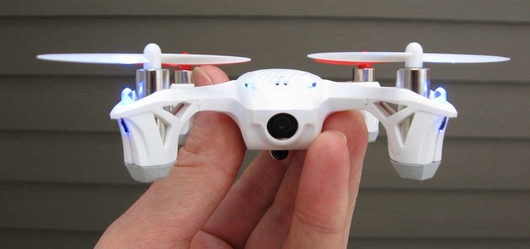 The Hubsan X4 H107D Quadcopter is a beginner-friendly and affordable FPV drone. It can fly for seven minutes on a single charge, has 640 x 480 video resolution, and best of all, won't break the bank (average price is $150). You can enjoy all of the amazing benefits of FPV flying without paying the hefty price tag. Finally, don't allow its small size to intimidate you – the Hubsan X4 isn't that difficult to control and maneuver, but it will require some practice. In this Hubsan X4 H107D review, we're going to show you everything it has to offer.
Hubsan X4 H107D Overview
Control
Durability
Flight Time
Value
86
Cheap FPV Flyer!
The Hubsan X4 H107D will allow you to fly in FPV (First Person Viewing) mode at an affordable price. Now you can fly without having to have your drone in your field of sight. Overall, this will result in a much more exciting flying experience. Even if you're an absolute beginner, you'll still be able to become accustomed to the controls rather quickly. The drone can fly for about 7 minutes on a single charge, and has a range of about 100 meters, which is quite far!
Here's an overview of the drone's best features:
Great Design: The Hubsan X4 has a really cool design that helps distinguish it from other mini drones on the market. The two LED lights on the front of the quadcopter make it look like a little monster ready to rip through the air. The two front propellers are white while the two rear propellers are red. Not only does this give off nice contrast, but it also helps when you're replacing your props.
Lightweight Airframe: This small quadcopter weighs about 35 grams, so it's highly maneuverable, and has the potential of being flown quite aggressively. Due to its relatively light weight, I would recommend flying it in low-wind environments.
Durability: It's durable enough to take a few falls, which is perfect if you're a beginner flyer. I've crashed my into pavement and into several trees, and I've had to do nothing more than replace a few broken/missing propellers. Note that if you fly the drone with the prop guards, it becomes even more durable.
FPV Flying: The 4.3-inch LCD viewing monitor, which is built directly into the device's wireless controller, will let you fly your drone without actually having to see it. Many FPV drones cost several hundred dollars, so for $150, you're definitely getting a pretty good bargain.
Camera
No Hubsan X4 H107D review would be complete without talking about its camera. The X4's camera doesn't deliver HD quality recordings, but is still descent for less than $200. The 0.3-megapixel sensor records at 640 x 480 resolution, and displays on the monitor at 720 x 480. I'd say that, overall, you'll still get pretty good (and useable) video out of your drone. Depending on your skill level, you may or may not be able to fly totally by FPV – at least not in the beginning. Check out aerial footage of the Hubsan X4 below:
In The Air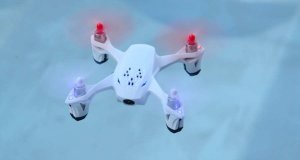 One of the first things you'll come to appreciate about the Hubsan X4 is its range. You can control the drone up to 100 meters (300 feet), which is more than enough for the average flyer. Unlike the DJI Phantom, the X4 does not have the ability to maintain its position mid-air, so hovering is pretty much out of the question. The good news is that the X4 is far less expensive, so it will definitely be less intimidating to fly.
The X4 is relatively easy to fly, so even if you're an absolute beginner, you can still get the hang of things pretty quick. I'd avoid flying it in windy conditions since the drone isn't very big (remember it only weighs 35 grams). But don't worry, because even if you do crash it, the damage won't be that severe – the Hubsan X4 is known for its resiliency and durability. Remember that prop guards are a double-edged sword: they help protect your drone's propellers, but they also take away from overall flight time.
Is it Worth the Price?
For $150, the Hubsan X4 H107D Quadcopter is worth every penny. The camera isn't the best out there, but it's good enough for a fun FPV flying experience. Plus, it's hard to beat the range (100 meters is more than far enough for most flyers). We hope that this Hubsan X4 H107D review will help you make a better decision when shopping for drones in the future!
Specifications
Weight: 35 Grams
Remote Distance: 100 Meters
Charging Time: 30 Minutes
Flight Time: 7 Minutes
Battery: 380mAh Li-Po
Price: About $150
Camera: Yes
FPV: Yes
Experience Level: Beginner