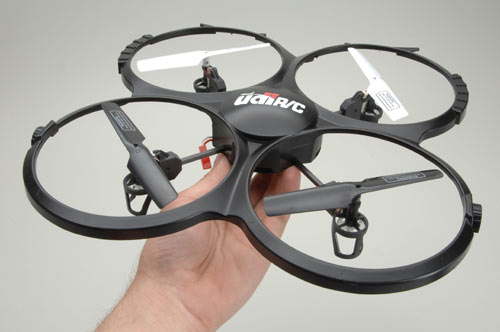 For a first drone, the UDI U818A Quadcopter is highly recommended. It's the perfect option for beginners who are looking to hone their skills at an affordable price. One of the first things you'll notice about this drone is its durability. You can crash it again and again, but it will keep coming back for more. The U8181A comes ready to fly straight out the box, and takes about 120 minutes to charge. Once in the air, expect about 6-9 minutes of uninterrupted flight time.
UDI U818A Quadcopter Overview
The UDI U818A is one of the tougher beginner drones on the market. Its plastic frame does an excellent job at protecting its internal hardware and propellers. However, this frame can easily get caught in the wind so make sure that you're flying it when wind conditions are light. Overall, it offers excellent value for any beginner flyer who wants to get their feet wet!
Camera
While the UDI U818A Quadcopter does come with a camera, it's not HD quality. However, it's still pretty descent for the $50 price tag. Video resolution is 640 x 480, and the Micro SD card (which comes included) offers 1 GB of storage. I wouldn't get too excited over the U818A's camera. I mean, it's okay, but definitely isn't the best feature it has to offer. Check out aerial footage captured by the U818A below:
Aerial Footage For The U818A
Durability
As a beginner, you're going to crash…a lot. Don't worry – it's all part of the learning process. Fortunately, the UDI U818A takes away from the pressure of having to fly perfectly all the time. Why? Because it bounces back from crashes like a champ. I've crashed my U818A dozens of times, and each time, it has walked away with nothing more than a missing propeller and a few scratches. It's that durable.
Flight Time & Range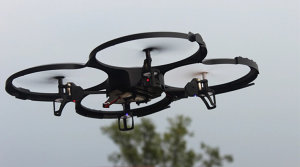 As for flight time, the U818A can stay in the air for 6-9 minutes on a single charge. This is about average for a drone of its caliber. Charging the battery to its maximum capacity takes about 120 minutes. When you're eager to get outside and fly, this can feel like an eternity.
With only 30 meters of range, the U818A gets overshadowed by a similarly priced model, the Syma X5C. The X5C offers nearly double the range (50 meters), and sits within the same budget. This isn't a huge difference, but it's definitely one to consider when shopping around. If you're looking for an affordable FPV drone with better range, be sure to check out the Hubsan X4 FPV Quadcopter.
Quick Tip: Purchase an extra battery (or several) for your drone. They're only about $5 on Amazon, and are definitely worth the investment. After one battery runs out of power, you can immediately swap it for another to continue your flying session. This sure beats having to wait two hours just for a single 6-9 minute flight.
360-Degree Eversion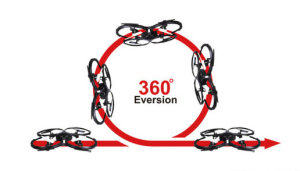 As a beginner flyer, you're probably thinking, "There's no way I can do a flip with my drone. I'm not experienced enough." Well, now you can! The UDI U818A Quadcopter will let you perform a flip maneuver mid-air at the push of a button. Now you can look and feel like a drone expert, without being an exceptionally skilled flyer.
Bottom Line – One Of The Best Beginner Drones Under $100
If you're a beginner, I would highly recommend making the UDI U818A Quadcopter your first drone. It's cheap, durable, and doesn't require any prior experience to operate. With that being said, don't expect too much from the camera or the drone's range. Both are slightly below average.
Specifications
Weight: 4.5 Ounces
Remote Distance: 30 Meters
Charging Time: 120 Minutes
Flight Time: 6-9 Minutes
Battery: 3.7V 500mAh
Price: About $50
Camera: Yes
FPV: Yes
Experience Level: Beginner