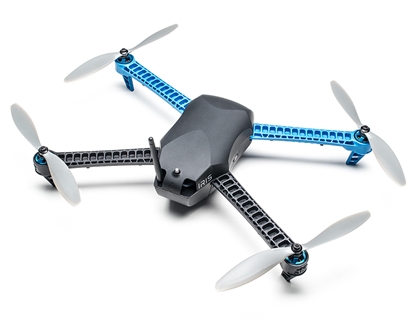 Have you ever wanted a drone that could automatically record while flying above you? Would you like to capture stable aerial footage without spending thousands of dollars? If you answered "Yes" to either question, then the 3DR Iris+ might just be the best RC drone for you. I'll be the first to admit: it doesn't have a lot going on in the looks department, but as far as performance is concerned, it outmatches similarly priced quadcopters. In this 3DR Iris+ review, you're going to learn about everything that it has to offer.
3DR Iris+ Overview
While the 3DR Iris+ isn't the most aesthetic RC quadcopter out there (it's certainly not winning any design contests), it does offer a wide array of GPS-based features that you'll be sure to love. One of the better-known ones, the "Follow-The-Leader" feature, will allow your Iris+ to autonomously record you doing things (surfing, riding bike, hiking, etc.). There's also a "Geo-Fencing" feature that allows you to set specific boundaries in the air. If the quadcopter reaches them, it will automatically return to its original starting location. Priced at about $600, it's recommended for flyers who have at least some experience flying RC quadcopters.
Check For Lowest Prices & Availability For The 3DR Iris+
Overview – 3DR Iris+ Review
3D Robotics, the company that created the drone, didn't build the 3DR Iris+ with the average newbie in mind. This RTF (Ready-to-Fly) quadcopter is better-suited for flyers who have at least some experience under their belts. If you've never flown a drone before, I would recommend practicing on something like the Syma X5C or UDI U818A before you drop $600 on the 3DR Iris+. Keep that in mind before continuing with this 3DR Iris+ review.
Useful Features that Make Aerial Photography Fun and Easy!
This quadcopter offers some fairly advanced functionalities that you won't find in similarly priced models. These features are convenient, protective, fun, and above all, will provide you with an unforgettable flying experience. With that said, I would like to spend some time in this 3DR Iris+ review showing you, specifically, what these features are. They include:
Geo-Fencing: One problem associated with RC drones today is that they tend to fly in directions where we don't want them to go. The Geo-Fencing feature on the 3DR Iris+ helps solve this problem. Basically, before taking off on your flight, you can set imaginary "boundaries" in the air. If the quadcopter runs into one of these boundaries, it will automatically return to its original takeoff point. The days of your quadcopter flying into areas where you don't want it to go are over.
"Follow-The-Leader" Mode: I couldn't write a 3DR Iris+ review without mentioning this amazing feature. The drone's Follow-The-Leader feature is super-useful for when you want to catch aerial footage of yourself doing something awesome. For example, let's pretend you want to record your own surfing session. Obviously, there's no way to control the transmitter while catching some waves. So, what can you do? Basically, just activate the drone's follow-the-leader mode and it will automatically and autonomously record you safely from above.
Mission Planning: If you already know where you want your drone to fly, then why not pre-specific them beforehand? With the 3DR Iris+ Mission Planning app (created by 3D Robotics), you'll be able to configure specific coordinates that will serve as your "flightpath" once you turn on your drone. Once set, the quadcopter will fly along these coordinates by itself, without requiring you to actively control it.
As you can see from this 3DR Iris+ review, it has a lot to offer!
Quick & Easy Setup
As we mentioned earlier, the Iris+ comes ready to fly. But you'll still need to setup a few things to get started (don't worry, it's nothing complicated). To begin, fully charge the battery before your first flight (most RC drone batteries come half-charged for safety reasons). Next, attach the propellers. They'll automatically tighten on their own, so don't worry if they don't appear to go in all the way. Finally, read the instruction manual. It will help explain all of the nuisances associated with flying your quadcopter. From here, you're ready to hit the air!
Three Flight Modes
In this part of the 3DR Iris+ review, we're going to talk about the quadcopter's three flight modes. They are as followed:
Standard Mode (STD): This flight mode allows you to fly the quadcopter manually.
Hover Mode (LTR): This flight mode allows you to hover your quadcopter in place (perfect for less experienced flyers who are still getting used to the drone's controls).
Auto Mode (AUTO): This flight mode will allow you to set specific coordinates for your quadcopter to automatically fly to.
Switching from one flight mode to another is easy, and can even be done while your quadcopter is still in the air.
Transmitter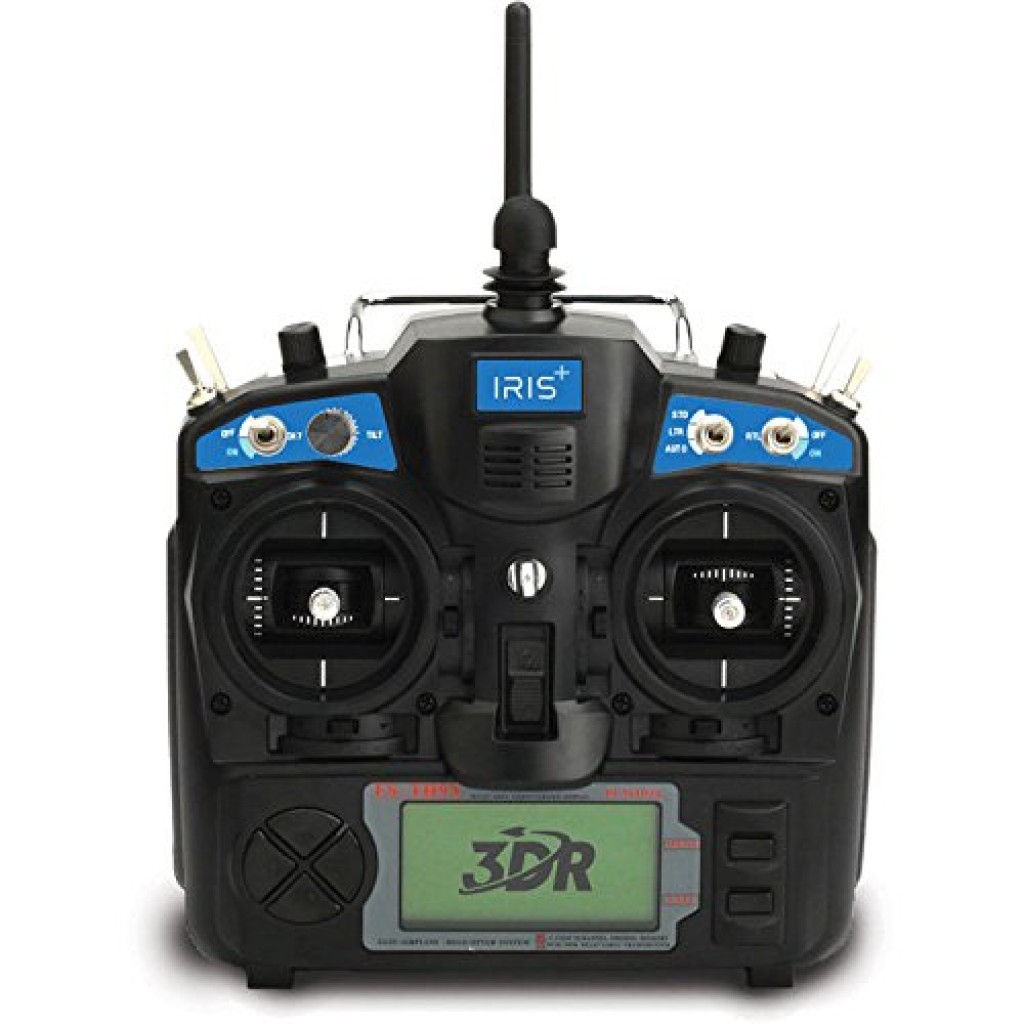 In this part of the 3DR Iris+ review, we'll very quickly talk about the drone's controller. The transmitter for the Iris+ looks like something out of a space movie. It's big, bold, and comes with all of the standard controls flyers will be familiar with – the left stick controls throttle and yaw, while the right stick controls pitch and roll.
Overall, the transmitter will fit nicely in your hands, and best of all, doesn't feel "cheap". The small rectangular LCD screen at the bottom of the transmitter will provide you with important information like throttle position, flight mode, and much more.
Bottom Line
The 3DR Iris+ is an exceptional RC quadcopter no doubt. But would I recommend it for a complete newbie? Probably not. As mentioned earlier in this 3DR Iris+ review, it's best to hone your skills on a simpler model (like the Syma X12 or Holy Stone M61X for example). Once you become proficient in those, you'll be ready to move on to a more expensive model.
Overall, I like the fact that the Iris+ offers amazing GPS-based features like Geo-fencing or Follow-The-Leader mode. Not only will they make your flights more enjoyable and hassle free, but they'll also allow you to capture aerial footage like you've never been able to do before. Hopefully this 3DR Iris+ review has helped you become familiarized with everything that this quadcopter has to offer.
Check For Lowest Prices & Availability on Amazon.com!
Resources
http://3drobotics.com/iris-plus/
http://techcrunch.com/2014/12/14/hands-on-with-3drobotics-iris-drone/