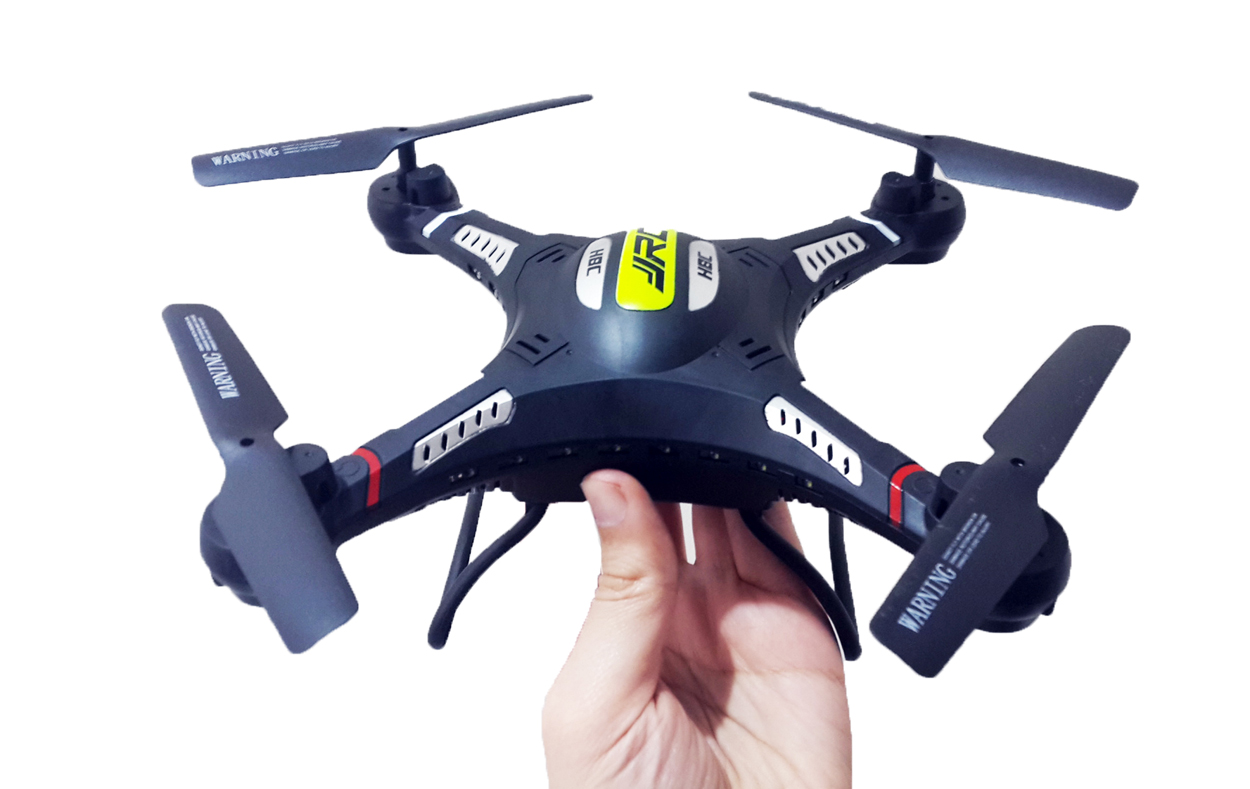 The SeresRoad JJRC H8C Quadcopter is one of the most popular mini drones on the market today. Its close competitor is the Syma X5C, but as you'll immediately notice, the 6-axis H8C offers a sleeker exterior design than its rival. The black body, along with the red & silver patches along the wings, really make it one cool-looking drone to fly. As with almost all RC quadcopters, the H8C comes with LED strips, one on each wing, to help ordinate you to its location when flying at night. In this JJRC H8C review, we'll talk more about what this amazing drone has to offer.
JJRC H8C Overview
The JJRC H8C is really giving the Syma X5C a run for its money. With a more powerful motor, and arguably better camera quality, it's one of the best beginner drones that you can buy today. Flyers will appreciate the drone's range (which is about 80 meters) and flight time (which is about 8 minutes). Together, they'll create one unforgettable flying experience!
Visit Amazon.com For Huge Discounts on the JJRC H8C
Pros: The H8C is capable of recording aerial footage, and comes at an affordable price of about $60. Many say that the camera quality for this quadcopter is better than the camera on its competitor, the X5C. Nonetheless, the H8C is perfect for newbies since the controls are straightforward and easy-to-understand. Transmitter range is about 80 meters, which is pretty good for a drone of its caliber. Finally, it also has a flight time of about 8 minutes, which is respectable.
Cons
: Despite all its wonderful benefits, the H8C has had many complaints about premature motor failure. These complaints were especially prominent when the drone was first introduced to market, but have died down a bit. This is definitely something to keep in mind when shopping. Also, since it's on the smaller end of the scale in terms of RC drone size, the H8C may have a difficult time hovering even in lighter breezes. Still, it's a fun and aggressive outdoor flyer.
The H8C offers a descent amount of power, and the controls are extremely responsive. In fact, it's more powerful than the X5C, which offers 3.2V motors compared to the 7.4V motors on the H8C. Although flyers will be provided with greater thrust and reverse power, there are a few potential drawbacks associated with these motors that will be discussed later.
Overview of JJRC H8C
The SeresRoad JJRC H8C Quadcopter costs about $60, and comes with the following:
Spare Set of Propellers
Card Reader
Propeller Guards
2-Megapixel 720p HD Camera
2GB Micro SD Card
Transmitter
Manual
All Necessary Charging Equipment
The transmitter is that same type that you'll find in many other JJRC mini drones on the market today, including the F180. The drone can be flown smoothly both indoors and outdoors, although we'd recommend flying it outdoors when you're first starting out. When flying outdoors, the drone will have difficulty hovering steady in winds that exceed 5km/h. In winds that exceed 10km/h, the drone will really have a hard time hovering in place. The LED lights on the H8C look great at night, and resemble the ones on the Cheerson CX-20. Let's move on in this JJRC H8C review to talk about the drone's transmitter.
Transmitter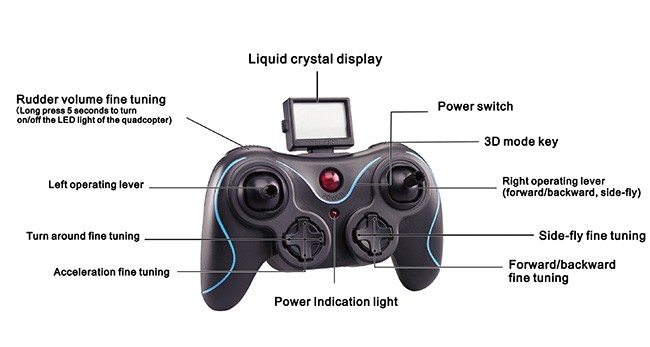 The H8C drone comes with a relatively standard 2.4GHz, 4-channel transmitter. A mini LCD screen is located on the transmitter, and displays information like battery power (for transmitter), flight modes, throttle position, and much more.
As with the Syma X5C, "activating" the H8C (which needs to be done each time you power it on) requires that you move the left throttle stick up and then down. When you first turn the drone on, its LED lights will be blinking very rapidly. But once you "activate" it, the LED lights will stop blinking and instead remain lit throughout the duration of the flight. The only time they'll blink again is when the battery in the drone is running low.
Four Different Flight Modes
One great feature about the JJRC H8C quadcopter is that it comes with 4 different flight modes: 100%, 75%, 50%, and finally, 25%. What's the importance of these flight modes? Basically, they adjust the sensitivity of the transmitter. By increasing the sensitivity, the quadcopter flies quite aggressively. Conversely, if you lower the sensitivity, then the H8C will fly more conservatively, and will be easier to control. If you're a beginner, I would recommend setting this at 25 % when you first start out, and then slowly increase it once you become more comfortable.
The H8C Can Perform Stunts!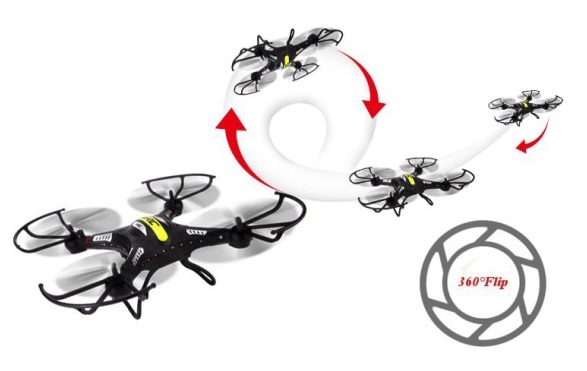 No JJRC H8C review would be complete without talking about stunts and performance. On the upper-right hand side of the transmitter is the "stunt" button.
When you press this button, the drone will be ready to perform a flip. To perform the flip, simply press the right analog stick in the direction that you want to flip
For instance, if you push the right analog stick forward, then it will perform a forward flip. If you push it to the right, then it will perform a flip to the right. On a fresh battery, the JJRC H8C will perform very "tight" flips, but these flips will degrade in quality as the battery starts to run low.
Camera
This section of the JJRC H8C review will be dedicated to talking about the drone's camera. In short, there's not really too much to say about the camera, so we'll just cover the basics. It comes with a 2-megapixel, 720p HD camera that can record video footage as well as take photos (both get stored on the 2GB micro SD card that comes with the drone). Camera quality is okay, but nothing to cheer about.Take a look at aerial footage caught by the H8C below:
Flight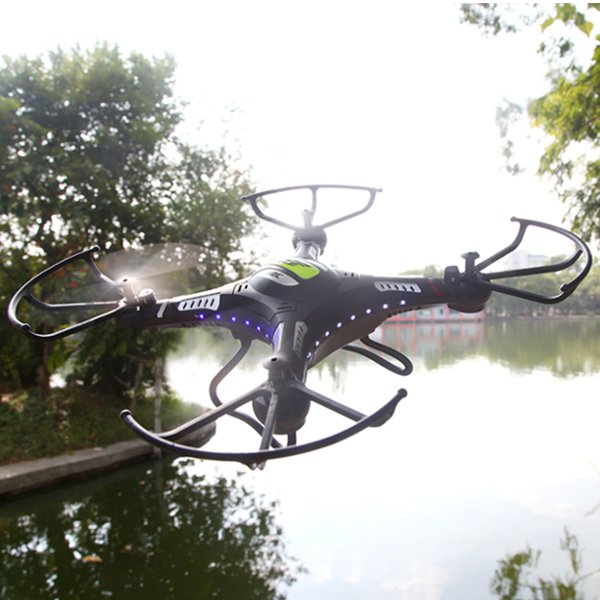 The H8C has the potential to fly pretty aggressively, and on paper, even seems to trump the X5C. Just keep this potential downside in mind: back when this model first came out, there were a significant number of owners complaining about motor failure within their first three flights.
This isn't to say that you'll experience the same problem. This problem likely stems from people who are trying to fly their drone too aggressively for extended periods of time. The best way to conserve the JJRC H8C is to fly it in a flight mode no greater than 50%. With all this being said, the drone is super-fun to fly, and maneuvers very well for a model priced at just $60.
Bottom Line
At just $60, you really have nothing to lose. This drone will provide you with endless hours of fun, and best of all, comes with a camera! Remember: if you're a beginner, start off on a low sensitivity setting, then move your way up as you become more experienced. Follow this tip and there's no reason why your drone shouldn't last you for a long time to come. We hope that this JJRC H8C review has helped make a more informed decision when shopping around for a drone.
Specifications
Weight: 144 Grams
Remote Distance: 80 Meters
Charging Time: 30-40 Minutes
Flight Time: 8 Minutes
Battery: 7.4V 500mAh Li-Po
Price: About $60
Camera: Yes
FPV: No
Experience Level: Beginner