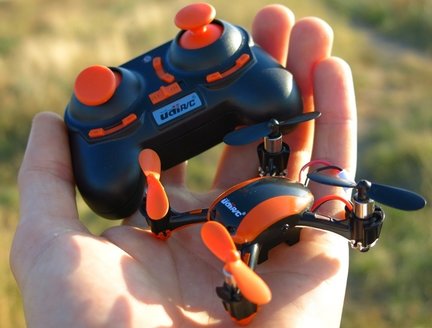 At first glance, the UDI 839 Quadcopter may not appear like much. But be rest assured that when you get behind the controls, you won't want to put it down. There are three levels of control for flyers to choose from. These adjust the transmitter's sensitivity levels so that you can fly either more aggressively or more conservatively. The drone is practically indestructible thanks to its light-weight prop guards. You can crash it again and again but it will keep coming back for more. In this UDI U839 review, we'll dive a bit more in-depth and show you what it has to offer.
UDI U839 Overview
The UDI U839 is a fun little RC drone that offers about 6 minutes of flight time and a 30-meter range. With a minimal amount of care, the quadcopter can last you for a long time! It's perfect for all ages and experience levels, and can even be programmed to different sensitivity levels so that you can fly it more aggressively or more conservatively. It sells for about $22 on Amazon, and will prove to be an awesome investment when you look back. The drone can even do flips at the push of a button.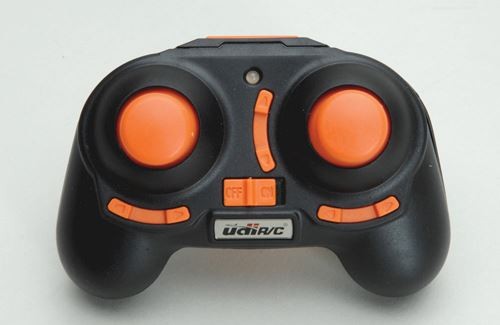 Let's start this UDI U839 review by talking about some of the general features this drone has to offer. Night flying is super-easy thanks to the drone's built-in LED lights. With a little practice, you'll be effortlessly zipping through the air in no time.
The UDI 839 can even perform flips at the push of a button. For just $25, it's one heck of a bargain, and is a great way for beginners to hone their skills until they advance to a more expensive model (like the Syma X5C or Hubsan X4).
Here are a few features to take note of:
Well-suited for indoor and outdoor use.
2.4GHz transmitter allows you to fly without having to worry about frequency interference from other sources.
Four LED lights allow you to track the drone while flying at night.
Small size and weight allows you to effortlessly maneuver the UDI 839.
Can fly for about 6 minutes on a single charge.
Visit Amazon.com For Huge Savings on the UDI U839
Pros: The drone is small enough to maneuver inside, yet, durable enough to withstand outside crashes. Plus, you can't beat the $25 price tag. Even if you've never flown a quadcopter before, you'll still be able to master the U839's controls pretty quickly. Finally, the U839 is capable of 360-eversions (flips) at the push of a button.
Cons: The battery life is a bit short, which is normal considering it's a nano quad. The U839 only weighs about 39 grams, so it will have difficulty hovering in the wind. Due to its small size, it wouldn't make sense, from a financial standpoint, to replace broken parts. Basically, once it breaks, it's better to just buy a new one.
Charging & Battery Time
Charging the UDI 839 to its maximum capacity takes about 40 minutes. Once charged, you can expect approximately 6 minutes of flight out of your drone. This isn't an exceptionally long time, but it's still okay for a nano drone of this caliber. You can recharge the battery on a laptop using the USB cable that comes included in the box.
Prop Guards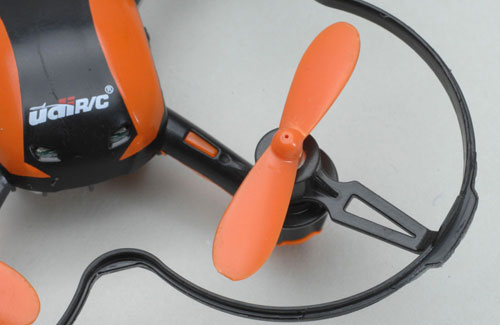 In this section of the UDI U839 review, we'll talk about prop guards. They enclose the drone, making it virtually impossible for the propellers to come into contact with anything from the external environment.
As a beginner, this benefit can't be overstated, because that last thing you want is to lose/break propellers when you're learning how to fly for the first time. Still, extra propellers come in the box just in case.
Conclusion
This quadcopter is a fun, cheap, and beginner-friendly RC that's well worth the $25 price tag. As long as you take care of it, it should last you for a long time to come. Not to mention, the prop guards will prevent you from losing or breaking your propellers, which can save you money in the long run. We hope that this UDI U839 review has helped answer any questions that you may have had about the drone.
Specifications
Weight: 36 Grams
Remote Distance: 30 Meters
Charging Time: 40 Minutes
Flight Time: 6 Minutes
Battery: Li-Po 3.7V 150mAh
Price: About $25
Camera: No
FPV: No
Experience Level: Beginner