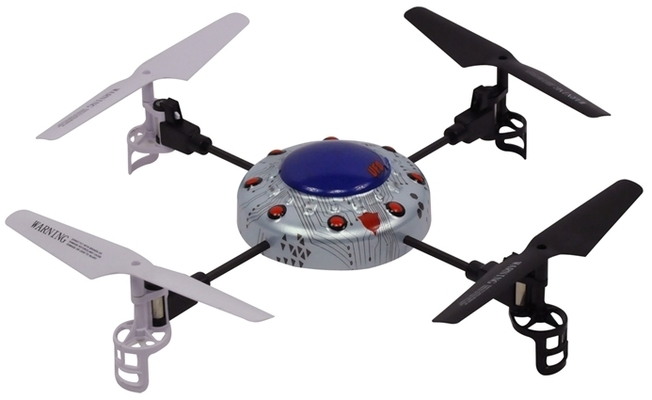 When learning how to fly a drone for the first time, it's important that you don't spend too much money right off the bat. You want to hone your skills inexpensively until you're ready to move up to an expensive model (like the Parrot Bebop or DJI Phantom 3). The Syma X1 Quadcopter is the perfect model for this. This relatively cheap RC drone offers reasonable flight time, is easy to control, and can take a few beatings. In this review, we'll talk about everything this quadcopter has to offer – good and bad.
Syma X1 Overview
The Syma X1 is definitely one of the better beginner RC drones on the market, and there are a few reasons for this. For one, it's very easy to fly. Even if you're an absolute beginner, you'll be able to get behind the transmitter and maneuver the drone in the direction of your choosing. Secondly, it's cheap. For less than $50, you'll be getting an amazing bargain.
Check Lowest Prices & Availability For The Syma X1
Syma X1 Quadcopter Review – What Comes in the Box?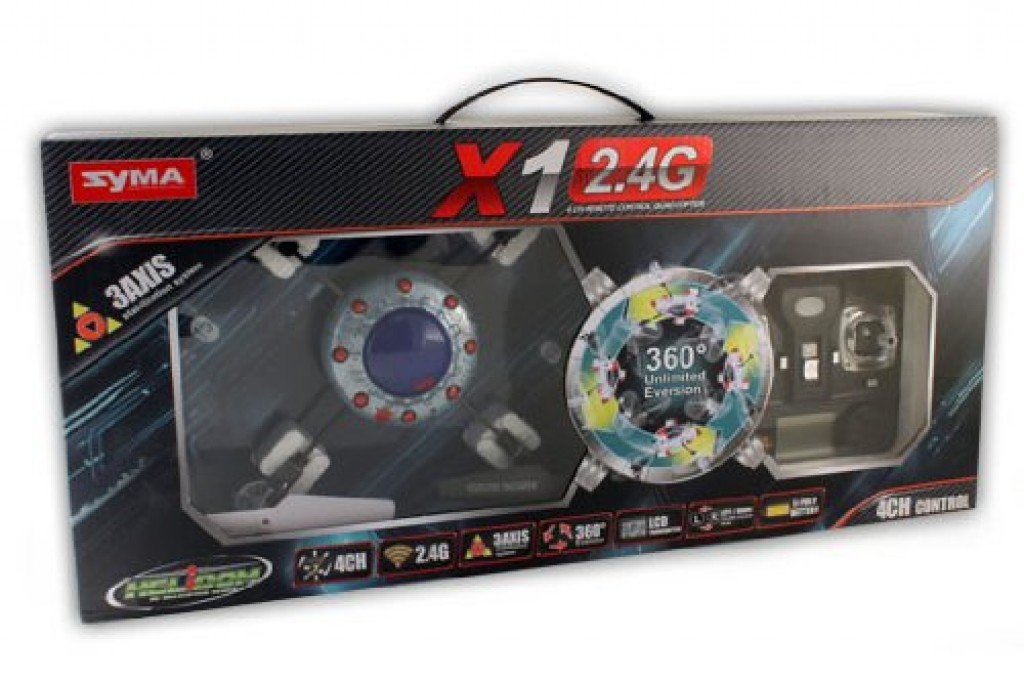 Before buying a drone, make sure that you know what comes in the box. You don't want to place your order only to realize that your quadcopter doesn't come with spare propellers or other essential items. With that said, let's take a few seconds to cover what you'll find in the box of the Syma X1 Quadcopter. Items include:
Transmitter: The quadcopter's transmitter operates on a 2.4 GHz frequency, which is pretty standard in the RC drone industry. It also has four channels, which is useful for when you're flying with friends and you don't want to interfere with their frequency.
3.7V 350mAh Li-Po Battery: The drone comes with a rechargeable Lithium Polymer battery that provides it with descent flight time (about 6 minutes). This is about the same amount of flight time that you'll get the Cheerson CX-10 on a full charge.
USB Charging Cable: Once the battery on the Syma X1 Quadcopter dies, simply plug it up to a computer or laptop via the USB charging cable that comes in the box. Charging time for this model is approximately 40 minutes.
Spare Propellers: Since you'll probably experience your fair share of crashes when flying the quadcopter, having a spare set of propellers can be quite handy. Should any of yours become lost or get broken, you can quickly & easily replace them and get back in the air.
Finally, you're going to find an instruction manual. Remember that most manuals don't offer that much information (only the basics). If you're still lost after reading the instructions, consider joining a forum like RC Groups to seek help.
Flight & Performance
One thing that you'll notice about the Syma X1 Quadcopter is that it flies very smoothly. It flies responsively indoors and outdoors, and can handle winds up to about 10 MPH. Anything more than that and it might get tricky to control (it will also wear down the battery quicker).
With this beginner Syma drone, you can also perform single-button flips! Basically, at the push of a button, quadcopter will do a complete 360-degree flip. The flips themselves aren't very "tight", so make sure that you're high off the ground when performing them. Check out the following video to see the quadcopter in-action:
Syma X1 Quadcopter Flight Test
Design & Build
The Syma X1 Quadcopter is available in two unique designs – UFO and Spacecraft. From what I've seen, there's no considerable performance difference between the two. Both fly equally well, and come with a plastic body that covers the drone's internal components.

On a downside, the quadcopter doesn't have prop guards. Without prop guards, there's nothing protecting the drone's propellers from the external environment. So, if you accidentally crash your X1, there's a high chance that you'll break or lose a propeller (or several). Fortunately, the Syma X1 Quadcopter comes with spare propellers, and they can quickly & easily be installed too.
Transmitter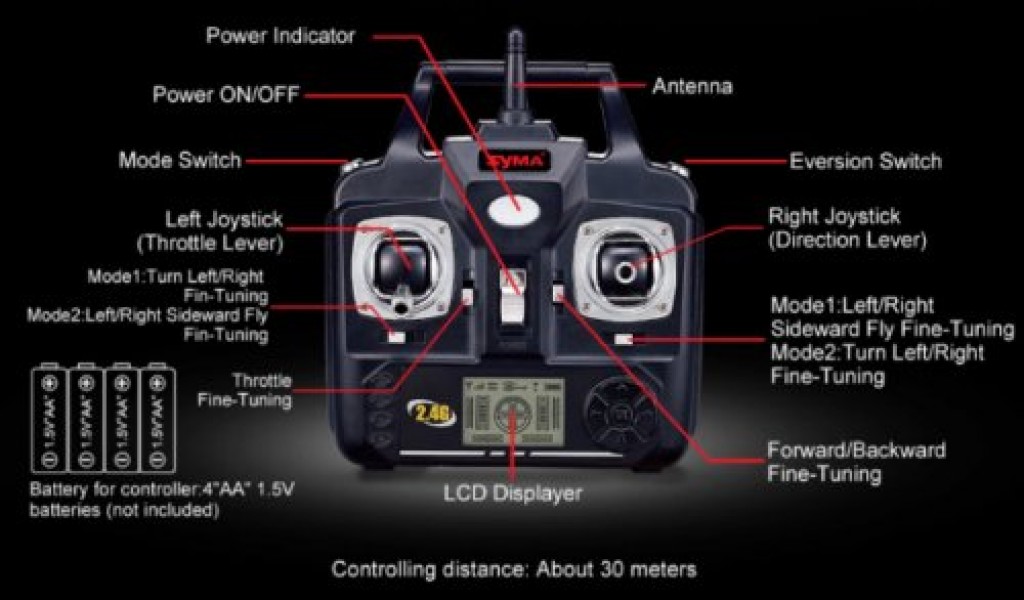 The drone's transmitter makes flying the X1 fun and easy. To begin, it has a small LCD screen located on the bottom of the transmitter. This screen displays important diagnostics about your flight (throttle position, flight mode, etc.).
After installing the four AA batteries required to power the transmitter, you'll experience a range of about 40 meters. This is about average for a drone of its size and caliber.
The transmitter for the Syma X1 Quadcopter operates at a 2.4 GHz frequency. This is what gives the controller its strong anti-inference capabilities and rapid response. Take a look at the illustration (right) to become familiarized with the different controls on the quadcopter, as well as what they do.
Conclusion
The X1 comes fully assembled, so you'll be able to fly it straight out the box without any prior experience required. If you're an absolute beginner, it may take a few days until you're completely comfortable behind the controls. But the great thing about flying quadcopters is that the learning process is quite fun! Overall, the Syma X1 Quadcopter is the perfect model for newbies who are trying to learn without spending too much money upfront. Once you become good, you can move up to more advanced Syma models like the X5C or X8C.