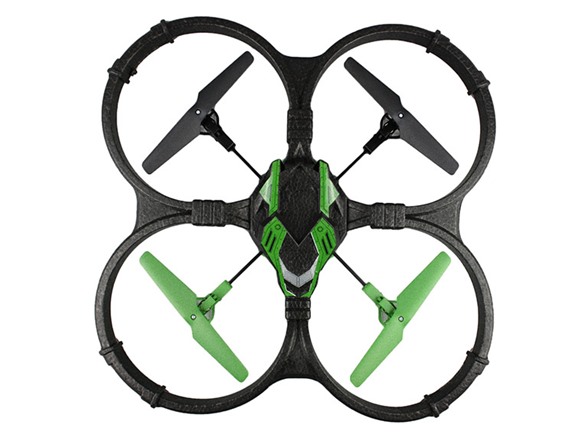 Some RC drones, like the DJI Phantom 2 Vision+, are designed for relatively slow, stable flights designed to capture amazing aerial footage. The Sky Viper Stunt Quadcopter is NOT one of those. Rather, it's designed for fast, aggressive, and trick-filled flights that you will leave you wanting more. This particular model sells for less than $100, so you'll be able to inexpensively hone your RC drone-flying skills while having fun at the same time. Let's take a look at this model a little more in-depth to help you determine whether or not it's right for you.
Sky Viper Stunt Quadcopter Overview
The Sky Viper Stunt Quadcopter offers a ton of useful features for the average newbie. For one, it offers 7-10 minutes of flight time, which is more than enough for allowing you to hone your drone-flying skills. Second, the quadcopter's transmitter comes with a sensitivity knob that will allow you to set the controls to your specific skill level. Finally, the drone's foam prop guard is perfect for ensuring the longevity of your props. And the best part? All of this can be had for less than $100. Overall, it's definitely a solid buy.
Check Lowest Prices & Availability For The Sky Viper Stunt
Sky viper Stunt Quadcopter Review – Battery & Flight Time
The Sky Viper Stunt Quadcopter is powered by 500mAh Li-Po battery. On paper, a full charge will get you about 10 minutes of flight time. However, based on my own personal experiences, a flight time of 7-8 minutes is more accurate. Then again, I fly my quadcopters pretty aggressively, so if you fly conservatively then you should able to achieve a higher flight time. If you're not satisfied with the quadcopter's flight time, then simply order extra batteries with your purchase. They're fairly inexpensive, and will definitely make your flying experiences more enjoyable.
Important Note: It's highly recommend that you give your Sky Viper Stunt Quadcopter a few minutes to cool down between flight sessions. If you attempt to fly back-to-back sessions too many times in a row, you might burn out your motors, which won't be an easy fix if you're a newbie.
Prop Guards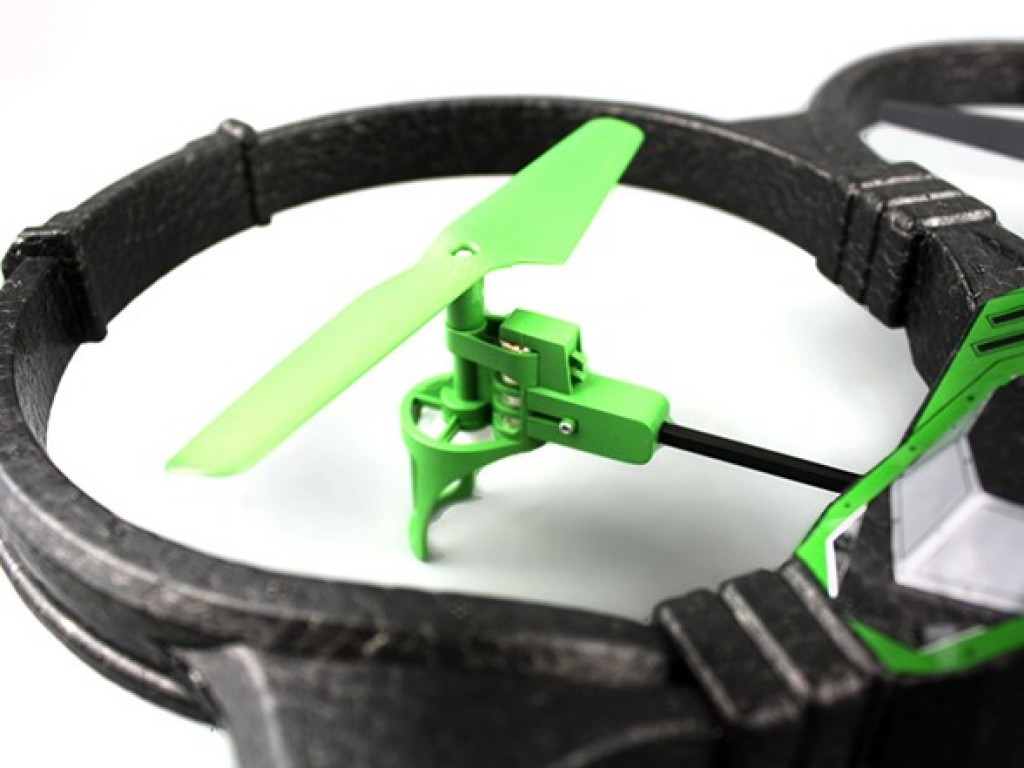 The prop guards on the Sky Viper Stunt Quadcopter are inherently good, but can also have a few drawbacks. As you can see from the picture (left), the prop guards are relatively large, and made of foam. Visually, they resemble the prop guards on the UDI U818A, however, they're much lighter. Still, the added weight can take away from your flight time and maneuverability slightly.
When flying in the wind, the prop guards have a tendency of acting like giant sails, which can easily cause your Sky Viper Stunt Quadcopter to fly in a direction you don't want it to go. On a good note, these prop guards do an excellent job at protecting the quadcopter. If you're a beginner, I highly recommend you keep them on while you're still learning.
Transmitter
The drone's transmitter is okay (a solid C+). Here's why:
The thumb pads (joysticks) are relatively small. For a complete newbie, this may not be problem, but for more advanced flyers, it can feel a little debilitating.
The joysticks have convex surfaces (they stick out) rather than concave surfaces. Why is this important? Basically, it's much easier to keep your fingers on a concave joystick than a convex one.
On a good note, the transmitter's sensitivity knob is great for adjusting the flight sensitivity levels to your specific experience level. So, if you're a more advanced flyer who wants to fly aggressively, then all you have to do is adjust the knob so that the drone becomes more sensitive to changes in the joysticks.
Likewise, if you're a beginner flyer, all you need to do is adjust the knobs so that they become less sensitive to changes in the joysticks. The drone's design is about average – not ugly but not winning any design awards either. Let's move on in this Sky Viper Stunt Quadcopter review to talk about the drone's flight performance.
In The Air
Without the prop guards, this quadcopter is capable of performing very tight flips and barrel rolls. The best part is that these are single-button acrobatic stunts, so they can be performed even if you've never flown a quadcopter before. The controls are responsive, and without wind, the drone does a pretty good job at maintaining a steady hover. Take a look at a flight test of this quadcopter below:
Sky Viper Stunt Quadcopter Flight Test
Bottom Line – The Good Definitely Outweighs the Bad
If you're a beginner who's looking to get your feet wet, the Sky Viper Stunt Quadcopter is definitely a descent model to consider. The majority of its downsides arise from problems stemming from the quadcopter's transmitter. The drone sells for $50-$70 depending on where you purchase it, and for the most part, can be used by any age group or experience level. Finally, the quadcopter comes ready to fly right out the box, so there's minimal assembly involved before hitting the air. However, it offers good value for your dollar!
Check Lowest Prices & Availability For The Sky Viper Stunt!
Resources
Sky Viper Quadcopter From Skyrocket Toys (Video Review By TTPM)
Sky Viper Quadcopter (Video Review By Steven Donald)