The Parrot Rolling Spider is a small, stable, and easy-to-pilot quadcopter that's perfect for all experience levels. Similar to its cousin, the Parrot Bebop, you can fly the drone via a mobile device (smartphone or tablet). It's an excellent indoor flyer, but due to its lightweight, should be flown outside only when weather conditions are optimal. With the drone's unique and expansive prop guard, it should remain protected even in rougher crashes. In this Parrot Rolling Spider review, we're going to show the benefits and drawbacks to owning this quadcopter.
Parrot Rolling Spider Overview
When people picture the Parrot Rolling Spider, they automatically think of the giant wheel-shaped prop guards that enclose the drone. But the truth is that it has so much more to offer. This smartphone-controlled RC quadcopter offers very good stability for a smaller model. Parrot's FreeFlight 3.0 App allows you to control the quadcopter while taking into account important flight diagnostics like battery life, throttle position, etc. Overall, it's a very solid beginner drone for under $100.
Check Lowest Prices & Availability For The Rolling Spider
Parrot Rolling Spider Review- Design & Build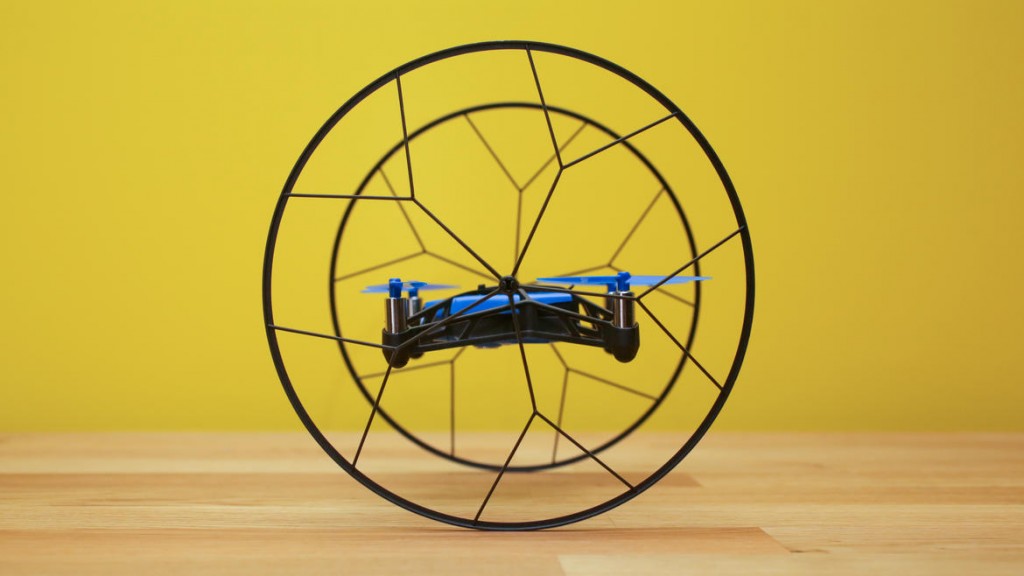 Inside the Rolling Spider, there are a variety of sensors that provide it with great stability. They include a pressure sensor, 3-axis accelerometer, ultrasonic sensor, and a 3-axis gyroscope. You don't have to know how they work- just know that the end result is a super-stable flyer that's perfect for indoor or outdoor flight. And let's not forget to talk about the drone's wheels in this Parrot Rolling Spider review.
As you can see from the picture (right), the wheels attach to the top of the drone, completely surrounding the body and propellers. This serves two purposes: it protects the drone and allows it to fly up walls and ceilings. Just keep in mind that, as with all prop guards, the wheels on the Rolling Spider do add weight to the drone. As a result, you'll probably experience a shorter flight time with them on. However, if you're a beginner and still learning, I would highly recommend keeping them on!
Important Note
: The Rolling Spider only comes with
one set of propellers
. So, if you accidentally lose or break them, you'll need to buy more. I actually consider this a potential drawback since most quadcopters come with a minimum of one extra set of propellers. Check the latest prices and availability for spare propellers by
clicking here
.
Before moving on in this Parrot Rolling Spider review, let's briefly talk about what comes in the box. Although you won't receive extra propellers, you do get the following: a USB charging cable, a 3.7V 550mAh battery, a manual, and of course, the transmitter (controller). While I am disappointed about the fact that it doesn't come with spare props, at least they're relatively inexpensive on Amazon.
Controls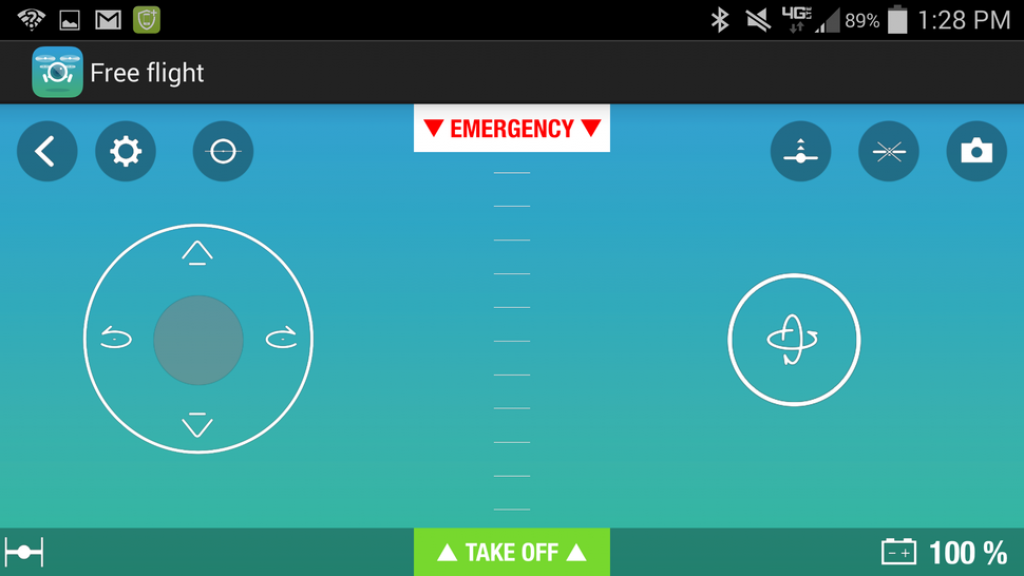 Similar to the Parrot AR Drone 2.0, the Rolling Spider is controlled via the FreeFlight 3.0 App, which can be downloaded on a tablet or smartphone.
If you take a look at the image to the right, you'll get a firsthand view of what the app looks like. As you can see, there's a "Takeoff" button which, when pressed, will automatically cause the Rolling Spider to enter a hover from a standstill position.
The pair of circles that you see represent the right and left joysticks that you would find on a traditional transmitter: the right circle controls "pitch" (forwards/backwards motion) and "roll" (side-to-side motion), and the left circle controls "throttle" (acceleration/deceleration) and "yaw" (clockwise/counterclockwise spinning). If any of this sounds confusing or foreign, be sure to check out my article, How to Fly a Drone Like a Pro.
In this part of the Parrot Rolling Spider review, I also want to mention that the app provides an "Emergency" button that, when pressed, will prepare an immediate emergency descent of the quadcopter. This is super-useful for when you're about to crash, or when you're losing control of the drone. Finally, the app provides you with important diagnostics about your flight, including battery life, which is arguably the most important. Let's move on in this Parrot Rolling Spider review to show you what it's like to fly the quadcopter.
Performance
As mentioned earlier, the Rolling Spider comes with wheel-shaped prop guards which helps protect the drone's propellers and internal components. But they also serve another purpose: they allow you to fly up walls and ceilings! This is a super-cool feature that you won't find in any other beginner quadcopter under $100. Be reminded in this Parrot Rolling Spider review that the prop guards do add weight to the drone, decreasing flight time slightly.
I haven't performed any formal tests to see exactly how much time you lose, but I'm guessing that it can't be longer than a minute or two. Rolling up walls is relatively straightforward: just approach the wall you want to climb, pitch the drone forward, and increase your throttle to travel upwards. It's all very intuitive and is something you should easily get used to once you're behind the controls. Before moving on in this Parrot Rolling Spider review, check out a quick flight test of the quadcopter to get a better idea of how it flies:
Parrot Rolling Spider Flight Test
Bottom Line
There are cheaper beginner quadcopters on the market today (like the Hubsan X4 H107C or Syma X5C), but they don't offer the protection that the Rolling Spider does. For the most part, the quadcopter is super-easy to control and fly. Thanks to its many sensors, it will remain stable while in the air, but you should still be careful about flying in the wind.
Before ending this Parrot Rolling Spider review, be reminded that the drone's battery takes about 90 minutes to charge, which is a potential drawback. There also no spare propellers in the box, which is another potential downside. Fortunately, the quadcopter's goods outweigh the bad, and should provide you with endless hours of fun.
Check Lowest Prices & Availability For The Rolling Spider!
Resources
http://www.cnet.com/products/parrot-minidrone-rolling-spider/
http://www.gizmag.com/parrot-rolling-spider-minidrone-review/33840/