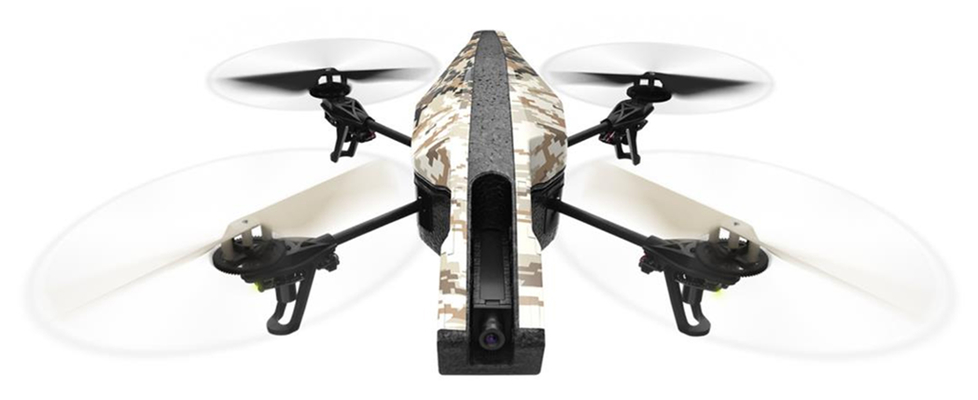 The Parrot AR Drone 2.0 is one of the best Wi-Fi controlled quadcopters on the market. The fact that you can fly it via a smartphone or tablet makes it a very attractive option compared to similarly priced models on the market. What I love most about this model is that it's incredibly versatile- you can perform tricks and stunts at the push of a button, as well as maintain a level hover for capturing beautiful aerial footage. To top it all off, the drone's HD 720p camera will allow you to capture all the fun and store it directly to your mobile device. In this Parrot AR Drone 2.0 review, we're going to dive deeper and show you everything it has to offer.
Parrot AR Drone 2.0 Overview
While it's not impossible to break the Parrot AR Drone 2.0, it's definitely pretty hard. The quadcopter comes with a durable foam cover that helps protect its propellers and internal hardware. The quadcopter is relatively easy to maneuver, and requires a smartphone or tablet to fly. The AR. FreeFlight App, which allows you to control the quadcopter, is intuitive, clean, and best of all, will display important diagnostics about your flight (battery life, Wi-Fi signal strength, etc.). Overall, it's a solid buy for under $500.
Check Lowest Prices & Availability For The AR Drone 2.0
Parrot AR Drone 2.0 Review – General Overview and Features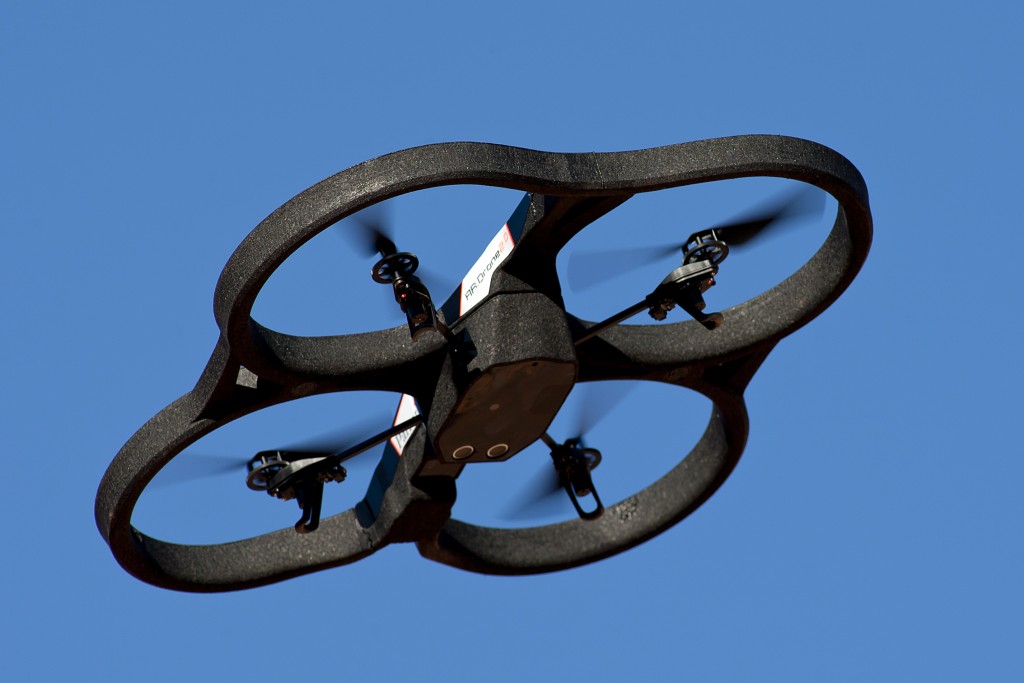 First and foremost, the Parrot quadcopter comes available in three unique camouflage styles: jungle, snow, and sand. Right away, this gives you the feeling like you're flying on a top-secret mission in the arctic, desert, or rain forest.
Let's not forget to mention in this Parrot AR Drone 2.0 review that it comes with a 1,000mAh battery that offers about 8-10 minutes of flight time. For the price tag, I would prefer the flight time to be a little better. Keep in mind that there are 2,500mAh batteries on Amazon (about $30) that you can upgrade to. These will deliver you with an average flight time of about 12-15 minutes.
As far as designed is concerned, the quadcopter comes available in two different hulls: an outdoor version and an indoor version. As you can probably guess, the indoor hull is designed for flying indoors. It's composed of polypropylene and can attach to the drone relatively easy. I'd also like to mention in this Parrot AR Drone 2.0 review that the specially-engineered plastic foam on the quadcopter is extremely lightweight (and durable). If you happen to crash your quadcopter, which is very likely if you're a beginner, you can be rest assured that minimal damage will occur.
Camera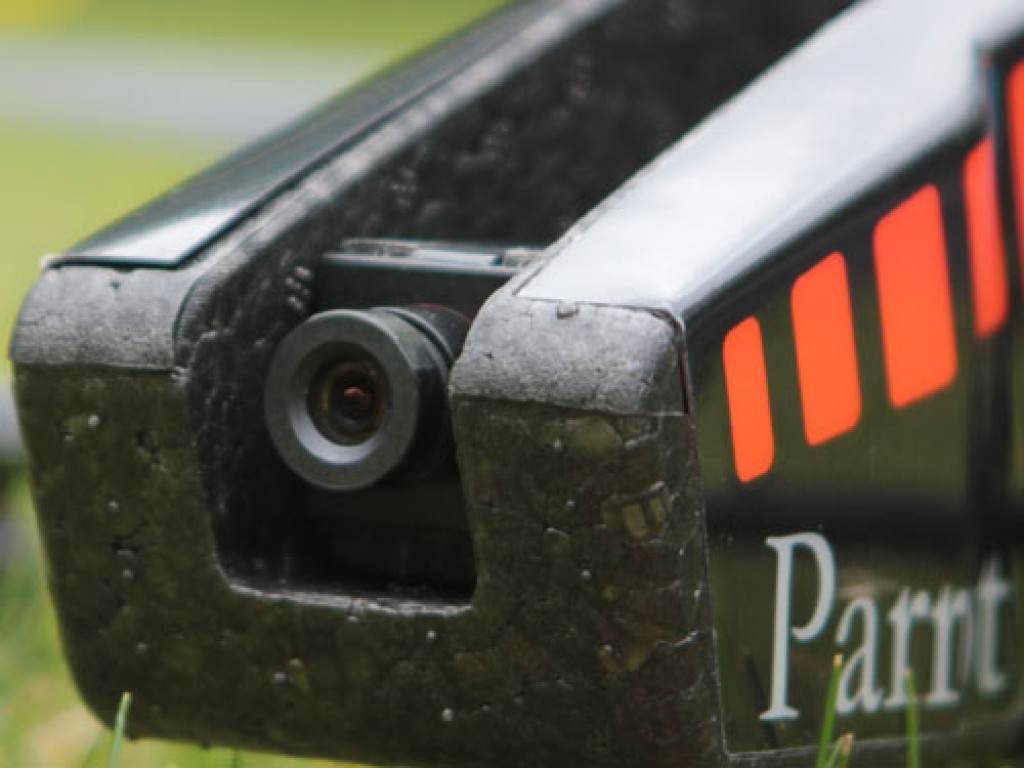 We can't continue this Parrot AR Drone 2.0 review without talking about the drone's awesome HD 720p camera. If you're looking for high-quality aerial footage at an affordable price, then this is the way to go. It may not be as good as the DJI Phantom 3 or DJI Phantom 2 Vision+, but it's certainly pretty close (and costs about 50% less).  The quadcopter is based around an FPV (First Person Flying) system that requires you to download an app to fly.
When downloaded, you'll use your smartphone or table to fly the drone straight from your mobile device's screen. The AR. FreeFlight App, which is available in the Google Play or Apple Store) will allow you to take control of your drone in a matter of a few seconds. Let me remind you in this Parrot AR Drone 2.0 review that the live video stream being captured by the quadcopter is totally responsive (no latency). In short, you'll see exactly what the drone's camera is seeing in real-time, which is super-useful for decreasing the chances of a crash.
So, How Far Can it Fly?
The most common question that beginner flyers tend to have by far is, "How far can I fly the quadcopter?" This is a very important question indeed, and one that we'll answer in this part of the Parrot AR Drone 2.0 review. With this particular model, the range is limited to the strength of the Wi-Fi signal established between your drone and your mobile device. I'd say that an accurate estimation is about 300-400 feet, but this can vary depending on where you're flying (flying in congested areas can weaken your Wi-Fi signal) as well as why type of mobile device you're using. For the price tag, I would consider this about average. Note that the AR 2.0's close cousin, the Parrot Bebop, offers a slightly better range of about 250 meters.
Pros, Cons, and Bottom Line
Due to the drone's durability, it's a pretty good model for younger flyers with limited experience. Even after crashing mine several times from high altitudes, it was able to fly just fine. Granted, it's not indestructible, so do your best to avoid crashing. Now that you've gotten an overview of the quadcopter in this Parrot AR Drone 2.0 review, let's take an objective look at the drone's pros and cons and compare them.
Cons
Battery Life is "Good" (But Not Great): As mentioned earlier, the drone's stock battery only offers about 8-10 minutes of flight time, which isn't too attractive for the price tag. Fortunately, there's a solution to this problem: upgrade to a larger 2,500mAh battery (about $40 on Amazon). With this upgrade, you'll probably be able to squeeze out a maximum of 15-20 minutes from your drone.
Wi-Fi Connectivity Issues: While browsing through reviews for the AR Drone 2.0 on Amazon, I've noticed that people are reporting problems about Wi-Fi connectivity. Personally, I've never experienced this issue, but this doesn't mean that it can't happen to you. Fortunately, Parrot offers great customer support, so if and when this does occur, you should be able to get it fixed right away.
Pros
Immersive FPV Flying Experience: As mentioned earlier in this Parrot AR Drone 2.0 review, the quadcopter offers FPV flying via a smartphone or tablet. If you've never flown FPV before, the AR Drone 2.0 is the perfect model do it with. The controls are straightforward and institutive, allowing you to capture beautiful aerial footage of your neighborhood or city that you wouldn't have been able to capture otherwise.
Durability: As a beginner, you're going to crash your quadcopter at least a dozen times while learning. That's perfectly normal. But you need a drone can withstand these crashes, and the AR Drone 2.0 is definitely one of them. It handles crashes like a champ, and if anything breaks, replacement parts are easily accessible. Durability is something I definitely wanted to emphasize in this Parrot AR Drone 2.0 review.
Even with the mediocre stock battery (which can be upgraded by the way) and Wi-Fi connectivity problems (which aren't guaranteed to happen), the drone's price is still totally justifiable. There's simply so much value packed into one drone that it's virtually impossible to not consider as a potential candidate for your next quadcopter. Well end this Parrot AR Drone 2.0 review by saying good luck, and if you have any questions, be sure to leave them in the comment box below.
Check Lowest Prices & Availability For The AR Drone 2.0!
Resources
http://www.pcmag.com/article2/0,2817,2424345,00.asp
http://www.pcadvisor.co.uk/review/digital-home/parrot-ardrone-20-elite-edition-review-3601661/