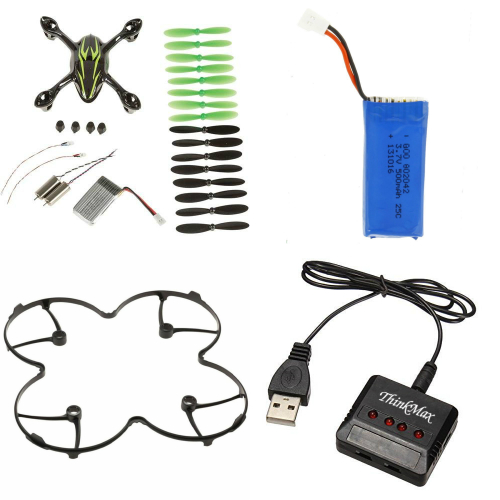 Since you're reading this, we're going to assume you've purchased the Hubsan X4 H107C or Hubsan X4 H107L– great! Now it's time to start thinking about accessories. The right accessories can help protect your quadcopter, allow it to fly longer, or even serve as replacement parts should it break. While they aren't mandatory, the five Hubsan X4 accessories that we're going to talk about below are highly recommended. They're relatively inexpensive, and will definitely make your flying experience much more enjoyable and safe.
Hubsan X4 Accessories- #5: MicroMall 3.7V 500mAh Upgraded Battery
If you're like most flyers, you're probably disappointed by the relatively short flight times of RC drones today, including the X4's. One way to fight back against the problem is to buy Hubsan X4 accessories that focus on longer flight time, like the MicroMall 3.7V 500mAh Upgraded Battery. This battery is lightweight, durable, and best of all, can be swapped out for your drone's original battery once it runs out of juice.
MicroMall 3.7V 500mAh Upgraded Battery
#4: Hubsan Crash Pack
Next on our list is the Hubsan Crash Pack. As a beginner, you're going to experience your fair share of crashes. During these crashes, there's a chance you might damage the X4's body shell, or even lose a propeller (or several). But thanks to this accessory kit, you'll have all the replacement parts you need to get back in the air quickly after a crash. It includes the following:
2 Motors
Flight Battery
Replacement Shell (Body)
8 Pairs of Propellers
4 Rubber Feet
Having all of these Hubsan X4 accessories available as a single kit can really come in handy. What I like most about this kit is that the spare propellers are colored green or black. You'll then use the prop's color to determine where on the drone it needs to be installed. Basically, it ensures that you don't mix up the propellers during an emergency replacement. The kit itself is relatively inexpensive, and is a must-have for any new flyer trying to hone their skills.
#3: Towallmark Quadcopter Parts Protection Cover
This is arguably one of the best Hubsan X4 accessories that you can buy. Why? Because it helps prevent parts from breaking during a crash. The protection cover serves as a nice padding between the drone's delicate parts (propellers, outer shell, etc.) and the outside world.
Due to its lightweight, it won't consume that much energy while in the air, so you'll still experience roughly the same flight time. If you've been flying for any amount of time, you probably already know that the propellers are the first things to break during a crash. With the Towallmark Quadcopter Parts Protection Cover, you'll find yourself making fewer and fewer prop replacements. It's definitely one of those Hubsan X4 accessories that you shouldn't go without.
Towallmark Quadcopter Parts Protection Cover
#2:

ZJchao

3.7V 500mAh Battery Set
On average, the X4 H107C offers an average flight time of about 7 minutes, which isn't much. Wouldn't it be nice if there were Hubsan X4 accessories that could keep you in the air longer? Well, that's exactly what the ZJchao 3.7 500mAh Battery Set was designed for. This battery set comes with five batteries so you can stay in the air longer!
Each battery contributes about 7 minutes of flight time, so that's an extra 35 minutes of battery life that you can enjoy. Personally, I always buy extra batteries on quadcopter models that offer them. Why? Because it will allow you to spend more time in the air and less time on the sidelines. Even with the extra batteries, make sure that you give your X4 a few minutes of down time between each flight session (it decreases the chances of burning out a motor).
ZJchao 3.7V 500mAh Battery Set
#1: Thinkmax 4-in-1 Battery Charger
Once you've purchased extra batteries for the X4 H107C, now comes the challenge of keeping them all charged! Fortunately, there's a solution: the Thinkmax 4-in-1 Battery Charger. This is one of those Hubsan X4 accessories that comes in handy when you're trying to charge multiple batteries at the same time.
As you can see from the design (below), the charger comes with four "ports" that allow for one battery each. Now you can charge each of your four replacement batteries simultaneously, which ultimately ends up saving a lot of time. What I love about this battery charger is that it offers "Overcharge Protection", which basically ensures that you don't accidentally overcharge your batteries (remember that lithium batteries are very volatile). Not only is this charger compatible with standard Hubsan X4 H107C batteries, but it's also compatible with the ZJchao replacement batteries mentioned above.
Thinkmax 4-in-1 Battery Charger
Conclusion
The five Hubsan X4 accessories mentioned above offer protection, increase flight time, and best of all, serve as replacement parts after a bad crash. There's nothing more frustrating than having to sit on the sidelines because you don't have any spare propellers handy or because you've run out of battery. Not only are these accessories really practical, but they're also really affordable, so there's virtually no reason not to have them.