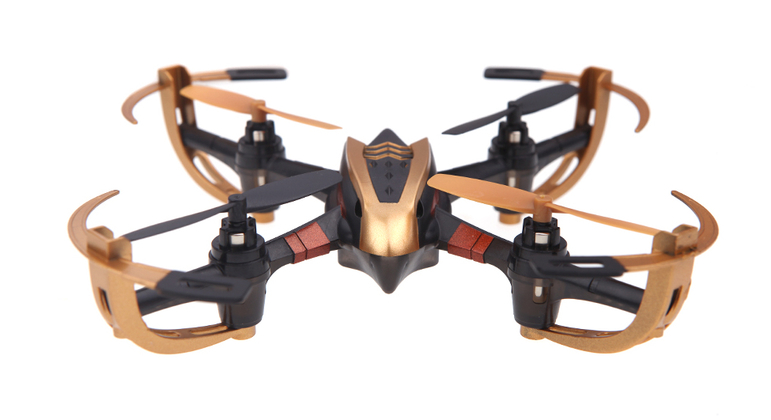 At first glance, the Yi Zhan X4 doesn't look like much, but as you'll come to see, it offers much more than you probably think. On the outside, the drone's design looks aesthetically pleasing. It features alternate black/gold propellers, four sleek-looking prop guards, and a predator-like canopy that covers all of its internal components. As you'll come to see, the Yi Zhan X4 is relatively easy to fly, making it the perfect quadcopter for beginners.
Yi Zhan X4 Overview
One of the key benefits about the Yi Zhan X4 is its range. With a remote distance of about 100 meters, you'll have more than enough room to maneuver your RC quadcopter. The drone's design is great, offering a unique blend of black and gold repeating segments housed on top of an almost predator-like canopy. The drone is capable of performing 360-degree eversions (flips), and is relatively simple to control - even if you're a beginner who's never flown before.
What Comes in the Box?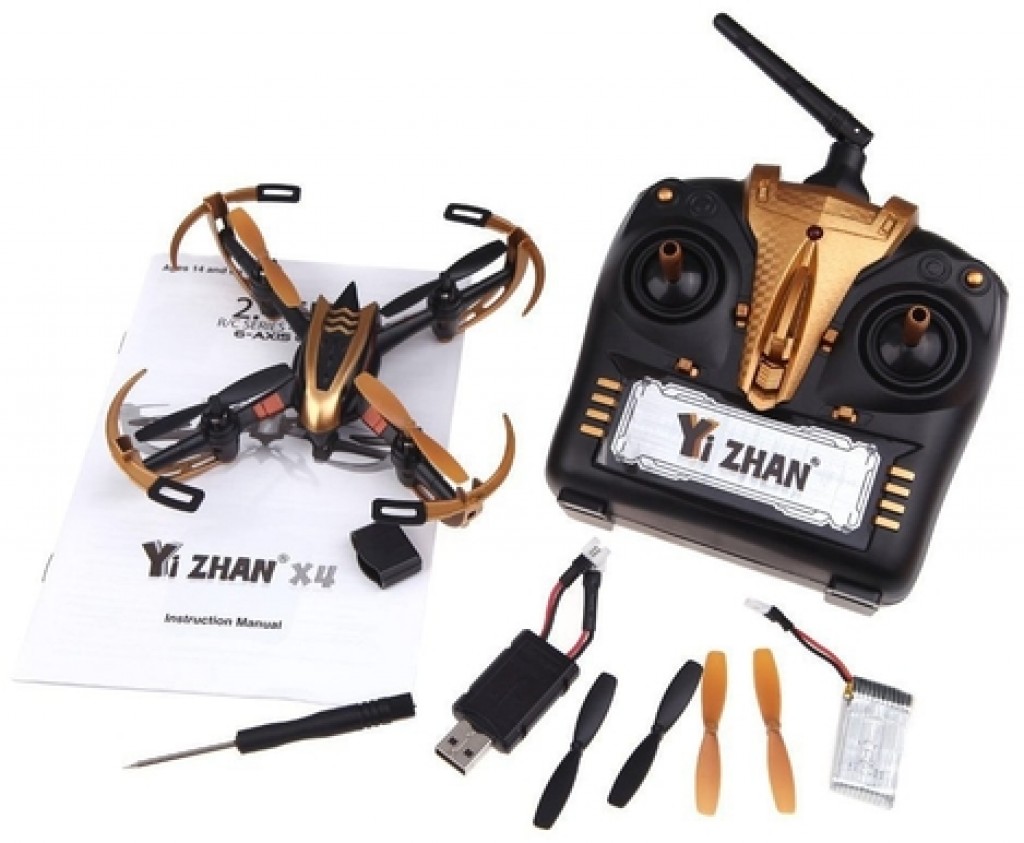 All Yi Zhan X4 quadcopters come with the following:
Transmitter
USB Charger Cable
350mAh Li-Po Battery
Spare Propellers
Small Screwdriver
User Manual
The spare propellers are really useful because, let's face it: as a beginner, you're going to crash! By having those extra props handy, you can quickly replace any broken/lost propellers and get back in the air without missing a beat.
Battery, Charger, and Flight Time
The Yi Zhan X4 is powered by a 3.7V 350mAh battery. When fully charged, the quadcopter is able to fly for about 6 minutes on a single charge. That's about average for a drone of its size and price range. Charging the battery to its maximum capacity takes about 60 minutes. I'd recommend purchasing extra batteries for the X4 so that you can enjoy longer flight sessions. Charging the drone's battery is easy: just plug it up the USB charging cable that comes in the box.
Transmitter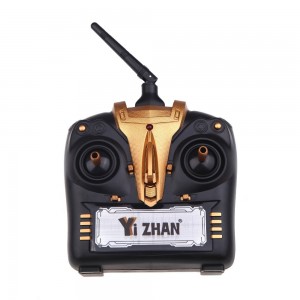 Personally, I think the transmitter for the Yi Zhan X4 looks pretty cool! The controller is mid-sized, comes colored in a unique blend of black and gold, and will fit nicely in your hands. It operates on a 2.4 GHz frequency, and comes with four channels (ensuring that you'll still be able to fly your drone if someone else is flying one nearby).
Note: The Yi Zhan X4's transmitter requires a hefty 6 AA batteries (most transmitters only require 2-4) that unfortunately don't come included in the box. I'm assuming that this is due to the drone's relatively long range, but could still be considered a potential downside nonetheless.
Impressive Range
What impressed me most about the Yi Zhan X4 was its range. On paper, the quadcopter offers a remote distance of 100 meters. This is more than enough for the average flyer. Compare this to the Syma X5C, which costs more but offers a remote distance that's 50% less, and you'll quickly see that you're getting an amazing bargain on the Yi Zhan X4. As a general rule of thumb, if you're flying in congested areas (like your neighborhood), your range will always be a little lower than if you were to fly in say, a park.
Flight and Performance
One neat function about the Yi Zhan X4 is that it will provide you with the ability to perform 360-eversion flips – all at the push of a button. This will allow you to look, feel, and fly like a pro, without having to have too much experience under your belt. As far as stability and control are concerned, the Yi Zhan X4 doesn't disappoint. It's an excellent indoor/outdoor flyer, but doesn't handle itself well in moderate breezes (remember it only weighs about 41 grams with the battery), so try to fly it during optimal weather conditions.
Conclusion
At the end of the day, the drone is a great investment for any beginner flyer who is trying to get their feet wet. The Yi Zhan X4 flies relatively stable, and is even capable of 360-degree eversions (flips). You'll also come to love the RC quadcopter's sleek design, as well as its impressive remote distance.
Visit Amazon.com For Huge Discounts on the Yi Zhan X4
Pros: The drone comes fully assembled, is relatively inexpensive, and is suitable for anyone 14 years of age or older. The biggest benefit to the Yi Zhan X4 is its range, which is an impressive 100 meters. You won't find many drones under $50 capable of such a feat.
Cons: As with all quadcopters, the Yi Zhan X4 isn't perfect. For one, the transmitter requires 6 AA batteries that don't come included. Another potential downside is that there have been some complaints on Amazon about the RC quadcopter not binding to the transmitter.