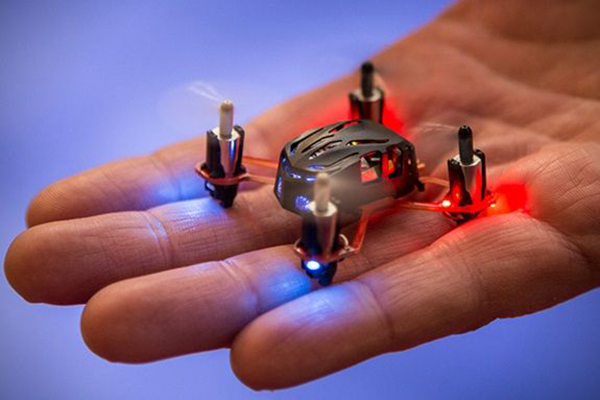 Sometimes, bigger isn't always better – at least this is the case with the Estes 4606 Proto X Quadcopter. Measuring at just 5.5 x 4 x 2.5 inches, and weighing about four ounces, this drone has earned its spot as one of the smallest quadcopters in the world. It's particularly great for beginners who are entering the world of drones for the first time. While it can be flown outside, this tiny drone is better-designed for indoor use. It's by far one of the coolest nano drones in the world!
Estes 4606 Proto X Overview
Just because the Estes 4606 Proto X Quadcopter is small, doesn't mean it can't provide you with endless hours of fun. The drone's controls are ultra-responsive, allowing you to zip through the air precisely. For this reason, beginners are going to find the 4606 Proto X easy to control. The drone is relatively small, so it may not be suited for outdoor use. With that said, it's the perfect model for honing your skills indoors. A huge upside to this drone is that it offers a flying time of about 7 minutes, which is actually pretty good for a drone of its size.
Proto X - Quick Review + Flight Test
Overview and Tech
The 4606 Proto X Quadcopter operates off of a 3.7 100mAh lithium battery that's built into the drone. For this reason, you can't take it out and replacement like you would other drones. Average flight time is 4-6 minutes, while charging this tiny little drone takes about 30-40 minutes using the USB charger that comes included in the box. Also in the box of the Proto X Nano are four spare propellers in case you break or lose the ones you have.
Visit Amazon.com For Huge Savings on the Proto X
Pros: Pretty good flight time (4-6 minutes), short recharge time (30-40 minutes), and a durable frame that can take a few falls. Perfect for beginners who are trying to hone their skills.
Cons: Doesn't perform well in windy conditions. The drone's lithium battery isn't replaceable (unlike the Syma X5C or U818A), and there is no Return-to-Home function.
A Small Transmitter for an Even Smaller Drone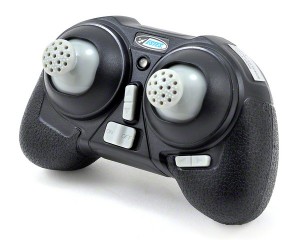 The first thing you'll notice is that the transmitter for the Estes 4606 Proto X Quadcopter is actually bigger than the drone itself, although not by much.
It measures about three-and-a-half inches wide by two-and-a-half inches long. It sort of looks like a video game controller that has been shrunken down. The 2.4 GHz transmitter can operate on one of four channels, which means that you can fly you drone without having to worry about interference from someone else flying their drone in the vicinity.
Quick Note: Make sure that you purchase two AAA batteries for the transmitter since they don't come in the box.
As you can see from the picture above, the transmitter for the Proto X comes with two joysticks. The left joystick is used for controlling the drone's rotation (spinning clockwise or counterclockwise on a flat plane) and altitude (going up or down). The right altitude is used for controlling the direction of the drone (forwards, backwards, left, or right). Overall, the transmitter isn't anything special. It's made of plastic, and is actually weaker than the drone itself (I actually broke my transmitter before my Proto X).
Awesome LED Lights for Night Time Flying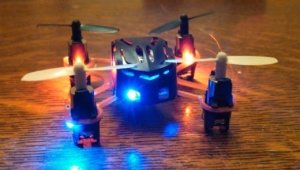 The Estes 4606 Proto X Quadcopter comes with red LED indicator lights on the rear rotors, and blue LED indicator lights on the front rotors. This will help keep you oriented while you pilot the drone. Compared to most nano quadcopters, these lights are bright! They turn on as soon as you power on your drone, and actually add to the aesthetic appeal of the Proto X.
Don't really count on them outside during the day as the sun can cause the lights of these drones to become negligible. Once useful feature about this drone is that the LED indicator lights will begin to blink as the battery starts to run low. This can give you an early warning so that you can land your drone safely and charge it rather than have it drop out of the sky randomly.
In The Air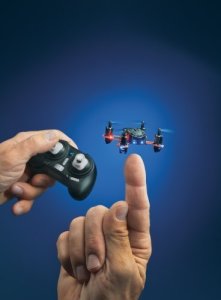 Don't let its tiny appearance fool you – this drone can take a beating.
Although lightweight, it's still fairly durable, which will help make your investment go a long way. Just keep in mind that it's NOT indestructible.
This quadcopter is very quick and agile, and can zip through the air with ease.
It doesn't come with a "Return-to-Home" function like the Eachine H8 Mini, so make sure that you fly it in direct sight.
Final Thoughts
Will it last forever? No. But can you think of a better way to spend $35? If handled and flown with care, you can squeeze hours of fun out of this tiny drone. The Estes 4606 Proto X Quadcopter is a fun, tiny quadcopter for all ages, and at the very least, is one great way to pass the time.
Specifications
Weight: 11.5 Grams
Remote Distance: N/A
Charging Time: 30-40 Minutes
Flight Time: 6-8 Minutes
Battery: 3.7V 100mAh
Price: About $35
Camera: No
FPV: No
Experience Level: Beginner